About Key-Comp
Key-Comp Web Design was originally established in 1980 as Key-Comp Computer Services. Providing computer programming and support services in Monroe, LA, Ouachita Parish, re-locating to Claiborne Parish in September of 1987. Since 1996, we have provided web site design, hosting and maintenance to a variety of businesses and organizations, including businesses established in Tulsa, Monroe, Shreveport, El Dorado, Gibsland and Homer.
Our History in Claiborne Parish
Key-Comp Web Design Clients include:
Advertising Unlimited - Homer, Louisiana based proven advertising specialty distributor, offers over 700,000 different advertising specialty items with custom imprinting and represents over 4,500 manufacturers.
Claiborne One - The official information source for All of Claiborne Parish, Louisiana.
Claiborne Parish Police Jury
Claiborne Parish Sheriff's Office
Town of Homer
Town of Haynesville
Claiborne Chamber of Commerce
DBMS, Inc. - Premiere Point-of-Sale software and system provider based in Shreveport, LA.
DNG Consulting - Based in Claiborne Parish, Louisiana, DNG Consulting provides a wide range of consulting services to meet the needs of a variety of client types. DNG assists clients in mergers & acquisitions, management organization study & re-structuring, project management/construction claims, and business development.
Golden Eagle Training & Safety - Homer, Louisiana based Defensive Training Experts, they provide any type of survival skill to anyone, any agency and/or institution, so that it may one day possibly save lives during a critical incident, whether it is with a firearm or empty hand techniques through their CCH Classes or other courses.
Northeast Properties - Homer, Louisiana based realtor has been providing exceptional real estate services to hundreds of buyers, sellers and renters since 1981.
Toney Johnson Real Estate - A real estate and appraisal service for Claiborne and surrounding parishes, based in Homer, Louisiana.
J.T. Taylor Realty/Dimex Sales - J.T. Taylor Realty has provided Real Estate Sales and Buyer Representation in Homer, Haynesville and Claiborne Parish for Commercial, Residential and Timberland Properties since 1984.
---
Key-Comp is operated by J.S. and Pam Ponder of 831 Clear Lake Road in Homer, Louisiana.
J.S. Ponder's qualifications include:
Formal Art and Photography training at Louisiana Tech and Northeast La University.
Over 16 years experience using graphics and computer aided design software such as Corel Draw, Adobe Photo Shop, Ulead PhotoImpact, AutoCad and Micro Station.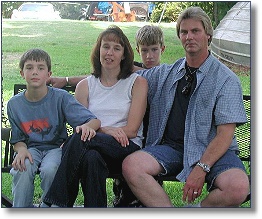 Programming experience in a variety of languages and database management systems, including C#, MS.NET, C++, Delphi, Turbo Pascal, Business Basic, Clarion database Designer, Fox-Pro and web based languages Javascript, Java, CSS, Perl and HTML.
Advertising Sales and Ad Copy experience
Work experience includes years of Piping Design, Mechanical Estimating and Purchasing.
Joel provides the primary graphics design and programming for all web design projects.
Wife Pam, whose primary business is Pet Pampering pet grooming service, along with (very artistic) sons T.J. and Tanner, provide graphic design, flash and html programming as well as accounting assistance to Key-Comp in the creation of web design projects.

Memoir of our Time in Claiborne Parish
I'm Joel Ponder (Key-Comp Web Design), my wife Pam Thompson-Ponder (Pet Pampering), her six year old daughter Katie and myself moved to Claiborne Parish in Sept of 1988.
I had accepted a job in El Dorado at a pipe fabrication shop as a designer, programmer and later as purchasing manager and VP.
After 23 years of working 50-60 hrs a week (10 hrs of which was spent in transit to/from El Dorado), I felt it was time for me to go back to working for myself full-time.
If you are interested, my resume is online.
Based upon my above resume, If any of you can use my varied experience in your business on a contract basis or otherwise - I'm available.
We've loved living in Claiborne Parish these 24+ years (two boys born & raised in Claiborne, both Homer High gards - TJ & Tanner) we would not think of moving elsewhere...
I've been doing websites and site maintenance in the evenings and on weekends since 1996, and now I'm in the position to devote full time to what I really love.
Hence, I need to help you make your business more successful in order to grow my business...
I've stayed busy the past few months, learning and using the latest web tech.
My most recent sites:
In my most recent web endeavors, I've noticed that:
If your customer can't get to you online because you don't have a site, it's down (domain expired, Credit Card issues, etc.), or due to no site updates, they will find whatever is out there and there is a lot of mis-information out there - too many fingers in the pie! (Google/Bing your biz and see for yourself)

There are so many of our Claiborne Merchants and Organizations that do not have a website - you are at the mercy of the mis-information that's all over the web.

Customers want to buy your products, donate, or pay on their accounts online (and many are outraged that this is not available). If you do not accept Credit/Debit cards online - we have options that can take care of this...
If you have been thinking of a website for your business or organization, needing a revamp of an existing site or need help with maintaining your site, Please Contact Us today.
Let me know your thoughts via the Request for Quote - and I will contact you if I need further information, work up a quote and set up an appointment to discuss (take images/collect information, etc).
I encourage you to contact some of my clients listed on About Us page, many of which you will you know personally, as a reference as to my services.
---
If you wish to read more about our time in Claiborne Parish - somewhat a memoir - keep reading...
---
As a note, I think we should all put down in writing our memories of living in Claiborne Parish through the years. You send it and I'll setup a Memoir page on www.ClaiborneOne.org.
---
Here's a little background on Key-Comp, ClaiborneOne, my family and myself (the long rendition):
My wife, Pam, my 6 yo step-daughter Katie and I moved to Claiborne Parish in September of 1988. I was born and raised in Monroe, Pam in Winnfield.
I had accepted a job in El Dorado and we were lucky enough to find a rent house south of Summerfield, just 32 miles from the office (it was the little white house down from the big estate just north of Palmer's on Hwy 9). That was such a small house - two cramped bedrooms, kitchen, bath and living room with a window AC.
That little house holds a lot of memories for just five years; our baby boys were brought home to that little house - TJ was born in Dec of 1989 and Tanner in Jan of 1992. They both graduated from Homer High, Tan is a freshman at Tech and Tj is a sophomore at BBCC. I went to Tech taking Art & Photography, but started working 50 + hrs a week and gave it up after 3 years, so I expect my boys to make it all the way through...
With the new family additions, we needed more income, so Pam decided she wanted to work at home - she worked for a dog groomer in El Dorado for free to learn the biz.
We spoke with our landlord and he said no way Pam could groom dogs in their rent house (good call - Pam has to clean the doggy hair in our garage constantly, her place of business for 16+ yrs).
So we took out a loan and bought a portable building, Pam set it all up, the power, the plumbing, and the sewer system to take care of the run-off.
Pam (she's very artist too) painted and put up a nice sign, but the landlord did not like the sign at all nor the idea of a business on their property and after 5 years of renting from them, they asked us to leave (as I recall, they wanted to remodel the rent house).
We loaded up and moved to a rent house on South 3rd in Homer (at considerable expense to move our 5 member family and Pam's portable building).
Two years later the landlords got divorced, found a buyer for the house and asked us to leave.
Pam took the initiative and found us a home to buy and arranged the financing.
We've been out off Dutch Town Rd on Clear Lake RD (formerly Kennybrew Rd) for 16+ years now.
Pam's doggy biz, Pet Pampering, has been going fine for 18 + years now, I think most of the pet owners in Claiborne know her and love the job she does on their pets.
My step-daughter Katie is now married with two boys (Devin - 8 & Zack -3) and living in Winnfield.
Me - I've been programming software since early 1980 and around 1996 I took an interest in web design, I found tutorials on the web, bought a graphics program and the rest is history.
One of my first web sites was The Claiborne Chamber of Commerce in 1997 - created, hosted and updated as needed at no cost other than COC membership for Pam & myself.
ClaiborneOne.org has been in place since mid 1999. Over the years we've added more and more information, over 1000's of pages to date including the weekly Guardian-Journal Headlines & News Briefs with G-J Archives back to late 1999 and the ClaOne Image Archives.
Homer, Haynesville and The Claiborne Parish Police Jury are the only primary supporters of ClaiborneOne. Even with the continually expanding server space and bandwidth needed to accommodate additions, no increase has been requested since the onset in 1999.
Mayor Aubrey, Mayor Crocker and The Claiborne Industrial Development Board accepted our proposal to design, host and support the site in early 1999.
ClaiborneOne was in jeopardy of closing in late 2001, CIDB due to budget constraints chose not to continue the support that I had expected would be forthcoming annually.
Luckily - CPPJ came to the rescue in 2002 to cover some of the lost support and allowed us to add 100's of additional pages to the site.
My server costs have increased over the years to the point that the support of you three major Claiborne Parish entities barely covers the fees I pay annually to the web hosting company.
My time invested in the site (2-3 hours a week, every week) has been my contribution to our parish. It's been my pleasure to do what I can to promote our home parish.
I've needed to add server space, hosting, bandwidth and updates to ClaiborneOne (without requesting increases in support fees) for the following:
ClaiborneOne renewal fees also support annual updates to Claiborne event pages (most of these require 3-4+ hours of time to update and post):
Providing Web Impact for Businesses & Organizations - Since 1996
Concentrate on Your Business - Let Us Handle the Web
Contact Us
Key-Comp Web Design
& Software Solutions
831 Clear Lake Rd
Homer, LA 71040
(318) 927-9229
Contact Us Now
Our Services
Web Design/Hosting/Maintenance/SEO
Print Ad, Business Card and Logo Design
Custom Internet & Database Programming
Group and/or Individual Software Training
Special Event & Family Reunion Photography
More Information