Two court dates set for Kirk
MICHELLE BATES, Editor
            Two court dates for a Claiborne Parish woman accused of simple battery for fighting and the stabbing death of Vincent Dunn is set to be in Ruston City Court on June 20.
            Patishi S. Kirk, 24, formerly of Homer, is also set for trial on July 22 in the stabbing death of her then-boyfriend Vincent Dunn.
            She was issued a citation in May 2012 by the Ruston Police Department when a dispute between her and a boyfriend became physical.
            She was also arrested later on August 20 in Homer by the Homer Police Department after witnesses claimed to have seen Kirk at Mayfield Park riding around the park holding a gun out of a car window. She was charged with aggravated assault. A court date on this charge is pending.
            She was first arrested in July 2010, charged with second degree murder. According to the July 3, 2010 edition of The Guardian-Journal, Kirk confessed to the crime but offered no motive. Police say they found Dunn in a bedroom inside a residence on Hunter Street, where he was later pronounced deceased at the scene.
            Police records indicate officers had been dispatched to the Hunter Street residence on prior occasions in reference to domestic issues. In fact, Dunn had a restraining order on Kirk in the past.
Water meter public records request 'appears to be frivolous'
MICHELLE BATES, Editor
            According to a letter from the Town of Homer, it appears that more people are interested in what's going on in town hall due to a high number of public records requests.
            On May 10, The Guardian-Journal turned in a request asking for water meter logs, utility deposit receipts and a list of checks with those receipts pertaining to a story published where elected officials' water bill payments were questioned. This newspaper received a letter from Homer Town Clerk Lisa Foster, per Town Attorney Marcus Patillo, saying the town had received "an (unusual) amount of public records requests.
            "At the current time you and others have slowed down the work process of Homer Town Hall with what appears to be frivolous request [sic] and looks more like harassment," the letter, dated May 15, states. "Most of the information that has been sought have [sic] been investigated by the state auditor, and have concluded that the Town of Homer, Town Hall has no violations."
            As of press time Tuesday evening, The Guardian-Journal has found no indication the Louisiana Legislative Auditor's Office has completed their investigation. When the legislative auditors have completed their investigation, their findings will be turned over to the District Attorney's office and published on their website.
            Also, Eric Sloan, CPA, assistant legislative auditor and director of investigative audit and advisory services, told this newspaper the team sent to Homer is "not through."
District Attorney Jonathan Stewart, in a story published May 23, also said Louisiana State Police have now been involved in the investigation.
            In the request, this newspaper, as provided by law, gave the town five days to produce the records.
            The Guardian-Journal received the town's letter on the fifth day and responded, saying the town had until the close of business that day to produce the records. 
            The documents were provided that day and showed deposit receipts from April 22 through April 26 and a list of checks and cash deposited on those dates. The list showed a check from "Alecia N. Smith," the mayor of Homer, on April 23, in the amount of "$769.48." On the same date, a payment from District 2 Councilman Michael Wade was shown deposited in the amount of $88.42.
            A review of elected officials' water bills showed payments were made by Mayor Smith and Councilman Wade on April 22, which is also the date of a previous public records request by this newspaper to see the customer utility payment history of elected officials living within the Town of Homer.
            Since February 11, after the town council voted to disband the Homer Police Department, Police Chief Russell Mills began a barrage of public records requests seeking documents pertaining to the police department's budget, many of the other funds for the Town of Homer, as well as expenses and related paperwork regarding travel by Mayor Smith and some of the town council members.
            His goal, Chief Mills said in an earlier edition of The Guardian-Journal, was to "find out where the overspending really lies."
            Since then, the public has frequently shown up in force at the town council monthly meetings and special called meetings questioning Mayor Smith and council members about spending habits with the town's money.
            And most recently, retired employees and employees of the Town of Homer requested records pertaining to their health insurance coverage, because at least two retired office clerks learned they didn't have health coverage ending March 31.
            Homer Police Lt. Roger Smith spoke up during the May council meeting, declaring he did not have health coverage either.
            Mayor Smith said the premiums had been paid and town employees have health coverage. To support her statement, Homer resident Azzie Olds, whose daughter works for the Town of Homer, said her daughter has health coverage and didn't have any problems using her card.
            However, paperwork provided to The Guardian-Journal, with their permission, showed coverage ended on March 31 and was reinstated on May 6, the date of the last Homer Town Council meeting.
Are water meters being read?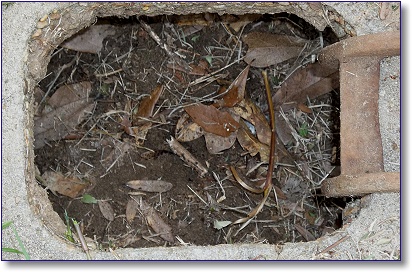 This meter, located at 674 West 4th Street, does not appear to have been read in several months. This photo, taken May 9, shows the meter buried in dirt and leaves. The meter cannot be seen in this photo, which prompted a Homer resident to question whether the meters are being read or if residents are paying an averaged water bill each month.
The Guardian-Journal
            Are the water meters in the Town of Homer being read?
            This was a question posed to The Guardian-Journal when a picture was taken of a water meter on West 4th Street in Homer on May 9. In a public records request, this newspaper received documents of meter readings for March, April and May of residents' homes on West 4th Street.
            According to the customer meter reading details, it appears the meter readings may be sporadically read and seem to be averaged each month.
            "For some households, water consumption will not change very much," said William "Rusty" Reeves, executive director of the Louisiana Rural Water Association. "If you have a family of three or four, you will see some fluctuations. It depends on the makeup of the household."
            For example, the meter reading for 674 West 4th Street, showed a consumption rate of 3,000 gallons in March and April. According to the "present (meter) read," in May, the meter shows 813, where the "previous (meter) read," shows 810 for the month of April. In April, the "present read" shows 810, and the "previous read" shows 807 for the month of March.
            At the residence of 685 West 4th Street, the consumption rate for the months of April and May is 5,000 gallons, and for the month of February, the consumption rate is 9,000 gallons. "Present read" shows 103 for the month of April, with "previous read" at 98.  In April, for the month of March, "present read shows 98, and "previous read" shows 93.
            However, according to Mayor Alecia Smith, in earlier reports in the last year or so, she has been working with Balar Engineers, the Homer Grant Committee and the USDA to secure funds for water infrastructure improvements as well as a new electronic meter reading system.
            The electronic meter reading system will automatically read the meters each month and send its reports back to the town hall office, thereby eliminating human error, Reeves said.
            "When I say the human factor, it's going to eliminate transposing numbers; it's going to eliminate manpower," he said. "You will still have a truck going around with a computer in the truck. It will read the readings over a radio signal. There will still be issues with the location of the meter, or issues with reading the meter. Overall, though, the accuracy is going to be a whole lot better."
            And to be able to determine if a customer's water bill is being estimated or actually read, the new meter system will profile that customer's account for the last 60 to 90 days. This profile will also help determine if the customer has a leak or if consumption has just fluctuated abnormally.
            "(For example) if they are estimating, then you will have a $15 water bill per month, maybe $16 the next month, and then all of a sudden it jumps to $50," Reeves said. "That's where the meter reader system is going to take care of those situations."
            In the state of Louisiana, the average household is calculated at three persons per household, with 6,000 to 7,000 gallons of use averaged. With a larger household, such as a four-person or five-person household, the average water usage is approximately 8,000 to 10,000 gallons per month, Reeves said.
            In the last three months, the consumption rate at Mayor Smith's home runs about 22,000 to 33,000 gallons per month.
            The funds for the electronic water meter system and other water infrastructure improvements will come from a $3.5 million loan by the USDA. The system will cost approximately $900,000 for equipment and installation.
Council recall petitions in Registrar's hands
MICHELLE BATES, Editor
            The deadline to turn in the recall petitions on Homer Town Council members has come and gone.
            As of press time, Claiborne Registrar of Voters Patricia Sanders said petitions were turned in on three council members, but at this time verification of signatures is still ongoing. The deadline was Monday, May 20, and Sanders has 15 days from the deadline to certify the petitions and turn them in to the Louisiana Secretary of State's Office.
            Following the attempted disbanding of the Homer Police Department in February, recall petitions for Mayor Alecia Smith and all five council members began circulating.
            While the deadline to turn in the recall petitions for the council members was May 20, the petition deadline for Mayor Smith is not until August 18.
            The community has been in an uproar and has been divided since the council erroneously voted to abolish the police department and do away with term limits for the mayor.
            And at the same time, Azzie Olds filed a complaint with the district attorney's office claiming Homer Police Chief Russell Mills did not live within the corporate limits of town as required by Homer's special legislative charter. District Attorney Jonathan Stewart responded saying Mills was compliant with law, and found no reason to declare the police chief's seat vacant.
            The Town of Homer and the chief have also seen their share of the courtroom in recent months as well; first to stop the council from enforcing its vote to abolish the police department, then to stop the council from enforcing its abolishment of term limits for Mayor Smith and all five council positions. Most recently, the town and the chief faced off in court concerning an exception filed by the town's outside counsel Tom Arceneaux saying the issue was moot in that the council withdrew its introduction of Proposed Ordinance 13-003, which Chief Mills believed would have slashed his budget so drastically that his department would fold.
            Second Judicial Judge Jimmy Teat agreed with the town, saying the issue was moot because the town withdrew the ordinance's introduction. However, he left the door open for Chief Mills to file additional grievances due to allegations Mayor Smith keeps pulling money from his budget and is still attempting to control the police department's budget without "amending it."
            Chief Mills and his attorney, Pam Breedlove, have 30 days from the May 16th court date to file those grievances.
CPSB breaking state law with Course Choice Program?
Claiborne Schools Superintendent says 'no'
MICHELLE BATES, Editor
            Claiborne Parish Schools Superintendent Dr. Janice Williams is up in arms following a statement by State Superintendent John White who said the school system may be breaking the law.
            According to a published article in The Times of Shreveport, White reportedly accused Dr. Williams of breaking state law when she circulated a notice allegedly telling parents not to allow their children to sign up for Course Choice classes.
            Course Choice allow students "to enroll in a broad selection of core academic, college-preparatory and career training courses," according to the Louisiana Department of Education's website, www.louisianabelieves.com.
            Dr. Williams cautioned parents before making any decisions about enrolling their children in courses outside Claiborne Parish Schools.
            "I want to caution you before changes are made to your child's educational program or signing up for online or courses being offered outside of Claiborne Parish Schools," she said in the notice published in the May 16 edition of The Guardian-Journal. "It has come to my attention that individuals are going door to door soliciting personal information on students and offering electronic devices for student participation."
            She went on to encourage parents to use extreme caution when giving out their children's demographic information and to contact their child's school principal before making a final decision.
            Dr. Williams said parents had no idea their children were being enrolled with this company and a "green van" has been seen in their neighborhoods passing out these flyers and enrolling students without her knowledge or that of the schools.
            "What upsets me most is parents are coming to me telling me they didn't know their child was enrolled and they don't know how to un-enroll them," she said. "I don't know what to tell them, so I give them the number they gave me to Kristina Posey (LDOE Office of Content) and the number on the flyer. That's all I know to do right now."
            She even went so far as to contact Claiborne law enforcement authorities with her concerns.
            District 11 Rep. Patrick Jefferson said while the concept of Course Choice is ideal, its delivery is what he, Dr. Williams and others are concerned about.
            "It is a hot issue right now," Rep. Jefferson said, "so much so, that I've been talking to principals in Lincoln Parish as well as Bienville. This (Course Choice Program) is not working as it was intended to work."
            In fact, he filed House Concurrent Resolution No. 153, which is set to be heard before committee this week asking the State Board of Elementary and Secondary Education to "study issues relative to the implementation of the Course Choice Program and submit a report to the House and Senate Education committees by September 30, 2013."
            He said he met with Dr. Williams as well, because he was upset about what he was hearing about a company called FastPath Learning, which reportedly offer these courses. His concern is not necessarily about the company's intended purpose, but rather how it appears to go about garnering business.
            "Course Choice has its place," Jefferson said. "It's a good concept; however, the way it's being run is not – at all. Part of the challenge was the misinformation."
            According to a flyer from FastPath Learning, it offers free laptops to students who enroll with the company.
            According to FastPath's website, the company provides a computer tablet to each student enrolled for the reading courses and a personal media player for the math course for free.
            "Students return their learning devices at the end of the school year," the website continues. "If students lose or break their learning tool, that's OK – parents are not responsible for replacing them, and students can still complete the course using a school computer and internet connection."
            Another issue Dr. Williams is concerned about is the financial aspect, because the school system simply does not have the funds to provide a monitor, required by state law, for the students enrolled in the program.
            In the last three years, the Claiborne Parish School Board has let go approximately 80 faculty and staff to make up for the shortfall in Minimum Foundation Program (MFP) funds each year, she said. Also, in the past five years, two schools – Pineview and Athens High Schools – have been closed with students spread among the remaining schools in Claiborne Parish.
            Another concern is the value-added evaluation performance scores for teachers, she said.
            "Students who sign up with Course Choice, their testing scores will be computed and sent back to the schools," Dr. Williams said, "which will reflect on the teachers' performance. (Those) test scores will impact that teacher's performance score."
            Originally, when Acts 1 and 2 became law, one-sixth of the school district's MFP was going toward Course Choice classes, she said. Since the funding portion has been found unconstitutional, the state now has to find another funding source for the Course Choice Program.
Lions Chicken Charbroil a success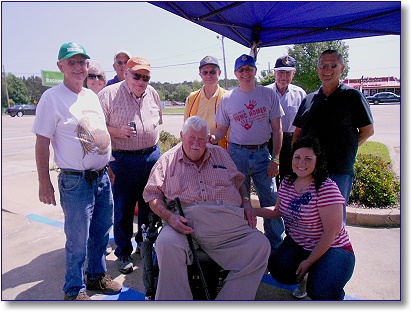 The Guardian-Journal photo/Michelle Bates
The Homer Lions Club Chicken Charbroil was a huge success as the club raised funds for this year's charity donations and its signature charity, the Lions Eye Foundation. Pictured are from left, Lion Buddy Pixley, Honorary Lion Pam Suggs, Lions Dwayne Woodard, Mal Hausman, Jim Hatch, R.B. Moore, O.P. "Pete" Pearson and Don Taylor. Pictured front are Lions Fred Lewis and Kendra Palmer. A special thank you goes to Regions Bank for the use of their parking lot for the event, Jerry Bailey of Moon's for cooking the chickens, Raeford Farms for providing the chicken, Coca-Cola Bottling Co. of Minden for providing soft drinks for the Lions Club members, and Piggly Wiggly for providing paper products. Thank you also goes to community members for supporting their local Lions Club.
Lake Claiborne Boat Parade, Fireworks Show slated for July 5
The 2013 Lake Claiborne Boat Parade and Fireworks Show is set for Friday, July 5. The boat parade begins at 7:15 p.m. with line up at Pleasure Point Marina. The route will make its way around the lake to Lake Claiborne State Park. A commemorative hat is given to each boat parade captain while supplies last, with one hat per boat only. This year's show is expected to be better than ever, with more fireworks this year than any other time! Beginning at 9 p.m., the fireworks show will be a spectacular event with 1,330 display effects. Handling the fireworks show again this year is Artisan Pyrotechnics of Wiggins, Miss.
Jubilee celebrates the arts
The Jubilee Players salute the United States Flag during the National Anthem during Saturday's annual Claiborne Jubilee. The Players presented a program in memory of the lives lost serving the United States military. The Memorial Day tribute included patriotic music, poems and stories about the history of Memorial Day. For more on the Claiborne Jubilee, please pick up an edition of this week's The Guardian-Journal.
Reward offered in Wafer case
The Guardian-Journal
            The Claiborne Chapter of the National Association for the Advancement of Colored People (NAACP) has announced that it has received a pledge of $10,000 for a reward for the arrest and conviction for the person or persons responsible for the murders of Ruby Wafer and her son, Devion.
            Terry Willis, president of the Claiborne Chapter, said this case has been an emotional roller coaster for him.
            "She could have been my daughter or he could have been my grandson," Willis said. "I can only imagine how the family must feel. My prayer is that this will remove this violent person or persons from our streets and bring some closure to her family and to the community."
            Willis said he will release additional information as soon as legal details are worked out.
            Little Devion Wafer was found face down in Beaver Creek off Highway 2 on March 23, 2011, near Lisbon Landing. His mother, Ruby Wafer, just 19-years-old, was found just two weeks later at a vacant store at Highways 2 and 806.
            Mother and son had been declared missing on March 21, 2011, and Claiborne authorities searched the area around where both sets of remains were found to no avail. According to the April 7, 2011 edition of The Guardian-Journal, the U.S. Marshal's Service joined the search for Devion's mother. At the time Ruby Wafer was found, she was fully clothed but no other items were on her person or around her. There was no cell phone, purse or any other items that might help authorities find her killer, Claiborne Parish Sheriff Ken Bailey said at the time.
            The family has mourned the loss of the Wafers since then, and Sheriff Bailey is doing all he can to make sure the one or ones responsible are brought to justice.
            "This is not, by any means, a closed case," he said. "It's been an open case from day one and it will stay open until it is solved. We're asking for people to come forward with any information about this case."
            For information, please call the Claiborne Parish Sheriff's Office at 318-927-2011.
            Any callers with information on this case will remain anonymous. They do not want any names, just information.
Homer man accused of sexual assault
The Guardian-Journal
            A Homer man has been arrested after being accused of sexual assault.
            Andrew D. Critton, 37, was arrested Thursday, May 16, and charged with sexual battery with bond set at $25,000, and simple burglary with bond set at $12,000.
            According to Homer Police, Sgt. Van McDaniel was dispatched to a home in the 800 block of East 4th Street in reference to a sexual assault.
            The victim, reports say, told police Critton came into the home without permission, came into her bedroom where she and her baby were asleep and woke her up. Police say the victim told them Critton began touching her in an inappropriate manner and she tried to get him to leave the residence.
            Critton left the house after others in the home were notified of what was going on.
            According to police, Critton was picked out of a photo lineup, and a warrant for the above charges were issued. He was placed under arrest and transported to the Claiborne Parish Detention Center for booking.
            In a separate incident, two women were arrested on Friday, May 17, for battery following a report that Terry Scott hit them. However, reports say it was the other way around.
            Erica Tate, 32, of Homer, was arrested by Officer Frank Evans for domestic abuse battery with bond set at $2,000.
            Jewel Tate, 52, of Homer, was arrested by Officer Scott Glenn for aggravated battery with bond set at $500.
            According to police, Evans received a phone call by Sgt. McDaniel in reference to a domestic dispute in the 800 block of East 4th Street.
            When Officer Evans arrived on scene, he was met by Erica and Jewel Tate, who wanted to report Scott hit them. According to a witness who saw the incident, police say, the two Tates were the aggressors, saying Scott was hit with a broom, a shovel and a baseball bat. Police say the witness reported Scott did hit Erica Tate, but only after she hit him.
            Scott came to the police station and gave a voluntary statement. Afterwards, the two women were placed under arrest and transported to the Claiborne Parish Women's Jail for booking.