Mayor's Monday night ambush
MICHELLE BATES, Editor
In a shocking move by the Homer Town Council, the Homer Police Department will be disbanded as of March 1.
In a special called meeting Monday night, it was reported that council members voted unanimously to disband its police department citing budgetary issues.  But in a phone interview, District 3 Councilman Don McCalman said he did NOT vote in favor of abolishing the police department.
"I want it known that I did not vote to do away with the police department," he said. "Channel 12 reported that the vote was unanimous and it was not."
Homer Police Chief Russell Mills declined to comment citing pending litigation in the matter. An attorney outside the town attorney has been retained to fight the issue. However, according to KSLA News 12's website, Mills is quoted as saying "It hit me dead in the face."
Homer Mayor Alecia Smith released a brief statement following the meeting and it follows in its entirety:
"On tonight at a special call [sic] meeting of the Homer Board of Selectmen, a motion was made by Councilwoman Carlette Sandford [sic] and seconded by Councilwoman Linda Mozeke to disband the Homer Police Department. The vote was unanimous. In the discussion leading up to the vote, Council member [sic] expressed numerous reasons for their decision including:
1. Concerns of leadership
2. Historical budget overruns.
3. Numerous pending lawsuits
"After Council meeting [sic], I immediately met with Sheriff Ken Bailey to discuss an appropriate transition. There are numerous details to be worked out dealing with this transition.
"However, citizens should know that safety will always be a priority and will not be compromised."
The Homer Police Department has eight officers, the chief and a secretary/dispatcher, and beginning March 1, it will go down to two – Captain Donald Malray and Lt. Roger Smith – until August. Once the department is completely abolished and it transitions to the Claiborne Parish Sheriff's Office, Chief Mills will still serve as the town's marshal.
Sheriff Ken Bailey said he was surprised as much as anyone when he learned the council intended to abolish the police department.
"They dumped this in my lap without me knowing about it," he said. "Nobody consulted me ahead of time."
But, he made it clear that no matter what happens, the citizens of Homer will have law enforcement protection.
"I want the citizens of Homer to know that I'm going to protect them, but I do not appreciate what the council and the mayor did," he said. "We're going to get through it, but I have a bunch of stuff to sort out."
Bailey said he will need time to draft a contract agreement and it will have to be brought before the council for approval. He also said there is no way he could have that done by March 1, that he would need at least 90 days to put everything into place, and he explained this to the mayor.
Terry Willis, president of the Claiborne Parish Chapter of the NAACP, said he too is outraged by such a move.
"It is my belief that this council has deliberately racially divided this community," Willis said. "You just don't have a meeting and say, 'Chief, we are relieving you of your duty' and then turn around and say, 'Oh, and we're doing away with term limits.' I believe this is about power and hidden agendas and exploitation."
He also said he believed that before 2014, the Homer Police Department could be restructured, but emphasized the need for the community to come together.
"I believe that until this community can work together and bring more here in the community besides shops and car washes that Homer's going to dry up," he said. "I think, as a community, we can recover and blacks and whites can come together and do what's best for the community of Homer. Until we can work together, the city and this parish will fail and that saddens me."
He spoke up on behalf of Mills saying he felt the chief was making some positive steps, but the council tied his hands.
So, what happens to the town's budget for the police department? That is unknown at this time. The budget was already approved for the 2013 fiscal year, so the roughly $630,000 slated for the police department is still there.  Willis said he believes this is not a budgetary issue, and it's only logical to think that there has to be some type of revenue for the sheriff to take this responsibility.
As for the quarter cent sales tax passed in 2010 which gave these police officers a raise, it's unknown what will happen there too.
Monday night's decision falls on the heels of much discussion and debate about the financial issues the police department has been plagued with. Until Smith's administration, the town had previously moved money from its general fund to cover any overages incurred by the police department, such as car maintenance and repairs, overtime, equipment and other needs.
Also, in December, Captain Donald Malray was given a substantial hike in pay, which effectively raised his pay to more than what the chief makes each year. Council members said they were looking for a way to keep the police department within its budget, and putting an officer on salary to do away with overtime was one solution.
In another move, the council also decided to do away with term limits for the mayor and the council members. However, the legality of that issue is still under debate. Section 2, No. 3 of Homer's charter says there shall be one mayor and five council members to serve a term of four years and is limited to two terms.
It says, "The mayor and selectmen for the Town of Homer shall serve a term of office for four (4) years, and neither the mayor nor the selectmen shall be eligible for election to more than two (2) consecutive terms of office." (Act No. 111 of 1850, § 3; Act. No. 36 of 1876, § 3; Ord. No. 540 § 2, 4-13-64; Ord. No. 640, § 2, 5-10-76; Ord. No. 734, 11-4-85; Ord. No. 762, 1-23-89; Ord. No. 800, § 2, 10-4-93).
In an earlier edition of The Guardian-Journal, it was reported that the charter and the Lawrason Act were silent on the issue; however, information has come to light that the charter indeed limits the mayor and council members to two terms.
Calls to the mayor were unreturned as of press time.
Stay with The Guardian-Journal for more information as this story continues to develop.
Fielding formally sentenced for murder of Butch Bays
The Guardian-Journal
A man convicted in December of killing a Claiborne Parish Police Juror has been formally sentenced.
Donte Fielding, of Haynesville, was formally sentenced on Wednesday, February 6, to mandatory life in prison with the sentence handed down by 26th Judicial District Judge Glenn Fallin.
In December 2012, Fielding was convicted of second-degree murder by a Bienville Parish jury following a four-day trial which helped put some closure on the case that touched so many.
Brian G. "Butch" Bays was shot and killed on Thursday, December 16, 2010, in the early morning hours at Bays Country Store and Bait House, which he owned and operated for many years. Bays served on the Claiborne Parish Police Jury for 16 years and was dubbed the unofficial "mayor" of Summerfield.
Bays was shot multiple times and Fielding was identified as the triggerman. According to Claiborne authorities, the investigation revealed that Fielding and his accomplice, Hardy Taylor, robbed Bays. The police juror was found on the floor near the counter inside the store.
Fielding was arrested several days later, followed by the arrest of Taylor in January 2011. Taylor's trial is expected to begin later this year.
Claiborne Parish School Board announces Students of the Year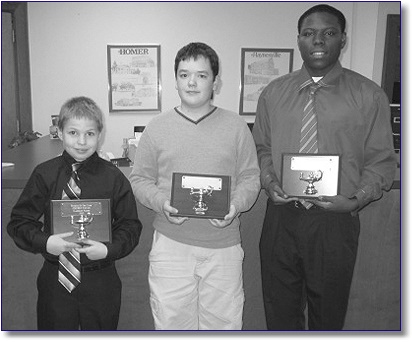 The Guardian Journal photo/Jenni Williams
Pictured above, 2012-13 Claiborne Parish Students of the Year are, left to right, fifth grader Stephen Faulk from Homer Elementary; eighth grader Cody Long, from Homer Junior High; and senior Keyon Jones, from Summerfield High School.
MICHELLE BATES, Editor
The Claiborne Parish School Board recognized its students of the year for 2012-13.
This year, from Homer Elementary School, Stephen Faulk, a fifth grader, was announced as the student of the year.  Faulk plays sports and plays football in Minden. He also loves to hunt and fish and his grades are also outstanding with all A's. He is also a member of 4-H.
Cody Long, an eighth grade student at Homer Junior High, was announced as student of the year for the junior high division. Cody participates in archery, is a member of 4-H, likes to hunt with his family, ride his bicycle and is an honor roll student.
Keyon Smith, a senior at Summerfield High School, has a 4.0 grade point average and is valedictorian for his class. He is a member of the Beta Club, the Future Business Leaders of America president, and loves being involved in his community. He also loves sports and to hunt and fish.
"Congratulations to all the principals, parents, and the students," said Claiborne Parish Superintendent Dr. Janice Williams.
"These are the young men of the future, and we need young men of the future," said School Board President Will Maddox, "and we do thank you. This is one of the better things we get to do."
Board members also congratulated the students on this achievement.
Both Summerfield High School and Haynesville Elementary School were recognized for its academic growth.
"This recognition comes on the heels of hard work," Dr. Williams said. "There were a total of 440 schools throughout the State of Louisiana that were termed top term schools. They were termed because they demonstrated academic growth over their base line over the course of one year."
Haynesville Elementary moved 16.8 points last year, and Summerfield High School moved 17.9. Because of this growth, each school will receive a monetary award in the amount of $8,453.85 to be spent at the principal's discretion for educational purposes.
"I congratulate the principals, the faculty, the parents and the entire school community on a job well done," Dr. Williams said.
"I just want to say thank you to the faculty, because they have been the driving force behind this," Mr. Brian Biggs, principal of Haynesville Elementary, said.
Summerfield Principal James E. Scriber also said a word of thanks, recognizing the faculty and staff for the hard work they put into raising its academic levels.
In other news, the school board approved a bid for $10,000 for the Pineview High School baseball field. The bid was awarded to Liz Hatcher, who purchased a little more than six acres of the baseball field. There are 32 acres left.
The school board also approved a lease with the Claiborne Boys and Girls Club, which means the Boys and Girls Club will be responsible for the entire building, grounds and anything that may be damaged. The period of the lease is five years, with a 90-day termination clause that will allow either party to terminate the lease if so needed. The lease will be effective March 1.
Also, the school board approved a cooperative endeavor agreement with Mt. Olive Christian School for the flashing lights once placed in the school zone at the now closed Athens High School.
This approval gives Dr. Williams the authorization to sign the documents to finalize the agreement.
In personnel actions, Kenneth Lockhart was hired at Haynesville Jr./Sr. High School as a paraprofessional. He is replacing Felicia Buffett. Lockhart was hired from the last recalled RIF list.
Three resignations were also turned in. These include Buffett, Jeanine Hocke , a math teacher at Homer High School and Carrie Hathorne, principal at Homer High School.
In Dr. William's superintendent's report, she said federal monitoring occurred on February 4 and 5 at Summerfield High School and at Homer High's cafeteria.
"Both cafeterias received a grade of A-plus," she said. "I commend Paula Becker, our child nutrition advisor, cafeteria managers and staff and principals at each school for a job well done."
In other superintendent news, Willia Hatter, a science teacher at Haynesville High School, will have a garden club dedication ceremony at 11:30 on Wednesday, February 20.
Schools will also be closed on February 18 for President's Day.
The next school board meeting will be at 6 p.m., Thursday, March 7, in the school board meeting room at Central Office in Homer. For more information, or for questions, please call their office at 318-027-3502.
CPSB votes to end Junction City agreement
MICHELLE BATES, Editor
The Claiborne Parish School Board has decided unanimously to end its longstanding agreement with Junction City Schools.
Their decision will now go to the Junction City School Board for its acceptance or rejection of Claiborne Parish's decision. In the unanimous vote, the school board will terminate its agreement at the end of this school year, with the exception of allowing the upcoming seniors to finish out their senior year. Students coming from Junction City will attend Summerfield High School in the fall of 2013.
Three options were put on the table including the one that was approved. The second option was to continue the agreement for one more year at the same funding level of the Minimum Foundation Program (MFP) and terminate the agreement at the end of school year 2014. The third option was to continue the agreement at roughly $6,000 per student and that would also terminate at the end of this school year 2014.
The votes on each option were handed down with a roll call vote as follows:
Option 3: Failed with a 7 no, three yes vote.  Danny Lee: yes, Linda Knox: no, Yolanda Coleman, no, Dr. Haynes: no, Vera Meadors: no, Will Maddox: no, Tommy Davidson: yes, Almeter Willis: no, Joey White: yes, Stewart Griffin, no.
Option 2: Failed with six no and four yes. Danny: no, Linda: no, Yolanda: no, Dr. Haynes: no, Vera: no, Will: yes, Tommy: yes, Almeter: no, Joey: yes, Stewart: yes.
Option 1B (terminating the agreement with the exception of seniors next year) passed unanimously.
While the decision was made mostly due to financial reasons, there were other reasons as well, including the newly implemented value-added evaluation system for teachers, which makes it difficult for Claiborne Parish to evaluate its teachers who are teaching in another state.
Another factor, according to Claiborne Parish Schools Superintendent Dr. Janice Williams, is that the state intends to cut another $80 million from the state's education budget this year. And the school board simply cannot afford to keep the agreement going.
In this decision, Claiborne Parish Schools will continue to send Minimum Foundation Program (MFP) money on a monthly basis to Junction City for its remaining students until the end of the agreement for the seniors in 2014. As of June 30, teachers in Junction City employed by Claiborne Parish will have some decisions to make.
"We will no longer have any employees in Junction City after June 30 of this year," Dr. Williams said.
Teachers will have to decide whether to return to Claiborne Parish and be absorbed into Claiborne schools or whether they will be hired by Junction City or find other employment.
However, this may not mean the end of the road for the agreement in the long run. School Board President Will Maddox said this doesn't mean they couldn't work something out later on.
"You never know what's coming down the road," he said. "There's always an option to open it back up."
Board members spent some time discussing the issue, making sure they were making the right decision not only for the school system's finances but for the students as well.
While the decision was made with heavy hearts, parents, community members and Junction City School officials pleaded with the board to allow the agreement to continue.
One parent, whose name was not given, said it has been difficult for her kids, because she came home to them crying, not understanding why they can't attend school in Junction City next year.
"Junction is all they know," the parent said. "That's the only school they know. It's hard on parents; it's really a burden on them."
Another parent, who said he lived within six blocks of Junction City Schools and lives in Louisiana, raised the issue of the longer amount of time their children will be on a school bus, saying the bus ride to Junction City is much shorter.
Community ties are also another important factor, another parent said. Her husband graduated from Junction City and their kids attend this school. She explained that her children were allowed to attend Junction City because of the agreement, and she'd like that agreement to continue.
And while tradition and ties are there to attend Junction City schools, they live in Louisiana because they love Louisiana. She asked the board to reconsider and make the agreement a long-term one, adding that Junction City administrators are more than willing to work with Claiborne Parish to come up with a plan that would work for everyone.
However, not all in attendance wanted the agreement to continue. Sadie Flucas said the board shares the responsibility of doing what's best for the entire district, not what's best for the northeast corner of the parish or the southern end of the parish.
Linda Mozeke, a teacher at Homer High School, agreed, saying that while change is hard, she understands that changes have to take place. She mentioned the closing of Pineview and Athens High Schools.
"It's unfortunate because of all the changes that have taken place," Mozeke said. "All of us hate to be uprooted, but I think we should be consistent and it should be fair across the board. Why should we send thousands of dollars to another state? Our schools are suffering right here in Claiborne Parish."
For the 2012-13 school year, according to Central Office's financial records, the Claiborne Parish School Board pays roughly $5,000 per student, totaling about $537,000 to Junction City for 105 students to attend their schools. This includes salaries and benefits for six teachers, paraprofessionals and a bus driver as well as the amount allocated for each student.
These funds are doled out from the school systems' general fund.
The original agreement began as a "gentlemen's agreement," about 70 or 80 years ago because of travel issues. And over the last few years, Junction City has become an issue due to the ever changing regulations in the Louisiana education system. In fact, there is no other agreement like this one in the state.
When Louisiana's finances began running into trouble, the state implemented what is called mid-year cuts, which means student population is counted twice per year. In 2012, Claiborne's student population was counted in October, resulting in a head count of 1,945 students. As of February 1, 2013, the student population was counted again, resulting in a head count of 1,863 students.
Claiborne's decision will now head to Junction City for its approval or rejection. As of press time, it was not known what Junction City's board decided. Please see next week's edition of The Guardian-Journal for a follow-up on this story.
Parish breaks ground on library renovation/expansion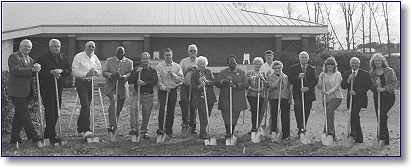 The Guardian-Journal photo/Jenni Williams
Members of the Claiborne Parish Police Jury and Claiborne Parish Library Board broke ground on the library renovation and addition, Sunday, February 10 in a ceremony held in front of the current building.
Claiborne Parish was proud to break ground on what will soon be a state-of-the-art renovation and addition to the current public library.
The groundbreaking, held this past Sunday on the grounds of the original library, was very well attended and much anticipated.
Dignitaries present for the groundbreaking were State Representative Patrick O. Jefferson, House District 11, Mayor Alecia Smith, Sheriff Ken Bailey, School Superintendent Dr. Janice Kennedy Williams, Chamber of Commerce Director, John Watson,  and Sherry Whitman, Branch Manager Gibsland Bank & Trust.
Police Jury members present were Dwayne Woodard, Secretary/Treasurer, Mark Furlow, Robert McDaniel, Jerry Atkins, Lavelle Penix, Roy Lewis, Willie Young, Sr., School Board members Dr. Robert Haynes, Dr. Janice Kennedy Williams. Architect Wayne Coco, Coco and Company, and Jerry Garcia with Garcia Construction.
Library Board President Denice Owens, Dianne Speigener, Janis Daniels, Frank Speer, Beverly Hooks and Trudy Walker.
The present library headquarters began over 25 years ago and it did not take long before the  realization came that more room was needed for books, children's programs, and more technology.
Through the support of The Friends of the Library, Claiborne Parish tax and library supporters, and the library board this special day has finally come.
A community is known for its churches, schools, hospitals, and libraries, and yes, it does take a village to raise a child.
The library has helped to raise our children and it plays a major role in the education of our citizens and our future. This library has many memories for all of us from the library on the Square to the many wonderful days at this site.
A special thanks was given to the very special Claiborne Parish Library Director Pam Suggs for her dedication and devotion to the library and this parish. She is a jewel in this parish!
Everyone looks forward to next February for the Dedication and grand reopening of the beloved parish library.
Reverent Willie Young led the prayer and Wayne Coco, the library's architect, said a few words. We are privileged to have him as our architect, one of the most honored library architects in the nation, a former Avoyelles Parish Library Board Trustee member.
Jesse Garcia with Garcia Construction, a respected company in our parish gave everyone a timeline as to when the different phases of construction will, hopefully, occur. He is a Homer High and LA Tech graduate. Garcia Construction was awarded the construction bid to begin the library renovations and expansion.
The new additions will include a much larger meeting room, larger restrooms, new reading areas for children and adults. The adult reading area will house a fireplace. There will be more room for book stacks and two decks, along with other new amenities. A new raised ceiling entrance will greet patrons. 
Submitted By: Denise Owens, Library Board President
Woods arrested for burglary
On February 5, Deputy Randy Pugh of the Claiborne Parish Sheriff's Office and Lt. Jimmy Brown responded to a report of a burglary with the suspect being detained.
Officers arrived and discovered Arthur Woods of Homer being detained.
Witnesses observed Woods go into a building that did not belong to him and throw items out of the door. Woods was also observed gathering three plastic gas containers and a rope and going to his truck.
The owner of the building reported that permission was not given to Woods to enter the building or to remove any items from it.
Deputy Pugh arrested Woods for simple burglary and searched his person.
Deputy Pugh discovered a clear plastic bag in Woods' front chest pocket containing a green vegetable substance that appeared to be marijuana. There was also a three to four inch metal pipe which appeared to be drug paraphernalia.
Woods was placed under arrest for possession of marijuana with a $500 bond; possession of drug paraphernalia with a $500 bond and simple burglary, also with a $500 bond.
Primm, Estes booked on drug charges
On February 4, Claiborne Parish Deputy Aaron Christian was patrolling and observed a pickup with a broken tail lamp on the right rear.
Deputy Christian initiated a traffic stop and made contact with the driver Reginald C. Primm of Homer. The passenger in the vehicle Charles Estes of Winnfield, was fumbling through the glove box after the driver had given Deputy Christian the paperwork.
Haynesville Police Chief Anthony Smith and Officer Trent Cook arrived on scene to assist.
An investigation into the matter led to the discovery of a glass pipe with burnt residue on one end, commonly associated with drug use, in a black cloth bag in the center of the rear seat.
A plastic bag containing a white powder, crystal substance presumed to be methamphetamine was also found on the rear floorboard on the passenger's side.
Both subjects denied ownership of the items and both were placed under arrest and transported to the Claiborne Detention Center.
Primm was booked for possession of drug paraphernalia, possession of a schedule II controlled dangerous substance - methamphetamine and tail lamps required, with a bond of $6,000.
Estes was booked and charged with possession of drug paraphernalia and possession of a schedule II controlled dangerous substance, with a bond of $5,500.
CNET makes drug arrests
On February 6, CNET (Claiborne Narcotic Enforcement Team) initiated the arrest phase of an investigation  which started in early January.
Last Wednesday morning CNET personnel served six arrest warrants on Joel Thomas Welch. These warrants were for three counts of distribution of schedule II controlled dangerous substance methamphetamine, distribution of a schedule II controlled dangerous substance amphetamine - Adderall, distribution of schedule III controlled dangerous hydrocodone and failure to pay child support.
These warrants were served when Welch was stopped on US Hwy 79 north after CNET personnel observed Welch leave a location at Gentry Road and US Hwy 79.
During this stop and ongoing investigation, a search of Welch's vehicle was conducted. During this search CNET  agents seized a .357 caliber handgun, schedule II controlled dangerous substance methamphetamine, and $498.
In addition to the six warrants, Welch was also charged with possession of a firearm during a drug crime, possession of a firearm by a convicted felon, and possession of a schedule II controlled dangerous substance methamphetamine.
Welch was later booked into the Claiborne Detention Center on all charges with a total bond set at $177,000.
During this investigation, CNET  personnel knew from prior investigation that Welch was making trips to Arkansas to obtain methamphetamine and return it to Claiborne Parish for distribution.
On Wednesday, after Welch was stopped and arrested, Detective Sgt. Mike Caldwell of the Magnolia Police Department, along with the Arkansas State Police and the FBI Violent Crime Safe Streets Task Force served a search warrant at the residence of Laterrance Hardwell, 34, of Magnolia.
This search warrant was a result of prior investigation by CNET and Arkansas Law Enforcement. This search warrant resulted in the arrested of Hardwell for possession of methamphetamine with the purpose to deliver, distribution of methamphetamine within 1000 feet of a church, possession of drug paraphernalia, possession of marijuana, possession of a firearm by a convicted felon and theft by receiving stolen good; firearm and other property.
Hardwell was booked into Magnolia with bond to be set.
To report suspicious or illegal activity, concerned citizens may call CNET at 927-9800, DEA/Louisiana State Police at 676-4080, Homer Police Department at 927-4000, Haynesville Police Department at 624-1355 or the Claiborne Parish Sheriff's Office at 927-2011. Any and all information is considered confidential and is greatly appreciated.
Parish property taxes coming up for renewal
The Guardian-Journal
The Claiborne Parish Police Jury tackled a short agenda, but some items will be coming up for renewal on the ballot for October 19.
A few housekeeping items will be set on the ballot for 2013, most likely in October, which if passed would renew the 2.710 mil building and maintenance ad valorem tax which will expire in 2014, the ad valorem exemption for the disabled veterans and the watershed sales tax.
"It's been the police jury's practice to renew these the year prior to [its expiration],"   Secretary Treasurer Dwayne Woodard said. "No renewal has failed to pass, but just in case it does not (pass), it gives us a full year to go back to the voters if we have to."
October 19 is the election date that will be the most cost effective, Woodard said. Approval of this process means that he will be able to turn in all the paperwork to the bonding attorneys to get the ball rolling to get it on the ballot for October.
In the first item on the regular agenda, jurors were reminded about the groundbreaking ceremony for the reconstruction and renovation of the Claiborne Parish Library, which was at 2:30 p.m., Sunday, February 10.
Construction is expected to begin this month, no later than the first of March. The project should be completed within a year.
Jurors also accepted the lowest qualified bids for the purchase of culverts for the 2013 year. The lowest bid for corrugated metal culverts went to Wilson Culverts, Inc., from Elkhart, Texas. The lowest bid for corrugated dual-wall culverts went to Coburns Supply from Ruston.
"They (Coburns) also bid on the metal culverts but their bids were a little bit higher than Wilson's," said Woodard.
In other news, the jurors appointed two representatives to serve on the board of directors of the Coordinating & Development Corporation for the 2013 year. Current representatives were Joe Sturges and Jerry Adkins. Sturges and Adkins were reappointed.
Merit pay increases for highway department employees were also approved. Truck driver Jim Gardner received a raise of 50 cents per hour, Truck driver Brandon Allen received a raise of 75 cents per hour, Truck driver Gregg Buggs received a raise of 25 cents per hour and Operator II Larry Crew received a raise of 25 cents per hour.
Jurors also approved an assurance letter which "assures" the police jury will comply with the Uniform Relocation Assistance and Real Property Acquisition Policies Act (Uniform Relocation Act). This program assures the police jury will give fair and reasonable relocation payments to or for displaced persons in accordance with the Uniform Relocation Act as well as other provisions.
The next police jury meeting will be at 9 a.m., Wednesday, March 6, in the meeting room at the Police Jury Complex. For more information, or for questions, please call their office at 318-927-2222.
Killgore's Pharmacy & Gift Shop announces opening of their website
Killgore's Pharmacy & Gift Shop announces the opening of their website as of 2012-12-28, online at KillgoresPharmacy.com.
Killgore's Pharmacy & Gift Shop was opened by Pharmacist James "Keith" Killgore and wife/business partner Beverlee Killgore in 1980.
Beverlee is the store manager and catalyst behind the excellent seasonal gift selections and gift displays.
Keith has been a practicing pharmacist in his hometown, Haynesville, for over 30 years. Helping his customers understand the do's & don'ts in regards to their prescriptions is his pleasure not his obligation.
For many years, the Killgore's have selflessly devoted their time to promoting Haynesville & All of Claiborne Parish. Keith, the consummate artist, designed and painted the "Lonesome Drug", "Welcome to Haynesville" and "Main Street Haynesville" murals.
Keith's artistry is available to you through his Gift Personalization Calligraphy on many of the gift items (plates, ornaments, banners and more).
The Killgore's put the family in "Family Pharmacy & Gifts".
Killgore's Pharmacy & Gift Shop is your one stop for medicine when you're sick, vitamins to keep you well, gifts for the bride and groom to-be, custom framing for your most cherished memories, home/yard decorating accessories and hobby supplies.