School evacuated following bomb threat
Officials say no bomb found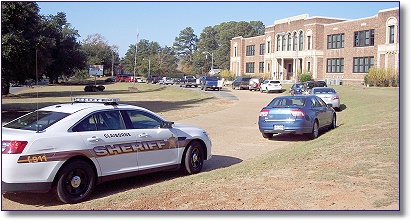 The Guardian-Journal photo/Michelle Bates
Law enforcement, emergency personnel and school officials were at Homer High School Tuesday morning following a called in bomb threat to 911. A sweep of the school was conducted by officials and a K-9 trained in detecting bombs. Fortunately, no bomb(s) were found and students and faculty were allowed to return to class. All three Homer schools were placed on lockdown per school board protocol.
MICHELLE BATES, Editor
All three Homer schools were placed on lockdown Tuesday morning after Claiborne 911 received a call of a bomb threat at Homer High School.
With the threat called in at approximately 8:45 a.m., school officials, law enforcement and emergency personnel responded to the school. The incident was still under investigation, but Homer Police are interviewing one person, Captain Donald Malray, of the Homer Police Department, said.
"It's still under investigation, and at this time, we don't know if the threat is real, but we are treating it as if it is," he said during an interview at the scene.
Malray said the parents of the male juvenile they are interviewing are also being contacted and brought in. The boy was interviewed and released.
Superintendent of Schools Dr. Janice Williams said everyone at Homer High School was evacuated to a safe location while officials investigated the threat. As per protocol, all three schools were placed on lockdown, and law enforcement officials conducted a preliminary sweep of the school, the grounds and vehicles. At this time, nothing has been found.
"We don't think there's anything to it, but we have to treat it as if it were a real threat," Williams said at the scene.
Malray said he's been in contact with officials at Barksdale Air Force Base to bring in a K-9 trained in detecting bombs to conduct a sweep of the school and the grounds. They did so and cleared the school to resume classes.
Later in the day, Dr. Williams said all was clear and no bomb was found.
Homer Police Lt. Roger Smith, Officer Johnnie Hough and Malray were on scene as well as Claiborne Parish Sheriff's Deputies Ben Booth, Jimmy Brown and Detective Randy Smith. Homer Fire Chief Dennis Butcher and Assistant Fire Chief Ronnie McKenzie were also on scene.
Teen injured in Thanksgiving accident
MICHELLE BATES, Editor
A 13-year-old boy is in critical condition after tumbling out of the back of a moving truck on Thanksgiving Day.
Homer Police Captain Donald Malray said Thursday, November 22, Cardarius McDonald was riding in the back of a pickup truck westbound on Hill Street driven by his older brother.
At some point, McDonald tumbled out of the truck as it was moving and received severe head injuries as well as abrasions to his back.
He was transported to Homer Memorial Hospital where he was airlifted by Pafford Air One to Louisiana State University Health Sciences Center. As of press time, McDonald is listed in critical but stable condition.
"Every day since Thursday, we've had contact with medical staff at LSU to check on him," Malray said. "He's a fine young man and an outstanding football player for Homer Junior High. We're asking everyone to keep him in your prayers."
Lisbon Landing kiosk vandalized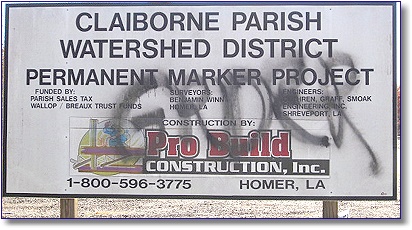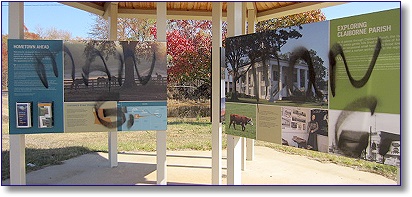 The Guardian-Journal photos/Jenni Williams
The new Scenic Byway kiosk at Lisbon Landing was vandalized sometime over the weekend and was reported to the Claiborne Parish Sheriff's Office on Monday.  The perpetrator(s) spray painted "Man G" on the kiosks and "Grder" on the Claiborne Parish Watershed District sign. Investigators said they are looking for information that leads to the arrest(s) of the person(s) responsible for this damage. Please call the sheriff's office at 927-2011 or the sheriff's Criminal Investigation Division at 927-9800.
Haynesville man busted for leaving accident scene
The Guardian-Journal
A Haynesville man was arrested over the weekend for leaving the scene of an accident plus other charges.
According to a news release from the Claiborne Parish Sheriff's Office, on Saturday, November 24, Deputy Heath Tingle was dispatched to a vehicle accident on La. Hwy. 2 Alternate. While en route to the location, Tingle saw a privately-owned tow truck towing a pickup that fit the description of the vehicle.
Upon arriving at the scene, Tingle discovered the driver of the vehicle Seabon D. Holyfield, 23, fled the scene of the accident.
Deputy Aaron Christian arrived on scene to assist.
While searching the vehicle, Christian discovered a white plastic bag filled with a green leafy vegetable substance believed to be marijuana.
Holyfield was booked into the Claiborne Parish Detention Center and charged with leaving the scene of an accident with bond set at $500, simple possession of marijuana with bond set at $500 and no driver's license with bond set at $500.
One Hill Street burglary solved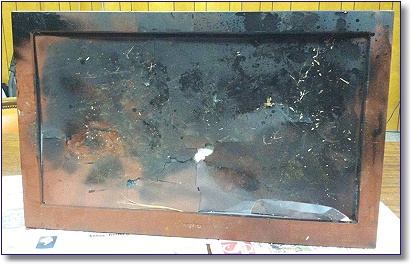 The Guardian-Journal photo/Michelle Bates
This is one of the two televisions recovered in one Hill Street burglary. It was set on fire in an attempt to hide evidence from police.
The Guardian-Journal
One of several burglaries has been solved following the arrests of several people.
Gemarkus C. Williams, 23, of Homer, was arrested on Monday, November 19, and charged with illegal use of weapons/dangerous instrumentalities with bond set at $10,000, simple battery with bond set at $1,000, simple escape with bond set at $50,000, resisting an officer with bond set at $500, failure to pay child support with a bond of $2,000, criminal conspiracy to commit burglary with bond set at $15,000 and simple burglary with bond set at $15,000.
Waltez M. Williams, 18, of Homer, was arrested on Thursday, November 22, and charged with simple burglary with bond set at $15,000 and criminal conspiracy with bond set at $15,000.
Tre'Shavez Williams, 19, of Homer, was arrested on Tuesday, November 20, and charged with accessory after the fact/aiding a felon with bond set at $5,000 and obstruction of justice with bond set at $5,000.
Donvontay "Lilman" Williams, 17, was arrested Tuesday, November 20, and charged with accessory after the fact/aiding a felon with bond set at $5,000, obstruction of justice with bond set at $5,000 and compounding a felony with bond set at $5,000.
According to Homer Police Captain Donald Malray, two flat screen televisions had been taken from the residence of Jakayla Hartwell and sold to a suspect from out of town. Police are currently obtaining warrants for that person, Malray said.
Waltez and Gemarkus Williams are the ones said to have taken the televisions. Malray said the two admitted during questioning to taking the televisions, and police were able to obtain evidence against them. Citizens phone calls also helped solve the case.
Tre'Shavez and Donvontay Williams were also involved in attempting to hide the televisions, Malray said. In fact, police were able to recover one television that had been burned in an attempt to hide evidence.
"All these guys are tied to one family," Malray said. "Reward money is still available to anyone who has information that leads to the arrest and convictions of the others involved in this case."
A second burglary in the 1400 block of Hill Street has not yet been solved, but Malray says they are following up on leads. He said they expect to make an arrest or arrests within the next week.
In this burglary, a handgun, rifle, watch and $800 in coin change was taken from the residence. The home was broken into again, but nothing was taken, Malray said.
"With the holidays coming up, I urge people to write down serial numbers on electronics they purchase as soon as they bring it home," Malray said.
Another good tip is to never, ever leave electronics boxes outside near the trash bin to await garbage pickup, because that can make you a target.
If anyone has any information that will lead to the arrest or arrests of these persons responsible for this latest rash of burglaries, please call the Homer Police Department at 927-4000.
Santa Train coming next Saturday
Christmas Festival sure to have something for everyone
The Guardian-Journal
The annual Santa Train and Claiborne Christmas Festival are set for next weekend and there's something for everyone!
Set for Saturday, December 8, it kicks off at 10 a.m. with the Christmas Festival, with Santa Claus rolling through Homer around lunch time. Once all the kids have given Santa their wish list for Christmas, families are urged to stroll through downtown Homer at the Square and get some of their Christmas shopping done, drink hot chocolate, relax a little and enjoy the fashion show that will be going on all throughout the day  before the Christmas Parade starts at 4 p.m.
Below is a list of activities for the day. Don't miss it!
Christmas Festival
The Christmas Festival will be filled with everything one needs to get their Christmas shopping done early. With vendors set to surround the Square in Homer, there will be something for everyone. Vendors will include gift items, food, hot chocolate and more.
New this year will be a fashion show sponsored by Necessities, nestled on the Square just across the street from Homer City Hall. The fashion show will be an all-day event throughout the day to showcase some of the store's items. Crista Cheney, Christmas Festival coordinator, said if other stores want to participate in the fashion show, they may do so.
Also, Cheney is asking area churches to volunteer to cookout for the Christmas Festival to add variety to what festival goers can choose from. Any church wishing to participate is asked to call her.
Booth rental for vendors is free this year; however, space is limited, so please register early to reserve your spot.
The festival will begin at 10 a.m. and go well into the afternoon until around parade time.
To reserve booth space, participate in the fashion show or for churches that are willing to cookout, please contact Crista Cheney at 318-927-5888. Please fill it out and mail to Steel Magnolia, ATTN: Crista Cheney, 638 West Main Street, Homer, LA 71040. Or you can stop by Steel Magnolia and pick up a registration form.
Christmas Parade
The annual Claiborne Parish Christmas Parade will begin at 4 p.m., with lineup at 3 p.m. at Homer High School.
The parade committee is trying to make this year's parade the biggest and best ever with lots of old and new participants. Whatever form of transportation participants choose to use must be safe. Entrants are required to provide their own sign of identification.
Individuals, organizations, groups or businesses are invited to participate.
Please send the entry form, which can be found in this week's edition of The Guardian-Journal, to the Claiborne Christmas Parade Committee, Laci Lee and Sacha Matthews c/o Citizens National Bank, P.O. Box 779, Homer LA 71040. Or call 318-927-1099 to pick up a registration form.
Santa Train
Come rain or shine, Santa Claus is coming to town! Santa will come to Claiborne Parish via train provided by L&NW!
Athens
He will begin his day-long journey in Gibsland at 9:30 a.m. at the E.W. Merritt Pavilion and make his way to Claiborne Parish, first stopping in Athens at 10:30 a.m. at La. Hwy. 518 and Athens Avenue. A host of activities will take place as Santa makes his first stop in Claiborne Parish.
Homer
Santa Claus will stop via L&NW Railroad at Delta Interiors in Homer between 11:30 and 11:45 a.m. Several activities will be going on as the children get to see Santa and tell him their Christmas wish list. Also, get your picture taken with Santa Claus. Pictures are $10 and all proceeds will go to the Domestic Abuse Resistance Team (DART). Also, DART is doing their annual Christmas Cash raffle. For $1, get a ticket for $300 in Christmas cash.
Haynesville
The Santa Train will stop at Church Avenue in Haynesville between 1 and 1:15 p.m. and go to the Claiborne Parish Fair Complex. There will be goodies for Haynesville Wee Care, Head Start and children in grades Pre-K through fourth grade.
Santa Train is coming!
Plan to have your picture made
Each year, Santa arrives in Claiborne Parish on the LN&W Railroad. He comes to visit with the children at Delta Interiors in Homer. Santa will be available for pictures with your child. This is an annual fundraiser for DART. Pictures are $10 each and can be picked up later in the day at Delta.
Claiborne DART is very grateful for Delta Interior's contribution to this fundraiser. They provide the photographer, the pictures and the cards for the pictures. DART receives all the proceeds from the sale of Santa pictures.  DART volunteers will be on site to sell tickets for Santa pictures that morning before Santa arrives and tickets will be available as long as Santa is there. DART will also be selling raffle tickets for the annual Christmas cash giveaway. For a $1 donation, you can take a chance to win $300 Christmas cash. The drawing will be held on December 20 and the winner will be notified immediately.
We will be looking forward to seeing you on December 8th for the Annual Christmas Santa Train event at Delta Interiors.
For more information, please call Mary Ellen Gamble at 927-2818.
Spirit of Christmas Food Drive applications available
Application deadline set for December 14
Those who would like to receive a food box at Christmas should pick up an application at the Homer Food Stamp office or at the Claiborne Parish Police Jury. After completing the form it should be returned to either location accompanied by a print out from the Food Stamp Office. Deadline for receiving applications and forms is December 14. Boxes may be picked up at the First Presbyterian Church in Homer on December 21 from 1-4 pm or at the City Hall in Haynesville. For more information call Dwayne Woodard at 927-2222.
The food drive is sponsored by Brookshire's and donations for the drive may be dropped off there in designated boxes. Individual items are welcomed and pre-packed bags are also available for purchase.
In addition to the Lions Club volunteers, the 4-H Junior Leaders will be collecting and sorting the donations. 
Boys and Girls Club to temporarily close for relocation
To those of you that are not aware, the Claiborne Parish School Board has declared the old Homer Junior High Building occupied by the Boys & Girls Club as surplus property.  This means that we must vacate the building and relocate.  The CPSB has been very generous in allowing us to use the building over the years and we are very appreciative.  They are offering us the use of the old 5th and 6th grade building across the street where the Alternative School was located. This means that we will be closed as of December 1.  We are sorry for the interruption in our afterschool program, but it cannot be avoided.  We will start making this transition during the month of December.  At this time, we do not have a projected reopen date for the Homer Unit as the school board must first move their stored supplies before we can move into the building. Please accept our apologies and watch the newspaper for the date we reopen.