Claiborne Jubilee set for this Saturday
Kinnebrew mural dedication set for noon at courthouse lawn

Kinnebrew Mural
The Claiborne Jubilee this Saturday will feature many artists, authors, musicians and one very special event, the dedication of the mural being painted on the north wall of the Kinnebrew building.
The dedication will be held at noon on the courthouse lawn on The Square in Homer, not at the mural wall
The Jubilee will be honoring the artist who created the original painting as well as the students and teacher from Tech who have implemented the design this spring. They are finishing the final touches this week in anticipation of this celebration.
Also being honored is the Ross family from Shreveport who inherited the building last year and has done extensive work on the building in preparation for the mural. Jim Ross's parents, Jesse and Beverly Kinnebrew Ross left the building to him at their passing, and the community can see it is in good hands.
Many groups in the parish have helped to make the mural possible and they will be recognized as well. These include the Claiborne Chamber of Commerce, the Homer Industrial Board, the Louisiana Division of the Arts through the Decentralized Arts Fund, Ed Watson who lent the use of his scaffolding, and Linda Volentine of the Ford Museum who assisted with the research for the painting.
In addition, numerous area citizens contributed by donating supplies and offering encouragement throughout the mural's progress. All have been greatly appreciated by the Jubilee and the artists.
A limited number of signed prints will be available to order during the Jubilee festival. The original painting and a sample of a smaller size can be viewed at First Guaranty Bank in Homer. Orders should be paid in advance and left with Candie White at the bank.
The featured artist for the Jubilee is Jasmine Morelock Field, who was married to Max Morelock of Haynesville. She will be signing published copies of her book, "Valerie". "Valerie" is a book about Field's daughter, Valerie, who was murdered at LSU her senior year. Valerie was the granddaughter of M.M. and Lalia Morelock of Haynesville.
The book was printed in 2011 and is available at area gift shops. Field will also be exhibiting some of her art pieces at the Jubilee.
For more information, please call Cynthia Steele at 318-927-2566 or .
Single vehicle accident claims lives of two parish residents
MICHELLE BATES, Editor
Two elderly women perished in a car accident Wednesday afternoon, May 16, after hitting a tree.
According to Louisiana State Police, troopers, along with Claiborne Parish Sheriff's deputies, responded to the crash around 4:30 p.m. on U.S. Hwy. 79 at Pine Hill Road.
The wreck involved a 2003 Honda Accord, which was driven by Donald L. Perkins, 80, of Haynesville. The passengers, both who were killed, were Mae G. Perkins, 81, also of Haynesville and Marcella A. George, 95, of New Orleans.
State Police say the three were northbound when Mr. Perkins lost control of the vehicle and exited the left side of the roadway, colliding with a tree.
Mr. Perkins was transported to Louisiana State University Health Sciences Center (LSUHSC) in Shreveport for treatment of moderate injuries. As of Thursday, May 17, he was listed in serious condition according to officials at LSUHSC.
Mrs. Perkins and George were both pronounced dead at the scene.
Both were wearing their seatbelts at the time of the accident. Routine toxicology tests are pending, and the crash remains under investigation.
While not all crashes are survivable, seatbelts can greatly decrease the occupant's chance of death and will greatly reduce the extent of injury.
Troop G troopers have investigated 8 fatal crashes in 2012, resulting in 9 fatalities.
The Perkins, who moved to Claiborne Parish after Hurricane Katrina in 2005, was members of Friendship Baptist Church in Haynesville where Mr. Perkins served as a deacon.
Neighbors witness theft, two arrested
The Guardian-Journal
Two men were arrested for theft after Claiborne Parish deputies were advised that neighbors had witnessed the incident.
And one man had outstanding warrants on him for another burglary that took place in April.
According to a news release from the Claiborne Parish Sheriff's Office, on Sunday, May 20, K-9 Deputy Aaron Christian and Lt. Roger Ellerbe were advised that a theft had taken place at a residence in Claiborne Parish and the neighbors had witnessed the crime.
The vehicle the suspects left the residence in was described to deputies who then began an investigation. A search for the vehicle led deputies to the driver of the vehicle, Michael Cooksey, 49, of Lisbon.
Detective Ben Booth was called on scene.
Cooksey was questioned regarding the theft. He was arrested and charged with criminal trespass with bond set at $500, simple criminal damage to property with bond set at $500 and theft under $500 with bond set at $500.
Witnesses to the crime identified another male involved in the incident as Michael B. Wafer, 46, of Homer. Booth, Christian and Ellerbe then made attempts to locate Wafer. Ellerbe and Christian were aware of outstanding warrants on Wafer obtained by Detective Adrian Malone regarding another burglary.
On April 2, Wafer had burglarized the Apostolic Holiness Church in Homer. Two speakers valued at $100 and several canned cokes were stolen from the church.
Deputy David Crump went to the scene and conducted an initial investigation. Malone continued the investigation and discovered information that led to warrants being obtained for Wafer for simple burglary of a religious building and criminal trespass. Deputies received information that Wafer was seen and deputies located him. Wafer ran into the woods and attempted to elude Ellerbe but was later apprehended.
On Monday, May 21, Booth obtained warrants against Wafer for theft under $500, criminal tress pass and simple criminal damage to property under $500. He was booked into the Claiborne Parish Detention Center.
Wafer was arrested and charged with simple burglary of a religious building with bond set at $12,000 and criminal trespass with bond set at $2,000 from warrants obtained by Malone; theft with bond set at $500, criminal tress pass with bond set at $500 and simple criminal damage to property with bond set at $500 from warrants obtained by Booth; resisting an officer with bond set at $500, charged by Ellerbe; and failure to pay child support $1,000.
Wafer's total bond was $17,000.
Booth recovered the stolen air conditioner and returned the property to the victim.
Sentencing set for Claiborne Parish man involved in worldwide porn ring
The Guardian-Journal
Sentencing for a Claiborne Parish man involved in an international porn ring has been set for Wednesday, June 13.
Edward Oedewaldt pled guilty on January 19 to engaging in a child exploitation enterprise and possession of child pornography.
According to Stephanie Finley, U.S. Attorney for the Western District of Louisiana, Oedewaldt was charged with engaging in a child exploitation enterprise, conspiracy to advertise the distribution of child pornography, conspiracy to distribute child pornography and possession of child pornography.
Oedewaldt was arrested in April 2010. Claiborne Parish Sheriff Ken Bailey said his office assisted in his arrest with Immigration and Customs Enforcement (ICE) taking the lead on the case. Also involved were the SWAT team and the Louisiana State Police.
"We arrested him without incident and they (ICE) took it from there," he said. "He was arrested at a residence on Hwy. 519 in the southeast corner of Claiborne Parish, close to the Bienville/Claiborne line."
The investigation stemmed from the seizure of Oedewaldt's computer, according to some reports, which allegedly contained child pornography. Oedewaldt was the last of 26 individuals arrested in Operation Nest Egg – a joint investigation which included the Southern District of Indiana – which set off Operation Delego.
In May 2010, Oedewaldt appeared in federal court in Indianapolis, Indiana; however, he was transported back to the Western District of Louisiana. He is currently incarcerated in the Western District of Louisiana, location undisclosed.
"Mr. Oedewaldt is currently incarcerated and is in the custody of the U.S. Marshal's Service (USMS) at a facility designated by them," Finley said in an email to The Guardian-Journal.
Just last week, the U.S. Attorney's office published a press release stating another of those arrested in Operation Nest Egg was found guilty for his participation in "Dreamboard," an international criminal network "dedicated to the sexual abuse of children and the creation and dissemination of graphic images and videos of child sexual abuse throughout the world.
John Wyss, aka "Bones," of Monroe, was found guilty of one count of engaging in a child exploitation enterprise, one count of conspiracy to advertise child pornography and one count of conspiracy to distribute child pornography.
According to the release a total of 72 individuals were arrested worldwide, and of those, 55 have pled guilty. Wyss was convicted after a four-day jury trial. The press release goes on to say that 25 of the 41 individuals who have pleaded guilty for their roles in the conspiracy have been sentenced to prison and have received sentences ranging between 15 and 37 years.
Seventeen of the 72 individuals charged remain at large and are known only by their online identities. Oedewaldt and Wyss were arrested as a result of Operation Delego, which is a spinoff investigation from leads developed through "Operation Nest Egg," the prosecution of another online group dedicated to the sharing and distribution of child pornography.
"Wyss and other conspirators of the nightmare called Dreamboard mistakenly believed that they could commit heinous crimes against children and hide in the shadows," said Director of U.S Immigration and Customs Enforcement (ICE) John Morton. "Criminals with this kind of depravity in mind should know that ICE's Homeland Security Investigations is ever vigilant. For every tactic taken to evade law enforcement, we will adapt our strategies to find them and prosecute them to the fullest extent of the law."
Operation Delego, as it was named in December 2009, targeted those charged and more than 500 more individuals worldwide for their participation in Dreamboard, which was created to promote child pornography and its distribution in an environment designed to evade law enforcement.
Oedewaldt allegedly served as an administrator and played an active role in decisions that affected its administration, a press release from U.S. Attorney Timothy M. Morrison, Southern District of Indiana, said.
The rules of being or becoming a member of Dreamboard were very graphic in nature and required the members to continue to post child pornography on the site or distribute other sexually explicit posts of children under the age of 12 in order to continue access to the website.
"As alleged in court documents, Dreamboard was a self-described global 'community' of pedophiles dedicated to the relentless victimization and exploitation of children 12 and under," said Assistant District Attorney General Lanny A. Breuer, of the Justice Department's Criminal Division. "Using sophisticated methods to evade detection by law enforcement, Dreamboard members allegedly used the power and anonymity of the Internet to motivate each other to commit their horrific acts of sexual abuse of minors and trading in child pornography."
U.S. Attorney Eric Holder said this operation marks an important step forward in protecting children across this country and worldwide.
"The members of this criminal network shared a demented dream to create the preeminent online community for the promotion of child sexual exploitation but for the children they victimized, this was nothing short of a nightmare," Holder said.
Juveniles arrested in scrap theft
The Guardian-Journal
A juvenile was charged with theft after allegedly stealing a tractor to be sold for scrap.
According to a news release from the Claiborne Parish Sheriff's Office, on Monday, April 30, the parish's criminal investigation division was contacted by a citizen regarding the tractor. Detective Darren Keel responded to the call and conducted an investigation into the matter.
The tractor in question was not operational and was stolen to be sold for scrap metal. Keel discovered that three juveniles had taken the tractor and sold it to Top Dollar Scrap Yard in Homer for cash. Two of the juveniles did not have knowledge that the tractor was taken without permission and were not charged.
The third juvenile was arrested and charged with the theft. He was released back into the custody of his father.
Private property means private property. No one has any right to proceed onto someone else's property and take any materials off that property.
SCRAP METAL IS NO EXCEPTION.
If you do not have permission to retrieve items off of property that is not yours, you will be charged with trespassing and theft.
Lions Club Chicken Charbroil a success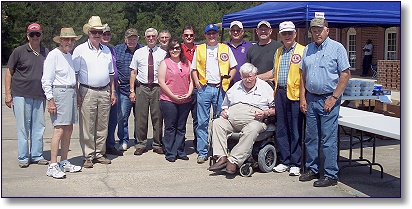 The Guardian-Journal photo/Michelle Bates
The 2012 Homer Lions Club Chicken Charbroil was a huge success again this year! With chicken, baked beans, potato salad and bread, lunch on Friday, May 18, was a good ole Southern favorite that goes for good causes. Special thanks goes to Regions Bank, Coca-Cola Bottling Company of Minden, Raeford Farms, Jerry Bailey at Moon's and the Lions Club Charbroil Committee. The charbroil is one of the biggest fundraisers for the Homer Lions Club and the proceeds go towards Lions charities as well as community donations.
Burham account set up at GBT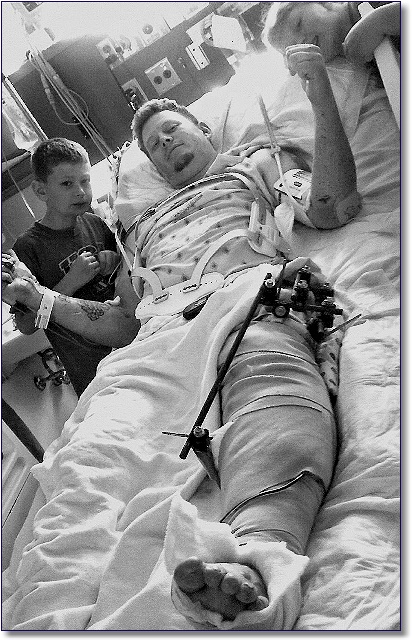 The account set up to help the Burham family defray medical costs has been set up at Gibsland Bank and Trust. Donors may contribute in his name to any branch of Gibsland Bank and Trust. Bryon Burham was seriously injured in a vehicle accident a few weeks ago and will undergo a long recovery. Pictured above is Bryon at Louisiana State University Health Sciences Center (LSUHSC) with his two children. His leg was seriously injured and he has three fractures in his back.
Pot Luck raises $13,000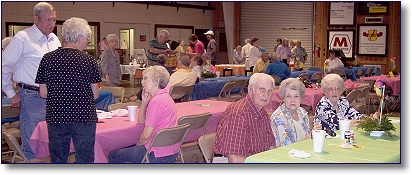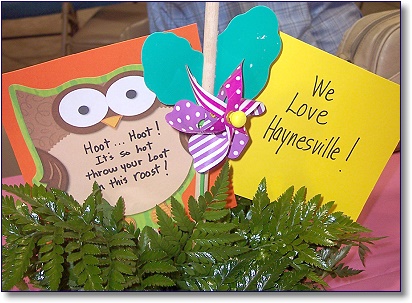 The Guardian-Journal photos/Michelle Bates
The 2nd Annual Pot Luck at the Fair raised approximately $13,000 in its quest to raise money for improvements to the Claiborne Parish Fair Complex, which include the replacement or repair of several of the buildings AC units along with other improvements. Special thanks goes to all those who donated for the silent auction, the volunteers who put in the time to make it a go, the churches for donating the food and to the Monday Nite Choir Boys for providing such inspiring entertainment.
Memorial Day a time to pause and remember
The Guardian-Journal
On Monday, May 28, the United States will observe Memorial Day, a federal holiday set to remember fallen soldiers who have fought in the U.S. Armed Services.
Memorial Day is set aside as a day to "actively remember our ancestors, our family members, our loved ones, our neighbors and our friends who have given the ultimate sacrifice," states www.usmemorialday.org.
Memorial Day is observed, the website states, by visiting cemeteries and placing flags or flowers on the graves of our fallen heroes, by visiting memorials, by flying the U.S. Flag at half-staff until noon, by flying the "POW/MIA" Flag as well, by participating in a "National Moment of Remembrance" at 3 p.m. to pause and think upon the true meaning of the day and for "Taps" to be played, and by renewing a pledge to aid the widows, widowers and orphans of our fallen dead, and to aid the disabled veterans.
The National Moment of Remembrance was signed into law on December 28, 2000, by former President Bill Clinton.
"This Act recognizes in law a commemoration begun on Memorial Day in May 1997, when "Taps" was played at 3 p.m. on many radio and television stations across the Nation as Americans paused to remember the men and women who have lost their lives in service to our country," Clinton said in a statement on December 28, 2000. "It is my hope that the establishment of the National Moment of Remembrance in law, along with the creation of the White House Commission, will promote greater understanding of the meaning of the Memorial Day holiday for all Americans."
"Taps" has long been associated with funerals of veterans or of those military personnel who perished during a foreign war.
According to Jari A. Villanueva, a bugler and bugle historian, said "Taps" is one of the most easily recognizable bugle calls.
"The melody is both eloquent and haunting and the history of its origin is interesting and somewhat clouded in controversy," Villanueva said. "'Taps' is unique with the United States military, since the call is sounded at funerals, wreath-laying and memorial services."
"Taps" actually began as a revision to the signal for 'Extinguish Lights' (Lights Out) at the end of the day.
"Up until the Civil War, the infantry call for Extinguish Lights was the one set down in Silas Casey's (1801-1882) Tactics, which had been borrowed from the French. The music for 'Taps' was adapted by Union General Daniel Butterfield for his brigade (Third Brigade, First Division, Fifth Army Corps, Army of the Potomac) in July 1862."
Villanueva goes on to say that Butterfield was not pleased with the call for Lights Out, feeling that the call was too formal to signal the days end. So, with the help of the brigade bugler, Oliver Willcox Norton, revised "Taps" to honor his men while in camp at Harrison's Landing, Virginia, following the Seven Day's battle in 1862.
So how did it begin its association with funerals? The first "official" reference to the "mandatory" use of "Taps" at military funeral ceremonies is found in the U.S. Army Infantry Drill Regulations for 1891.
"The first use of 'Taps' [was] at a funeral during the Peninsular Campaign [Seven Day's Battle] in Virginia," Villanueva said. "Captain John C. Tidball of Battery A, 2nd Artillery ordered it played for the burial of a cannoneer killed in action. Since the enemy was close, he worried that the traditional 3 volleys would renew fighting."
The term "3 volleys" refers to the traditional three gunshots at a military funeral.
"This practice originated in the old custom of halting the fighting to remove the dead from the battlefield," according to www.arlingtoncemetery.net. "Once each army had cleared its dead, it would fire three volleys to indicate that the dead had been cared for and that they were ready to go back to the fight."
So the use of "Taps" on Memorial Day signifies the beginning of the National Moment of Remembrance, a time to reflect on the significance of the sacrifices made by fallen heroes so that their families and fellow citizens could enjoy the freedoms of today. Another popular way Memorial Day is observed is through a nationwide distribution of "Buddy Poppy," a poppy flower given out in honor of Memorial Day. The first poppy distribution was conducted by the Veterans of Foreign Wars of the United States (VFW) in 1922, and the poppy was soon adopted as the official memorial flower of the VFW.
According to www.vfw.org, it was during the 1923 encampment that the VFW decided the VFW Buddy Poppies be assembled by disabled and needy veterans who would be paid for their work to provide them with some form of financial assistance. Today, the Buddy Poppies, a trademark of the VFW, are still made by disabled and needy veterans in VA hospitals.
"The minimal assessment (cost of Buddy Poppies) to VFW units provides compensation to the veterans who assemble the poppies, provides financial assistance in maintaining state and national veterans' rehabilitation and service programs and partially supports the VFW National Home for orphans and widows of our nation's veterans," the website says.
Other ways Memorial Day is observed includes people who visit memorials and cemeteries and visit the monument in Washington, D.C. Also, it is commemorated through parades across the United States, barbecues and picnics and other summer season fun. While it is a day to commemorate, pause and remember, it is also the unofficial beginning of the summer season.
Interesting to note, NASCAR's Indianapolis 500 is one of the longest running traditions in conjunction with Memorial Day. This car race has been held yearly on the Sunday preceding the holiday since 1911.
For more information on Memorial Day, its associations and history, visit any one of the websites cited in this story.
Gospel Celebration fundraiser for Fuller Center for Housing
Celebration set for June 1
The Guardian-Journal
A Gospel Music Celebration will be held on Saturday, June 1, from 6 until 9 p.m. at Homer City Hall.
The celebration is hosted and sponsored by the Claiborne Parish Fuller Center for Housing. The celebration will feature The Faithful Eight, Claiborne Parish Detention Male Choir, Mt. Calvary Choir, Lane Chapel CME, Mt. Superior Baptist, White Oak, the Haynesville Community Choir, First Ebenezer Baptist Choir, Moses Johnson, First Baptist, 4-His Glory and the Claiborne Male Church.
The gospel celebration is a fundraiser to help raise money to help those who need repairs done to their homes. The Greater Blessings Project began a few short years ago, and at first, had some trouble getting started. They were only raising enough money to do small repairs, but as word got around, donations began picking up.
The Fuller Center office is located at Believers Worship Center in Homer, but meetings are held at Homer City Hall.
In the December 8, 2011 edition of The Guardian-Journal, the Rev. Russell Grigsby, president of the Claiborne Parish Fuller Center for Housing, said the group is seeking volunteers with fresh ideas on how to make the organization grow in Claiborne Parish as well as raise more funding so that maybe in the near future, they can begin construction on a new home for someone in need.
For many years, Webster Fuller Center for Housing was accepting donations from citizens in Claiborne Parish.
Grigsby and others in the community saw a great need right here at home. And Claiborne Parish, more so, needs a program like this because Claiborne is a rural parish and tends to have a higher low-income population.
The board hopes to begin raising enough funds to build a home, but so far, they've only been able to raise enough to make repairs to existing homes.
For more information, please call John Markley at 318-927-9132.