Team Cade surpasses previous total
Benefit rakes in $24,000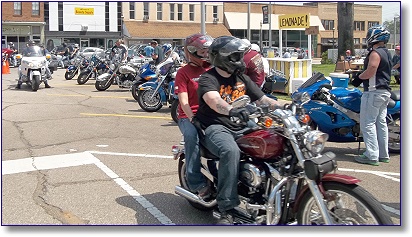 The Guardian-Journal photos/Jenni Williams
At right, bikers poured onto the Square in Homer following the Team Cade Poker Run. Rickey Bearden won the game, giving back the $250 cash prize to the benefit. In all, 40 participants took part in the Poker Run.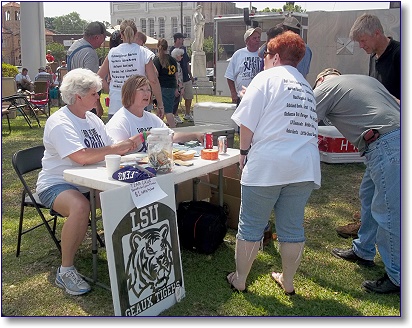 Charlene Killgore and Cade's grandmother, Cindy Sanders, man the ticket booth during the 2nd annual Team Cade fundraiser.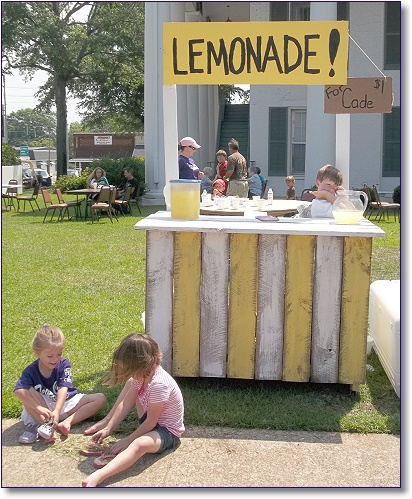 These little tikes do their part in helping raise money for the Cystic Fibrosis Foundation by selling lemonade to a lot of thirsty participants.
Man injured in motorcycle wreck
The Guardian-Journal
A Claiborne Parish man was seriously injured in a motorcycle accident Thursday morning when a car crossed the center line hitting him while on his motorcycle.
According Senior Trooper Scott Moreau, Public Information Officer of Troop E, the accident occurred at approximately 7 a.m. on Dutchtown Road off the Hwy. 79 truck bypass.
According to Louisiana State Police records, the driver of a 2003 Pontiac Grand Am, driven by Carolyn L. Allen, 52, of Homer, crossed the center line into the other lane of traffic, hitting a 2003 Kawasaki motorcycle, driven by Byron Burham, 30, also of Homer.
Moreau said Burham received moderate injuries and was transported to Louisiana State University Health Sciences Center (LSUHSC) in Shreveport.
Allen was cited for driving left of center. As of press time, more information was not available.
Man arrested for stealing toothpaste
The Guardian-Journal
A Homer man found himself in handcuffs after allegedly stealing toothpaste from a local store.
Kevin D. Boyd, 35, of Homer, was arrested Saturday, May 5, and charged with theft of goods with bond to be set.
According to police, Boyd had taken several boxes of toothpaste and a couple of packs of toothbrushes from a local store in Homer.
He was arrested and booked at the Claiborne Parish Detention Center. Investigating officers were Johnny Hough and Willie Fred Knowles.
In another case, a Shreveport man found himself in jail after a traffic stop was made when officers responded to a complaint of reckless operation.
On Monday, April 30, Tilden Robichaux, 39, was charged with driving while intoxicated (first offense) with bond set at $750, and improper lane use with bond set at $500.
According to police, Officers Franklin Evans and Scott Glenn were dispatched to Hwy. 79 in reference to the complaint. The vehicle was headed southbound on Hwy. 79 inside the corporate limits when Glenn observed the vehicle cross the center line and then swerve back into the proper lane only to cross the white fog line. Glenn then initiated a traffic stop.
It was at that time Evans arrived on scene to assist.
According to reports, Robichaux told officers he was swerving because he was texting and also told them he'd "had a couple of drinks."
Glenn then performed a field sobriety test, because the officer had noted Robichaux seemed to be stumbling as he walked and his speech was slurred.
Robichaux reportedly performed poorly on the field sobriety test. He placed under arrest and taken to the Homer Police Station where he underwent an intoxilyzer test of which he failed.
Robichaux was then advised of his Miranda rights and transported to the Claiborne Parish Detention Center on the above charges.
Butch Bays' dream realized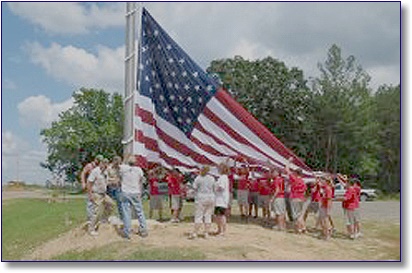 Submitted photo
Student athletes from Summerfield High School guide 'Old Glory' to its new home at the Summerfield Fire Station. The flag represents a lifelong dream of the late Brian G. "Butch" Bays, who along with his brothers, donated the property the flag now soars over.
JENNI WILLIAMS, Staff Reporter
This past week Summerfield residents were able to bring to fruition a much anticipated life-long dream of their beloved late mentor Butch Bays.
Bays dreamed of having a 'big ole flag' flying over his much loved community of Summerfield on the piece of property across from the school, property that Bays donated to the community and now houses the new District 6 Fire Station and Butch Bays Training Facility.
A conversation held at last year's annual Summerfield High School (SHS) auction led to a community coming together and raising the funds to bring Bays' dream to life.
Jim Towns, the auctioneer, overheard the conversation of Bays' wish for a big ole flag and said let's do it. And there began a year of donations as word spread throughout the area.
Towns, with nothing to gain personally for this endeavor, spent many hours, missed days of work and lots of energy helping the community complete Bays' dream.
On Friday, April 25, the first joint of pipe was placed, using a pipe donated by Towns, and the installation began.
Concrete was poured on Saturday, April 26 and after a much anticipated wait the final piece of pipe was placed and a 15 foot by 25 foot American Flag was raised by the Summerfield baseball team and other student athletes among a number of Bays' family, friends and neighbors on Thursday, May 3.
Those taking a part in this special event were able to admire Bays' flag at this year's annual SHS auction held Saturday, May 5.
The flag and fire station will be dedicated to Bays at an event to be held at the training facility this June.
Bays would have celebrated his 74th birthday this past Monday, May 7.
Jasmine Morelock Field to be featured artist at Jubilee
The Claiborne Jubilee is honored to present Jasmine Morelock Field as the featured artist for the May 26, 2012, festival.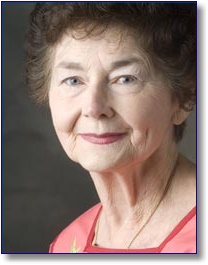 No stranger to Claiborne Parish, Mrs. Field was married to Max Morelock of Haynesville and the family often came to the area to visit family and friends. At the Jubilee she will be signing copies of her recently published book Valerie as well as exhibiting her paintings.
Following a retrospective one-man show in 2010, Jasmine started writing the life of her daughter, Valerie.  Valerie was the granddaughter of M. M.and Lalia Morelock of Haynesville. Mr. Morelock was an attorney and Mrs. Morelock was known for her generosity and hospitality.  Valerie and her brother Maurice, a teacher of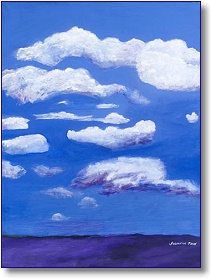 chemistry at the Louisiana Math, Science, and Arts School in Natchitoches, spent many happy days visiting their grandparents in this area.  This book is honoring Valerie who was murdered at L.S.U. her senior year.  The book entitled Valerie was printed and published locally in 2011 and is available in area gift shops.
In the book are Valerie's writings in the form of diaries. While paintings are included, the artist projects her philosophy of gratitude for the abundant life of her daughter, the blessings God has bestowed during that life, and joy in the knowledge that she lives. God gave His only son who overcame death so that we would not die but have everlasting life. Valerie was strong in her faith, and she shared that in her life.  Valerie,s friends often remark that she is still a part of their lives today through their joy in remembering her.
Jasmine Morelock Field was involved in the Arts from an early age.  She was always creating in drawing or painting. She began teaching at LSU as she received the graduate fellowship award. Always creating and participating on a professional level, she still was engaged in teaching young people in private and in groups from her home. She taught portrait drawing at Bossier Community College and led classes at the Barnwell Center in watercolor. After teaching art for Southfield Private School, she returned to the classroom at LSU-S and received a professional education degree and certification. With this certification she started teaching for the Caddo Parish Schools.  At the time of the "cross-over," she enjoyed two years at Eden Garden's Junior High followed with 8 years at C.E. Byrd. While teaching, she continued to pursue her painting career and achieved many awards on the local as well as national level. With two or more summers and one fall term at the International Arts School of San Miguel Allende, she graduated with the Masters of Fine Arts degree cum laude and had her thesis show in Mexico and also at the Barnwell Garden and Art Center. Her paintings are represented in many public as well as private places.  Her work is described as multimedia and romantic with central interest in color both in Representational and Abstract presentations. 
For more information on the Jubilee, contact Cynthia Steele at 927-2566 or .
Miss Louisiana speaks to Haynesville Youth Council
JENNI WILLIAMS, Staff Reporter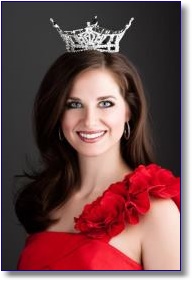 Haynesville Youth Council (HYC) hosted the second annual Community Awards Banquet on Saturday, May 5 at Claiborne Electric Co-op.
Guest speaker for the evening event was 2011 Miss Louisiana Hope Anderson.
A dinner was served, followed by the introduction of Miss Louisiana by HYC President Franeka Taylor.
After an inspirational talk by Miss Louisiana for the attendees, an awards presentation was given to area community leaders by the members of the HYC.
Carnesha Brown presented the Man of the Year award to Willie C. White III.
Brenna Robinson presented Community Leader of the Year to Napolean Meadors, Jr.
Jarius Knowles presented Retired Educator of the Year to Ms. Doris Lewis.
Franeka Taylor presented Educator of the Year to Ms. Willio Hatter.
Jarius Knowles presented Sheriff of the Year to Sheriff Ken Bailey.
Franeka Taylor presented Business of the Year to T&T Bail Bond.
Destiny Norton presented Special Award of the Year to Ollie's Bistro.
The Board of Directors for the Haynesville Youth Council are Director Joyce Major; Assistant  Director Betty Richardson; and members Beatrice Dixon, Wynona Jackson and Patricia Jackson.
Members of the Haynesville Youth Council are Franeka Taylor, president; Destiny Norton, secretary; Jarius E. Knowles, treasurer; Braley Smith and Carnesha Brown, assistant treasurers; and Jamelah Richardson, Parliamentarian.
Deputies discover alleged marijuana
A Homer man found himself under arrest after passing a vehicle on the wrong side of the road.
Patrick Shawn Halliburton, 23, of Homer, was arrested Thursday, May 6, and charged with possession of marijuana (second offense) with bond set at $5,000 and passing on the right with bond set at $500.
According to a news release from the Claiborne Parish Sheriff's Office(Office (CPSO), Deputy Aaron Christian was patrolling Hwy. 79 South near Prime Time Lounge and observed a vehicle pass another on the right shoulder of the highway. Christian conducted a traffic stop and discovered the driver to be Halliburton.
CPSO Lt. Roger Ellerbe arrived on scene to assist.
During the ensuing investigation, Christian discovered a plastic bag containing 1 gross gram of a green leafy substance presumed to be marijuana. The marijuana was found under the ashtray on the center console.
Halliburton admitted that the green leafy substance was his, and he was placed under arrest.
The passenger in the vehicle was released and a juvenile in the vehicle was transported to the sheriff's office by Ellerbe to await his parents.
Halliburton was transported to the Claiborne Parish Detention Center and booked on the above charges.
Shooting competition to raise funds for Sparta Commission
The Guardian-Journal
In the mood for a little competition? The Sparta Foundation has one coming up in June!
A sporting clays competition will be held on June 16, at Wild Wings, Downsville, during the Louisiana Peach Festival. Beginning at 8 a.m., the entry fee will include $100 per person or $500 for a team. To pre-register, please fill out the form and send the form and payment to the Sparta Shoot, P.O. Box 520, Ruston, LA 71273. Pre-registration deadline is Monday, June 11.
Team leaders will be contacted with further details.
All pre-registered shooters will be eligible for a door prize, which is a $100 cash card from Community Trust Bank.
Sponsorship opportunities are available, which include a title sponsor for $2,500 or co-sponsors for $1,000. Major sponsorships include one five-man team for competition. Station sponsors are available for $200.
Best score trophies will be provided for teams, men, ladies and youth.
There will also be a wobble trap competition.
Door prizes are also appreciated. Lunch will also be provided.
Also, the winner of a shotgun raffle will be announced the day of the event. The winner need not be present to win.
So, what will the winner get? A Browning Maxus Stalker shotgun. The shotgun's retail value is set at $1,464, and raffle tickets can be purchased for $5 each.
All proceeds will benefit the Sparta Foundation's education efforts in north central Louisiana. The Sparta Foundation is a 501(c)3 organization.
For more information, please call Rick Hohlt at or call 318-245-5309 or Lindsey Gouedy at or call 318-243-8135.
Mark Your Calendars!
'Potluck at the Fair" fundraiser set for Saturday, May 18
The second annual "Potluck at the Fair" fundraiser will be held at the Claiborne Parish Fair Complex in Haynesville. The Monday Night Choir Boys from Springhill will be featured again for the entertainment. For more information, please call Keith or Beverlee Killgore at 318-624-1122 or .
Recreation Dept. seeks players for softball teams
The Homer Recreation Department is seeking players for its Co-ed Softball Teams. For more information, or if you have questions, please call Shaquaila Lewis at 318-927-3555.
Voter Education Week May 14-18
Secretary of State Tom Schedler and the state's registrars of voters are conducting voter education week from Monday, May 14 through Friday, May 18.
The Secretary of State is encouraging all Louisiana residents 17 years of age or older, who are not registered to vote, to take advantage of this opportunity.
Claiborne Parish Registrar of Voters Patricia Sanders will be at:
Monday, May 14
• the Haynesville Housing Office, located at 1953 Mill Street at 10:30 a.m.
• the Haynesville Library, located at Main Street at 11 a.m.
Tuesday, May 15
• Council on Aging, located at 608 East 4th Street in Homer at 11:30 a.m.
The following week, she will be at the Homer Housing Office, located at 329 South Fourth Street in Homer, on Tuesday, May 22 and Thursday, May 24, at 10 a.m.
Please come by and check your voter registration and ask questions about the services the registrar's office offers for voters.
The deadline to register to vote for the November 6 election is October 9. Presidential electors (President/Vice President), U.S. Representative and Lisbon Mayor and Aldermen will be on the ballot.
All Claiborne Parish voters should check their voter registration information in preparation for the presidential election this fall:
• If you have moved in the last 18 months, and/or have not voted since the 2008 presidential election,
• If you have changed your mailing address to your physical address or vice versa,
• If you have married, re-married or are divorced,
• If your driver's license name or address is not the same as your voter registration, and/or
• If you have not received a current voter information card.
Citizens can register to vote on line at www.geauxvote.com or www.sos.la.gov, at your parish registrar of voters office, office of motor vehicles, public assistance agencies, public schools, colleges and libraries or by mail. For more information, please contact your local registrar of voters office at 507 West Main Street in Homer or call 318-927-3332.
The Chairs Are Coming!
Keep your eyes open for new chairs to appear in the window of the former Delta Interiors building on the south side of the square. The three purchased last year will be joined by more in the days to come. The chair auction will be held May 26 during the Claiborne Jubilee on the square in Homer. Proceeds will be used to further arts activities in the parish including the Jubilee Players and the continuation of murals throughout the parish.
Anyone who has a chair to contribute to be painted by themselves or someone else should contact Cynthia Steele, 927-2566 or .
Mural Print Deadline Approaches
Anyone planning to order a print of the Kinnebrew Building mural should see Candie White at First Guaranty Bank.  Prints are available in two sizes: one for $150 for the size of the original painting, 20"x80", and one for $60 for the smaller size, approximately 12"x36". The original painting and an example of the smaller size are both on display at the bank. 
Orders will be taken through June 6 and payment is required at the time of ordering. For more information, contact Cynthia Steele, 927-2566 or .
Health Fair coming next week
Webster Parish Head Start and David Raines Community Health Centers will host its annual resource fair. This event will be held Tuesday, May 15, from 10 a.m. until noon at the Minden Civic Center, located at 520 Broadway.
This event is open to the public and free of charge.
This resource fair will provide an awareness of services that are within the community by conducting health screenings, nutrition education, social service guides and much more.
The goal is to connect individuals and families to available resources that are within our parish and surrounding parishes.
This is a prime opportunity for agencies and community partners to take an active role in sharing information and resources that support children and families in our community.
Refreshments, door prizes and informational materials will be given to participants at no charge.
Any agency or organization that would like to participate in the resource fair, please contact Tammy Rallins at 318-377-7022, ext. 211.
Golden Eagle Training & Safety
Announces the Opening of their New Website
Steve Risner (Homer, LA) and Butch Shaver (Shreveport, La) announce the opening of their new Golden Eagle Training & Safety website, now online at www.DefensiveTraining.us.
For more than 20 years, Golden Eagle Training & Saftey (GETS) has offered Instructional/Certification courses for the General Public, Law Enforcement & Corrections, School Resource Officers & Staff, Churches, Organizations and Companies.
GETS training for the public includes: Carrying Concealed Handgun Permit Class, Personal Safety Course, Women's Safety & Self-Defense Course, Sexual Harassment and Rape Prevention (known as SHARP), Weapon Retention & Disarming (if you carry a firearm, you need to know how to effectively retain it or disarm someone who has one), Escape & Evasion, and Advanced Carrying Concealed Handgun Courses.
Certification courses available for Law Enforcement and Correctional Agencies include: Defensive Tactics (DT), Impact Weapon (IW), Weapon Retention and Disarming (WRD), Ground Avoidance/Ground Escape (GAGE), Spontaneous Knife Defense (SKD), Inmate Control, and Pressure Point Control Tactic (PPCT).
For the educational arena (School Resource Officers & Staff) they offer: Safe Schools Resource Officer (SRO) Training & Certifcation, Basic & Instructor Certification Classes in Human Factor Research School Safety ( Bullying) & Healthy Children and Disruptive Student Management (DSM).
They have also held "Surviving a Critical Incident Courses" for churches in Bossier City and will be glad to do the same with any church in your area.
Steve Risner said "We have contracted Joel Ponder, long time resident of Claiborne Parish, and designer/webmaster of many of our local area websites, to rebuild our website and we are very pleased with the fine job he is doing for a very affordable price. If any of you know someone who wants to start a website or has one that needs a facelift, we strongly recommend Mr. Ponder. You can contact Joel via his new website at: www.KCWD.com".