EPA cites Foster Farms in Athens
The Guardian-Journal
The Environmental Protection Agency (EPA) has issued a cease and desist order to Foster Farms to stop discharging pollutants into Louisiana's waterways.
According to a press release from EPA Region 6, the agency inspected Foster Farms, located near Athens, and found unauthorized discharges of pollutants from its process wastewater lagoon to an unnamed tributary of Leatherman Creek. Leatherman Creek drains into Black Bayou and it, in turn, drains into the Red River.
"A chicken hatchery should be raising chickens not pollution levels in nearby rivers," said EPA Regional Administrator Al Armendariz. "We expect poultry farms to comply with laws that protect water quality."
Foster Poultry Farms, doing business as Foster Farms Athens Hatchery, operates a chicken hatchery located approximately two miles east of Athens on the north side of La. Hwy. 518. The facility has been ordered to immediately stop all discharges of pollutants into waters of the United States.
Within 30 days, they had to submit to the EPA and the Louisiana Department of Environmental Quality a certified summary, including photographs, that document the unauthorized discharges have been stopped.
Foster Farms Director of Communications Ira Brill said the issue was fixed that very day.
"We responded to the EPA notice the same day," he said. "In part, the issue was caused by unusually high wind conditions which blew some of the pollutants into the waterways."
He said they fixed the problem by replacing the aerator with a new, better one which, he said, eliminated all possibilities of a recurrence.
"All EPA requirements have been met," he continued. "We take environmental issues very seriously, and we took notice of this immediately."
Foster Farms is known for its generosity in helping the communities in which it operates by donating their products to various churches and organizations for fundraisers and other events. In Claiborne Parish, Foster Farms has donated chickens every year for the Homer Lions Club's annual chicken charbroil fundraiser as well as other fundraisers throughout the community.
It is also a recognized leader in managing its environmental commitments. The California-based company has earned the state of California's highest environmental honor, the Governor's Environmental and Economic Leadership Award (GEELA). In 2009, the company won the prestigious Waste Reduction Awards Program (WRAP) for its innovative, environmentally-friendly solid waste recycling programs and policies. Foster Farms was also the proud recipient of the POWER Award which honors companies implementing programs that serve as models to others and provide solutions to water issues. Foster Farms is committed to environmental stewardship and maintains high environmental standards at all company facilities.
However, he said the most important thing is providing jobs.
"Overall, the most important thing is continuing to provide a means by which people can earn a decent living," he said. "We are committed to our communities and our people."
Kinnebrew mural project coming along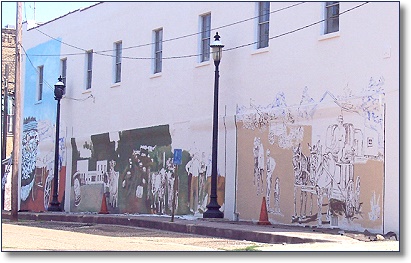 The Guardian-Journal photos/Michelle Bates
Right now, the three murals that are going on the side wall of the Kinnebrew building are nothing more than blotches of color and graphite sketched lines. Louisiana Tech University art students are taking the project on and are receiving credit for it in their class.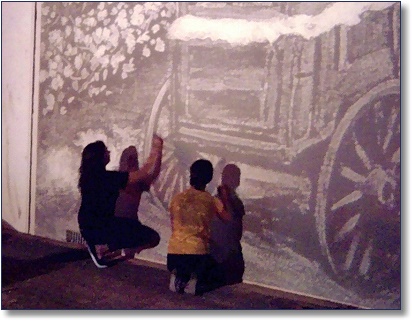 Pictured here is just a hint of what will be the first mural on the Kinnebrew building wall. The picture is projected onto the wall by an overhead projector as the artists trace it onto the wall with graphite art pencils.  This was done at night so the projection would be clear on the wall. Art supplies are still needed, although they have enough paint. Please contact Cynthia Steele for more information at 318-927-2566.
Marathon Oil donates to Relay for Life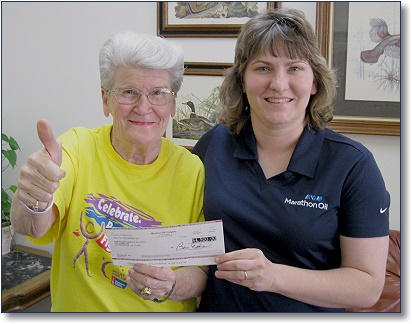 Submitted photo
Jennifer Kennedy, with Marathon Oil Co., donates a check to Elbie Dickens, sponsor chairperson for the American Cancer Society for $4,500 for the annual Relay for Life. The event will be held at the Ronny G. Beard Stadium at Homer High School from noon until midnight, Saturday, April 14. See page 3 for more activities happening during the relay.
Illegal parking leads to arrest
Parking the wrong way led one Homer man straight to a jail cell.
Demond Maddox, 37, of Homer, was arrested on Tuesday, March 20, for improper parking with bond set at $500, possession of a firearm or carrying concealed weapon by a convicted felon with bond set at $12,500.
On that date, Officer Scott Glenn was on patrol and observed a vehicle parked facing westbound on Pearl Street on the eastbound side of the road. When he made contact with the driver, later identified as Maddox, he explained his reason for stopping.
While speaking with Maddox, reports say Glenn and Officer Frank Evans noticed that he was acting nervous, which prompted the officers to pat him down for officer safety. When asked if they could search his vehicle, reports say he gave verbal consent to do so, and it was at that time Maddox admitted to having a weapon between the seats. The gun was retrieved and checked to make sure it wasn't stolen.
"Officers are out there taking it to the next step, and because of that a weapon was taken off the street," Homer Police Chief Russell Mills said. "The Homer Police Department has had complaints in the past about people parking in the streets, and Officer Scott Glenn did his job, and because of a traffic infraction, a weapon was taken out of the hands of a convicted felon."
Maddox was then placed under arrest, taken to the Homer Police Station for processing and booked at the Claiborne Parish Detention Center.
In a separate incident, Christopher Bridges, 42, of Homer, was arrested on charges of enter or remain after forbidden and disturbing the peace, with bond on both charges set at $500 each.
According to reports, on Saturday, March 24, Homer Police Officer Johnny Hough was dispatched to Pak-A-Bag convenience store in reference to a subject being on the property.
Upon arrival, Officer Glenn noted that Hough had detained Bridges and was placing him in the back of his patrol unit. Reports say Bridges appeared to be intoxicated. While Hough detained Bridges, he advised Glenn that he'd been dispatched to the convenience store earlier in the day for Bridges drinking a beer from the store without purchasing it. Hough advised that a family member had come to the store and paid for the beer, but Bridges was told he could not come back to the store.
Bridges was then transported to the Homer Police Station for processing and then booked at the Claiborne Parish Detention Center.
Summit offers energy career opportunities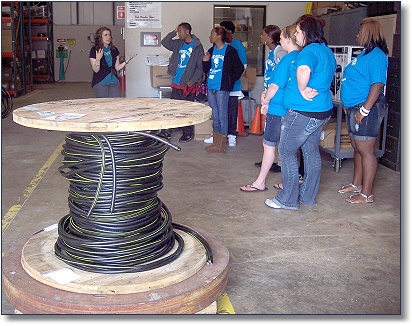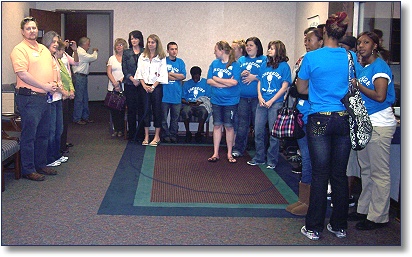 The Guardian-Journal photos/Michelle Bates
Emmalee Tingle took the group through Claiborne Electric's warehouse to show them where many of the supplies are housed. These supplies, she said, give linemen what they need to perform their job efficiently. Right, the tour group stops in the billing department where Tingle explains what they do and the services they offer.
MICHELLE BATES, Editor
In a follow-up session to a day-long event at Sci-Port Discovery Center in Shreveport, students in the Workforce Investment Act (WIA) program were treated to a day at Claiborne Electric Cooperative headquarters to find out more about career opportunities in just one of many areas of the energy industry.
Possible through a grant that came through the Federal Department of Labor, students between the ages of 17-21 attended the nearly day-long event. Joy Hays, youth provider for Claiborne Parish, said these kids have to meet certain criteria to participate in the program. Many face economic barriers, while others are working below grade level.
"The youth summit was about showing them different opportunities and career fields they can enter to support themselves and their families," Hays said. "That's our main focus."
Patti Trudell, executive director of the Consortium for Education, Research and Technology (CERT), said the grant was made possible through the United Way which was geared towards rural parishes this year, including Claiborne. This part of the grant is to work with kids on how to get into the workforce in areas of energy.
Meeting at the headquarters located right here in Homer, students were treated to a tour of the facility, where Emmalee Tingle, communications and marketing specialist for Claiborne Electric, began the tour in the billing department.
Candy Hicks, office manager, talked to them about their part in the whole picture, including the billing, meter reading, answering questions, selling their products and other things. Other job duties include processing mail (payments), posting payments, etc.
The skills needed to do this job, she said, include being computer literate, skilled on an adding machine, phone etiquette skills and strong people skills. She also said the employees are very knowledgeable about their products and services.
During their tour, youth got to see the day to day operations of Claiborne Electric and the different facets of the co-op. From the billing department to the warehouse, Tingle took them through every part of the property where she could safely do so, explaining what each department does and how it works in connection with every other department.
Once the youth returned to the meeting room, Joey White, manager of member relations and marketing gave an interesting presentation about a co-op, what it is and its history.
Joey White, manager of member relations and marketing, said the difference between an energy company like Entergy and Claiborne Electric is that Entergy is a "for profit" business where Claiborne Electric is a co-op, which means the company answers to its customers.
"A co-op is a company made up of people who are benefitting from the services the co-op provides," White said, adding that Claiborne Electric got its start in 1938, serving 77 members.
Today, Claiborne Electric services 18,000 members, serving in six parishes, represented by nine board members in each district.
An interesting fact to note, he said, is that there are 900 co-ops in the United States, and if all 900 co-ops were put together, it would make up the biggest co-op in the United States.
Not only did he give a history of Claiborne Electric itself, but he gave a history lesson in electricity.
For instance, for those who remember their history, Thomas Edison invented the first light bulb in 1879, and three years later put together the very first power station with direct current. That power station served 80 people in that service area. However, as time went on, Edison's power station model was picked up and it spread like wildfire.
George Westinghouse took the idea even further, inventing alternating current, which can go over longer lines, up to 200 miles away from the power station. By 1900, all the large cities in the U.S. had electricity, and by 1920, many of the smaller communities had it too.
The bad news was, by 1935, rural areas still didn't have access to electricity and were still cooking with fires, reading by candlelight or lanterns.
Well, then President Franklin Delano Roosevelt changed all that by championing their cause and pushing through the Rural Electrification Act.
And when rural communities couldn't afford to have electric companies run electric lines from the cities, they formed co-ops, in which all members of the co-op agreed to pay a portion of what it would cost to bring electricity to their communities.
So, how do consumers get their electricity? White said Claiborne Electric primarily gets its power from coal, but do use some natural gas. While he commends alternate energy sources, saying they are needed, coal is still one of the most plentiful fuels in the U.S. and is easily mined. It is also the most cost effective fuel to use for power plants.
He passed around a handout which showed the cycle of electricity and how it gets from its fuel source to our homes. The chart shows a generating station where the fuel (coal) is burned to produce the electricity, which is then sent to a substation where the voltage is increased. Transmission lines from the substation, which carry the higher voltage electricity, carry the electricity to a substation that reduces the voltage so that distribution lines can carry it to homes and businesses at a voltage they can handle.
Tingle then took over the presentation, discussing energy efficiency, safety and career opportunities.
Efficiency is very important, she said, because wise energy usage also means a lower electric bill. It also means that affordable fossil fuels would still be used for future generations. Some ways to save money and electricity is through using energy efficient bulbs, power strips, "smarter" appliances and heating and cooling homes and businesses.
And in their efforts to help Claiborne Electric customers, the co-op offers rebates for efficiency. For example, Claiborne Electric just installed a smarter, digital meter for every member in the co-op.
"Those meters are able to report in to us multiple times an hour to help our members see where they are using the most electricity during the day or during the month to help them save," she said. "Electricity has revolutionized the way we live, and it has continued to enhance the way we do things every day. It would be extremely difficult, if not impossible, to live without it."
And that's why safety is so important.
"We must treat electricity with the respect it deserves," she said. "Electricity is invisible and quiet, very dangerous and even deadly."
Children are taught not to "stick their fingers in or use metal objects in a toaster" or "don't use electricity near water."
However, while personal safety is important, it's also important to remember that substations are dangerous too.
"Even though they are fenced and locked, sometimes people get curious (children and adults) and climb those fences," she said. "Almost all of that equipment can be deadly, and no one belongs in a substation who isn't qualified to work there."
Some of the equipment linemen and other employees of Claiborne Electric use vary depending on their particular job description. Linemen have to wear fire retardant shirts/jackets, low-voltage work gloves (if working on or around a meter base or changing out a meter), high voltage work gloves (when employees are working with anything more than 240 volts, rubber sleeves, hard hats, and safety glasses. These are just a few of the safety precautions linemen must use when working with electricity.
Being safe around electricity is important and that's why those who choose career opportunities in this particular energy industry have to be certified in several areas. Education is an important part of the energy industry because technology is constantly changing, from the billing department to the linemen who work on the power lines that deliver electricity to members' homes.
The tour was comprehensive and informative in giving youth their options and what they can do if they choose to enter a career in the energy industry. For more information, please call Claiborne Electric at 318-927-3504.
Ford Museum to feature traveling state exhibit
'Becoming Louisiana'
Becoming Louisiana: Path to Statehood, is a traveling exhibition commemorating 200 years of Louisiana statehood and begins its statewide tour in April. Presented by the Louisiana Bicentennial Commission, the exhibition will be featured in Louisiana museums and libraries through April 2013. 
The Herbert S. Ford Memorial Museum is one of the inaugural sites for the opening of this exhibit.  Becoming Louisiana: Path to Statehood  is the result of collaboration between Exhibition Curator Herman Mhire, Graphic Designer Kate Ferry, and Historian Charles Elliott. The exhibition documents the roles Louisiana's unique geography and cultural history played on its path to becoming the 18th State of the Union, and consists of a series of 10 fabric panels displaying images and text that tell the story of early Louisiana history.
Utilizing Charles Elliott's historical text as a guide, Mhire researched the collections of the Louisiana State Museum and The Historic New Orleans Collection for relevant historical paintings, engravings, documents and maps. He and Ferry subsequently collaborated on the design of the panels, integrating images and typography into a rich tapestry illustrating early Louisiana history.  Exhibition themes include: "The Path to Statehood," "The Geography of Power," "From Chiefdoms to Colony," "Empowering a French Creole Colony," "Evolving French Creole Louisiana," "New Powers, Old Purposes," "Expanding a Spanish Colony," "A Creole Colony Purchased" and "Challenges on the Path to Statehood."
Mhire is a Distinguished Professor of Visual Arts in the College of the Arts, University of Louisiana, Lafayette and former director/chief curator of the Paul and Lulu Hilliard University Art Museum, where he organized more than 200 exhibitions presented in the United States, Canada, and Europe. In 2004, the Minister of Culture of France named Mhire a Chevalier of the Order of Arts and Letters.
Ferry has produced award-winning art direction in print design, television, animation, and illustration for local, regional and national advertising campaigns for more than 25 years. Her clients include state and local tourism, political campaigns, construction, healthcare and the restaurant/hospitality industry, state and local libraries, arts organizations and non-profits.
Elliott teaches undergraduate and graduate courses in Louisiana and American History at Southeastern Louisiana University. He received the 1997 William Coker Award in Gulf South History for "Bienville's English Turn Incident: Anecdotes Influencing History" and the 2012 Louisiana Endowment for the Humanities Award for Individual Achievement in the Humanities.
Becoming Louisiana: Path to Statehood will be accompanied by a collectible, fine art commemorative poster, measuring 27 inches by 39 inches, featuring an image of an 18-star United States flag, circa 1812, made by residents of Hope Plantation to fly over the Arsenal in Baton Rouge, from the collection of the Louisiana State Museum. The poster is available for sale on the Louisiana Bicentennial Commission website, Louisianabicentennial2012.com.
The Louisiana Bicentennial Commission was created to mark the 200th anniversary of Louisiana's attainment of statehood as the 18th State in the Union. Through both education and celebration, the commission's goal is to commemorate the Louisiana Bicentennial in every corner of the state. These activities include projects to be undertaken by the state seeking to harmonize and balance the important goals of ceremony and celebration with the equally important goals of scholarship and education.
Becoming Louisiana: The Path to Statehood will be at the Ford Museum from April 3 through May 15.  The museum is open Monday, Wednesday, and Friday from 9 a.m. until noon.  Admission is $3 per adult and $1 per child.  For more information, contact Linda Volentine, project director of the Ford Museum at 318-927-9190 or . 
The exhibition's state tour has been made possible by Coca-Cola, Entergy, Department of Culture, Recreation & Tourism, Bollinger Family Foundation, Haynie Family Foundation, The McMains Foundation, Zuschlag Family Foundation, AT&T, Goldring Family Foundation, Union Pacific Railroad, Louisiana Lottery, and Blue Cross/Blue Shield of Louisiana.
Your votes in the presidential primary
The Guardian-Journal
The results are in for Louisiana voters on their choice for the Republican nomination, which overwhelmingly went to candidate Rick Santorum.
Statewide
Statewide, Santorum brought in 48.99 percent of the vote, or 91,305 votes. His fellow Republican nomination candidates didn't fare so well. Former Massachusetts Gov. Mitt Romney raked in 26.69 percent of the vote, or 49,749 votes, while Newt Gingrich only received 15.91 percent of the vote, or 29,655 votes.
On the Democratic ballot, Incumbent President Barack Obama received 76.45 percent of the vote, or 115,087 votes. Those Democrats running against Obama, each received less than 20 percent. "Bob" Ely got 6.57 percent or 9,895 votes, Darcy G. Richardson got 5.15 percent or 7,750 votes and John Wolfe received 11.83 percent or 17,804 votes.
On the Republican side, those not in the top three included Michele Bachmann, who received .33 percent or 622 votes, Randy Crow, who received .10 percent or 186 votes, Jon Huntsman, who received .13 percent or 242 votes, Ron Paul, who received 6.15 percent of 11,460 votes, Rick Perry, who received .51 percent or 955 votes, and Charles "Buddy" Roemer, who received 1.18 percent or 2,203 votes.
Parish wide
Parish wide, nominees in both parties saw an increase in voting numbers. In fact, Santorum also took Claiborne Parish by 54.60 percent, or 350 votes, while his strongest opponent, Romney took in only 25.59 percent, or 164 votes. Gingrich received 14.51 percent or 93 votes.
Others on the ballot in the Republican Party included Bachmann, who received only two votes, Crow, who received none, Huntsman, who received one vote, Paul, who received 21 votes, Perry, who got only two votes and Roemer, who received eight votes.
By Precinct
Here's how the votes broke down by each precinct in Claiborne Parish.
Democratic Party
"Bob" Ely: 01: 0, 03: 1, 05: 1, 07: 4, 08: 1, 10: 0, 11: 1, 21: 0, 22: 0, 31: 2, 34: 1, 35: 0, 36: 0, 37: 0, 38: 0, 40: 0, 41: 2, 42: 1, 51: 1, 81: 0, 82: 0, 84: 0, 85: 0, 86: 0, 87: 0, 88: 3, 89: 0, 91: 0, 92: 2, 93: 0, 94: 0, 96: 0, Early voting: 7, Provisional votes: 0.
Barack Obama: 01: 21, 03: 3, 05: 31, 07: 23, 08: 47, 10: 27, 11: 14, 21: 0, 22: 18, 31: 15, 34: 35, 35: 4, 36: 11, 37: 0, 38: 9, 40: 2, 41: 4, 42: 0, 51: 8, 81: 5, 82: 1, 84: 5, 85: 9, 86: 0, 87: 33, 88: 5, 89: 2, 91: 0, 92: 8, 93: 14, 94: 0, 96: 0, Early voting: 60, Provisional votes: 0.
Darcy G. Richardson: 01: 2, 03: 2, 05: 4, 07: 3, 08: 1, 10: 0, 11: 4, 21: 0, 22: 1, 31: 3, 34: 1, 35: 0, 36: 0, 37: 0, 38: 0, 40: 0, 41: 0, 42: 1, 51: 2, 81: 1, 82: 0, 84: 0, 85: 0, 86: 0, 87: 0, 88: 1, 89: 0, 91: 0, 92: 3, 93: 0, 94: 0, 96: 3, Early voting: 6, Provisional voting: 0.
John Wolfe: 01: 3, 03: 2, 05: 0, 07: 4, 08: 1, 10: 0, 11: 1, 21: 1, 22: 1, 31: 4, 34: 0, 35: 0, 36: 0, 37: 0, 38: 0, 40: 1, 41: 0, 42: 0, 51: 2, 81: 1, 82: 0, 84: 2, 85: 0, 86: 0, 87: 0, 88: 1, 89: 0, 91: 2, 92: 5, 93: 0, 94: 0, 96: 0, Early voting: 9, Provisional voting, 0.
Republican Party
Michele Bachmann: All precincts show no votes for Bachmann except Precinct 85, which shows one vote. In early voting, she received 1 vote, and none in provisional voting.
Randy Crow: Crow shows no votes in all precincts, including early voting and provisional voting.
Newt Gingrich fared better showing votes in several precincts. They are as follows: 01: 7, 03: 1, 05: 5, 07: 21, 08: 2, 10: 2, 11: 1, 21: 1, 22: 0, 31: 3, 34: 0, 35: 0, 36: 2, 37: 0, 38: 0, 40: 3, 41: 0, 42: 7, 51: 2, 81: 2, 82: 0, 84: 3, 85: 1, 86: 0, 87: 0, 88: 5, 89: 0, 91: 0, 92: 4, 93: 1, 94: 0, 96: 1, early voting: 19 and provisional voting: 0.
Jon Huntsman also received no votes in all precincts except 42: 1. He received no votes in early voting or provisional voting.
Ron Paul also fared better but not by much. He received votes in the following precincts: 05: 1, 08: 1, 22: 2, 31: 2, 36: 3, 38: 1, 42: 1, 51: 1, 85: 1, 88: 4, 92: 1, 96: 1, early voting, 2 and no provisional votes.
Rick Perry received no votes in all precincts, except one in Precinct 22 and one vote in early voting.
Roemer didn't do much better, only receiving votes in Precincts 07, 08 and 88, which showed one vote each. In Precinct 92, he received two votes and received 3 votes in early voting.
Mitt Romney brought in more votes than any other Republican candidate except Santorum, who won parish wide by 54 percent. Romney's votes by precinct are as follows: 01: 7, 03: 7, 05: 3, 07: 26, 08: 7, 10: 0, 11: 3, 21: 0, 22: 6, 31: 10, 34: 0, 35: 1, 36: 5, 37: 0, 38: 2, 40: 3, 41: 0, 42: 3, 51: 5, 81: 4, 82: 0, 84: 4, 85: 3, 86: 0, 87: 0, 88: 12, 89: 0, 91: 3, 92: 10, 93: 2, 94: 1, 96: 1, early voting: 36, and provisional voting: 0.
Santorum's votes by precinct are as follows: 01: 42, 03: 22, 05: 13, 07: 51, 08: 9, 10: 0, 11: 4, 21: 1, 22: 12, 31: 25, 34: 1, 35: 0, 36: 7, 37: 0, 38: 3, 40: 1, 41: 7, 42: 16, 51: 10, 81: 6, 82: 0, 84: 12, 85: 4, 86: 1, 87: 0, 88: 10, 89: 0, 91: 9, 92: 25, 93: 2, 94: 0, 96: 2, early voting: 55, and provisional voting: 0.
Athens 1 Percent Sales and Use Tax
The Village of Athens' one percent sales and use tax passed overwhelmingly by 81.82 percent of the vote, or 36 votes. Only 8 people voted against it. Precinct 51 showed 30 votes and early voting showed six votes, both in favor of the tax.
What is the 'Boom or Bust' byway?
For those who have traveled La. Hwy. 2 through Claiborne Parish, many already know that it is a scenic byway.
However, not many know that it is called the "Boom or Bust" Scenic Byway. The term "Boom or Bust" is derived from parishes in which their economies are based on cycles in the agriculture industry, the timber industry, the gambling industry and oil and gas. Claiborne is known mainly for its timber industry.
Stacy Brown and Evelyn Cassell from the Shreveport-Bossier Convention and Tourist Bureau came to the Homer Lions Club to speak about Louisiana's scenic byways, namely the "Boom or Bust" Scenic Byway.
Brown gave a little bit of background on her job and what she does with the Shreveport-Bossier Convention and Tourist Bureau, saying the Scenic Byways encompass Caddo, Bossier, Webster and Claiborne Parishes. However, she said, Caddo and Claiborne benefit the most from the byways because each have loops at each end.
In Claiborne Parish, the scenic byway includes the Lisbon Landing area, Hwy. 806 (the Arizona Community),  the old Methodist Church, Arizona Academy (located near there from 1867 until 1869) which became a public school in 1910, the Brick Tower and an historic home. It also includes Lake Claiborne State Park.
"We really want to re-energize people about the byway," Brown said, "because I really think we're on the verge of taking advantage of the potential of bringing a lot of visitors off Interstate 20 and getting them up here on to Hwy. 2, which is the main part of the byway."
One of the ways the bureau is working to draw in travelers is through what she called interpretive kiosks, which are informational panels at several points along the byway to explain its history or why it's important. There are different panels at each of the four parishes.
"One panel describes the byway as a whole, and the other panels talk about the other things to do in the community," Brown said.
She showed some different examples from Caddo and Bossier Parish as well as in Sarepta in Webster Parish.
"This gives the opportunity to tell people more about the byway, how to move along from one parish to the other along the byway and some of the stories and some of the reasons you should go along the byway," she said. "Even though it is designated as a scenic byway, it talks about the rural areas in our communities."
She said they hope to have a ribbon-cutting soon after the interpretive panels are in place. They also hope to have Lt. Gov. Jay Dardenne to come be a part of the ceremonies.
And even though this is a multi-parish endeavor, each parish will design its own brochure highlighting their own parish. Then she discussed several items of interest in Claiborne Parish.
"Lake Claiborne State Park is one of the best jewels that you have," she said of Claiborne Parish, with its nature trails and all the things it has to offer.
She also said there are going to be several projects along the byway to help bring awareness to the public about the hidden jewels along the byway. Some projects will include cleanup projects and other things.
Another hidden gem in Claiborne Parish on the byway is the Herbert S. Ford Museum, she said.
"I never get bored coming through there," Brown said. "Every time I come, there's always something new to see. They do a great job and we really appreciate having them along the byway."
Another way they are working to draw tourists in is through audio/visual handheld guided tour so they can hear more of the stories in each parish.
"These little look like little iPhones that are GPS activated, so as you go along the byway and you hit certain points, it will start talking about that area," she said. "They can be picked up at different locations on Interstate 20 as well as Hwy. 2. One of them will be located in Greenwood at the Stateline Visitors Center, and at our main office in downtown Shreveport, and here at Lake Claiborne State Park."
Also, if the traveler is going through a wooded area and the handheld device starts talking about the trees and the industry, it shows a video of the trucks and how it's hauled out, but it also shows that those trees are replanted.
"We don't want people to think that we destroy our land," she said. "We want them to know that we are regenerating those areas and they are being replanted."
These devices can be rented and returned at any location along the byway that offers the devices. Visitors do not have to pay to rent the devices; however, the only way they will pay is if they don't return it.
Brown said they will also soon have apps for the iPhone or Android smart phones so that people can go to a website and view the videos instead of renting one from the centers. The handheld devices should be available in May, she said.
Also, new scenic byway signs will be put up along the route, which will designate it as the "Boom or Bust" byway. The signs will show timber and oil and gas industries, of which the four parishes are known for.
Brown also recognized several people in Claiborne Parish who have helped along the way to make sure the project came to fruition. Recognized were Mac Brakefield, Cynthia Steele, John Watson, Linda Volentine and Darden Gladney.
To find out more about the scenic byway in Northwest Louisiana, please go to Louisiana Byways at www.louisianabyways.com and click on "Boom or Bust" Byway. Also, for more information, please call Brown or Cassell with the Shreveport-Bossier Convention and Tourism Bureau at 318-429-0648 or 1-800-551-8682, extension 139.
Haynesville to move forward with municipal election changes
MICHELLE BATES, Editor
The Haynesville Town Council voted to move forward with the process of getting approval to change their municipal election dates to coincide with congressional elections.
On Thursday, March 15, the council voted to have an ordinance drawn up that will be introduced in the April meeting. Following the ordinance introduction, a public hearing will be held before the May monthly meeting and it will be voted on at the regular monthly meeting.
Before they voted to move forward, each council member had a chance to have their say as to why they are in favor of it or against it. At first, District 5 Councilwoman Carla Smith was against it, saying she didn't feel it was a good idea if Mayor Sherman Brown wouldn't go on as part of the extension that would result in the election changes. She also raised concerns that if he didn't continue into the extension, that would mean holding a special election to fill the mayor's seat, which would in turn cost the town more money.
"We're talking about 18 months," Brown said. "Question remains, of which I don't have the answer, that if the council votes to extend that 18 months, and it's approved by the Secretary of State's office, would a special election be necessary if I chose to leave."
If it's more than a year left in the current term, then a special election would have to be held. And if the answer is no, Brown said, the next option would be to tie it in with the regularly scheduled election. If that's not the case, he said, then the next option would be to serve through January 2014.
"I'm not in a position to promise that," Brown said. "I want to save the town some money, and I don't know what my health is going to be like a year from now."
The council has only a limited time to make a decision on this and get the ordinance process in motion, because they must have these requested changes approved at least one year prior to the election date cycle they wish to go to.
The idea behind moving the town's election cycle to coincide with the congressional elections is, as mentioned, to save the town money. And by doing this, their municipal election costs would be cut in half. In other words, if the town's municipal elections were on the ballot with the congressional elections, the town's cost would be cut in half and the congressional portion would be paid for by other means. If there are more than two elections on the ballot, say the town council, congressional elections and constitutional amendments, then the town's cost would be cut even more.
If passed, the ordinance would then go to the Louisiana Secretary of State's office, who would then forward it to the Department of Justice for pre-clearance.
The council voted by a roll call vote, and all voted in favor of moving forward with the request and having Town Attorney Danny Newell draft an ordinance. District 2 Councilman Herbert Taylor was absent.
Brown said he is very proud of the accomplishments made over the last four years for his town.
"If I left tonight, I would still say the same thing," he said. "We still have things coming up, and there are things that we're trying to get started that more than likely I will not be able to see through. That doesn't stop progress for the town. I've enjoyed working with this council, I've enjoyed working with the staff that we have and I've enjoyed working with this community, the support from the media. In a manner of speaking, I've had a gravy train."
Because of health concerns, Brown had announced a couple of months ago that he would not seek another term as mayor. And since then, he has made it clear in every meeting that he appreciates everyone for their support during his term. As he's said in previous meetings, he loves his job, he loves his community and he loves the people.
In other news, the council approved a hazard mitigation plan in order to be eligible to receive relief funds from the Federal Emergency Management Agency (FEMA) if it's ever needed. Brown said each parish and each municipality within the parishes have to adopt a resolution to this effect, because if they don't, they won't be eligible for these funds.
Along those lines, Police Chief Anthony Smith discussed what's called narrow banding, which means law enforcement and emergency personnel radio frequencies would be narrower than it is now.
"After January 2013, whoever is not on this system will be fined $1,000 per day," Smith said. "We would not be able to talk to Claiborne Parish. Claiborne Parish would not be able to talk to us. On the fire departments, no pages would be going out. It would affect the police department, the fire department, city workers, everybody who talks to the Claiborne Parish Sheriff's Office.
"The good thing for us is 90 percent of our radios we purchased through Harrington's in Minden, and we'll be able to use those radios," he continued. "The only thing we would have to pay for is the programming. And this grant would hopefully pay for these."
These funds would be distributed throughout the parish through Homeland Security, with the cost -- at least for Haynesville -- will be about $5,000 to $8,000 to program each patrol unit, handheld unit and each pager.
This effort to switch these agencies to the narrow band is statewide, so that all agencies can communicate when needed.
The only drawback to going to the narrow band is that those who avidly listen to their scanners will not be able to anymore. The scanners won't work with these frequencies thereby rendering them obsolete, he said.
In this month's Citizens Advisory Committee Report, Ms. Martha Trinko gave an update, saying they decided to do away with the citywide rummage sale. Instead, they will be going to bake sales roughly two times per year because the bake sales brought in about the same amount of money as the rummage sales -- with a lot less work.
Also, Claiborne Parish Fire District #3 requested that titles to three trucks be transferred from the Town of Haynesville to the fire district as requested by their auditors. Currently, there are three trucks which are in the town's name.
The council also approved:
• A resolution by the Town of Haynesville opposing the moving of the Council on Aging from the Department of Elderly Affairs to the Louisiana Department of Health and Hospitals.
• A communications policy for the physically disabled.
In FYI, Brown covered several things, including the old city hall building. They are looking at Louisiana Tech architecture students to take on the old building as a project this summer. Brown said he is still awaiting word on it.
Also, a business is reopening in Haynesville where Tammy's Kitchen used to be. Too Tall's Barbecue is moving to that location.
The next meeting of the Haynesville Town Council will be held at 6 p.m. Thursday, April 19, in council chambers located behind City Hall. For more information, or for questions, please call their office at 318-624-0911.
Watershed discusses finances, public concerns
MICHELLE BATES, Editor
The quarterly Claiborne Parish Watershed District meeting was short and sweet last Thursday, as they discussed a few things, like finances and a few public comments.
The good news, they said, is with the recent rains, Lake Claiborne is full and has peaked. Everything seems to be operating normally now.
"Everybody seems to be reasonably happy," said Commissioner Chic Hines. "We are operating back at normal right now."
Also to note, the dam inspection was postponed until Thursday, March 29 because of the inclement weather over the first part of last week.
In the finance report, Commissioner Phillip "Butch" Fincher said that as of March 22, cash balances show $155,883.93 in the checking account. There are some checks still out, he said, but these were not figured into this balance. After all the remaining checks clear, he said the balance would show approximately $150,000 in the bank.
As of right now, sales tax collections revenue is averaging about $16,000 per year.
"We have paid our notes down on the permanent marker project, so the outstanding balance over the next two years is a $9,000 note per year without interest," he said. "We have about $18,000 left on that, and we won't owe another note until 2013."
Also in his report, Fincher said they have a $100,000 CD (certificate of deposit) coming due on Wednesday, March 28. He received bids from four banks including Capital One, Gibsland Bank and Trust, First Guaranty Bank and Citizens National Bank. Bids from each bank are as follows: Capital One offered a CD with a one year lock for .25 percent interest, Gibsland Bank and Trust offered a 12-month CD for .3 percent, First Guaranty Bank offered a 12-month CD for .8 percent and Citizens National Bank offered a 12-month CD for .5 percent.
Fincher recommended renewing First Guaranty's offer and it was approved unanimously by the commission.
He also recommended using approximately $75,000 out of the general account and putting it into another CD at First Guaranty for the same interest rate, which would leave about $75,000 in the checking account. The balance will increase as the year goes on, Fincher said, because there are no major projects in the works at this point.
This was also approved unanimously by the commission.
In other watershed news, Dr. Haynes gave a report on the Homer Lions Club meeting he attended, because representatives from the Louisiana Tourism Scenic Byway spoke, talking about the scenic byway through Claiborne Parish, which includes Lake Claiborne at Lisbon Landing.
While a kiosk has been built at Lisbon Landing, it has yet to have an informational panel put on it or a place to insert brochures for the public. The representatives passed around an example of what will be at the kiosk when it is completed. It will include information on the scenic byway and why it is called the "Boom or Bust" scenic highway.
It is expected to be completed in May.
Also, Dr. Haynes gave a report on the fishing pier project, which will be done by the Claiborne Parish Police Jury and completed by the end of next year.
In the public comments portion of the meeting, a concerned citizen mentioned duck blinds that had been placed in the boat run from Darbonne and Beaver Creek. It is a safety issue, he said, and they need to be moved. As of Monday, The Guardian-Journal received information that the blinds had been moved.
Also of concern is the lack of cleats at Lisbon Landing for boaters to tie up their boats while the boater moves their truck or vehicle from the boat launch or to the boat launch for loading.
The problem is, Commissioner Chic Hines said, the cleats have been put out time and time again, but they keep getting stolen.
"We need some good ideas," Hines said. "We've talked about it and tried to come up with something [to stop it]."
It was suggested cementing in metal cleats and epoxy the screws in to keep them from getting stolen.
The next meeting of the Claiborne Parish Watershed District Commission will be held in June. Look to upcoming editions of The Guardian-Journal for the date and time. The commission normally meets on the fourth Thursday of each quarter (every three months) at the police jury complex in the conference room. For more information, please call their office at 318-927-5161.
Key-Comp Web Design Announces the Opening
of their Redesigned Website
Claiborne Parish web designer, Key-Comp Web Design, announces a complete redesign of their website.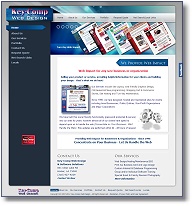 Key-Comp Web Design was originally established in 1980 as Key-Comp Computer Services. Providing computer programming and support services in Monroe, LA, Ouachita Parish, re-locating to Claiborne Parish in September of 1987.
Since 1996, Key-Comp has provided web site design, hosting and maintenance to a variety of businesses and organizations, including those in Homer, Haynesville, Tulsa, Monroe, Shreveport, El Dorado, and Gibsland.
Key-Comp's services also include Print/Web Ad design, Business Card design, Logo design, software training, system analysis/purchasing, custom database programming and Special Event & Family Reunion Photography. Visit Key-Comp's Portfolio to view their work.
Key-Comp is operated by, long time Claiborne Parish residents, Joel Ponder & Pam Thompson-Ponder (Pet Pampering Grooming & Boarding) with photography and graphics design assistance by their sons, Homer High grads, TJ & Tanner.
Key-Comp designed many of our local sites including ClaiborneOne.org (which includes Claiborne Parish Police Jury, Town of Homer & Town of Haynesville), ClaiborneSheriff.org, Claiborne Chamber of Commerce, J.T.Taylor Realty & Dimex Sales, Northeast Properties, Toney Johnson Real Estate, Advertising Unlimited, and DNG Consulting. Key-Comp's Portfolio presents legacy/retired designs that include Allison Law Firm (Shreveport), Homer Memorial Hospital, Hall Boat Lifts, Speech Language Pathology & Associates and Gibsland Bank & Trust.
Key-Comp's new sites are produced using the most current & popular Content Management Systems (CMS) that will allow their clients to easily add and/or delete content.
Key-Comp has built this owner friendly functionality (password protected & secure) into their sites for years, however almost all of their clients have opted to depend upon Key-Comp for maintenance and updates - Key-Comp says "(Concentrate on Your Business - We'll Handle the Web)".
Redesign projects now underway include Golden Eagle Training & Safety and McMullan Realty (Springhill).
For more information on Key-Comp's services visit www.KCWD.com.