South Claiborne boil advisory lifted
All boil advisories for all customers on La. 146 between Hwy. 146, St. John and Gladney Roads have been lifted.
The boil advisory had included Gladney Road, Peaceful Bay, Pixley Road, Kings Point and Hammontree Road.
Claiborne educators in Baton Rouge
Jefferson takes educators' concerns to state capitol
Go to www.legis.state.la.us to see the bills that will be discussed in Baton Rouge this week.
They are:
• Senate Bill 603
• House Bills 974
MICHELLE BATES, Editor
Several Claiborne educators are headed to Baton Rouge this week to protest and lobby against Gov. Bobby Jindal's education reform package set to go before the Senate and House Education Committees.
However, before they loaded up, a public forum was held at Homer High School Wednesday, March 7, to allow House Rep. Patrick Jefferson to hear concerns from teachers, education employees and the general public on their feelings about Jindal's expansive reform plan.
And they aren't happy. While the atmosphere of the forum began with an anxious, expectant audience, Jefferson first gave a simplified overview of Jindal's plan before beginning a question and answer session where educators could voice their opinions and clear up any misconceptions and myths they'd heard.
"I took concerns to Mr. (State Superintendent of Education John) White about the lack of communication," Jefferson, vice chairman of the House Education Committee, said, referring to a meeting held with White very recently.
And one teacher responded that she felt the reform package was "being shoved down their throats."
"We're willing to accept changes," said Debbie Harmon, a longtime teacher at Homer Junior High School, "but we feel it's being shoved down our throats without the materials to teach the core standards."
Core standards, a document somewhat like a grade level expectation (GLE), defines what levels and when goals and objectives should be met by students.
"The state department has not finalized the last core standard yet," Claiborne Parish Schools Superintendent Dr. Janice Williams said in a separate interview. "Kindergarten, first and second grades will be released first for English, Language Arts and Math. They are going to release it in pieces."
Linda Mozeke, also a teacher, says she feels the governor has an ulterior motive for pushing his reform plan through this legislative session, which began Monday.
"It's too fast, too much and too soon," she said.
Over the years of teaching -- and longtime educators have attested to this -- curriculum has changed, changes to the school systems itself have changed and so has the way teachers are being required to teach. So, educators are used to making changes, but this, they feel, is overwhelming.
Jefferson said the idea behind the education reform plan is to enhance standards. Early childhood education is a big issue in the reform plan, because that's where education begins, with our "babies," he said. Evaluation -- good teachers, tenure (job security), and choice -- is another issue in the reform plan (discussed later in this story).
Harmon said she and others are upset about retirement as well. Haynesville Junior High School Teacher Keith Morgan asked Jefferson why paying down the state debt would have to come out of their retirement. Jefferson responded that he'd been told that teachers would be paying more into the retirement system to sustain it, not pay down state debt, which is at about a $900 million deficit.
Joe Guillory, a teacher at Homer Junior High School, said he felt like he and his fellow colleagues were paying for a debt they didn't create.
"Why is it our fault?" he asked. "Why does the state have $900 million in debt?"
Another concern is charter schools. Jefferson, in his overview, explained that Jindal wants to take the charter school system, which began in Louisiana in the New Orleans Recovery School District following Hurricanes Katrina and Rita, and implement it statewide to give parents more choice in their child's education. The idea behind the charter school is to offer more competition, which would drive public school systems to do better.
The problem, Jefferson said, is that students who attend a charter school can be "cherry picked" and the public schools have to take everyone. Not only that, but concerns abound for rural parish school systems like Claiborne. The issue there, the legislator said, is there's not a lot of mobility, not a lot of choices.
However, something that could work, which is already being tried in other areas, is the virtual charter school. This offers courses to kids who might not have access to those courses at their school. For example, Jefferson said, if a high school student wants to take a science course not offered at their regular school, they would be able to take the course through the virtual charter school. The student would not be moved out of the public school system, and it still offers students choices in their education.
Implementation is going to be an issue as well, Jefferson said.
Also, Janet Holland, technology supervisor and Title I supervisor at Central Office, worries that public school dollars will go to charter, private and parochial schools, leaving less funding for students at the public schools.
A parochial school is a school that provides religious education in addition to conventional public school education, such as a Baptist school or Catholic school.
"Ideas are not being fair," she said. "You're comparing apples to oranges, and the whole thing, it seems, is being designed to make public schools look bad."
One reason, she said, is because when the letter grading system was implemented, overall the schools were graded without adding at least three charter schools in the state that had failed. In a meeting held in November 2011 at Central Office, the letter grading system was explained to the public, and all of Claiborne Schools, except for Summerfield, were given a "D" or "F" letter grade. Which by those standards means that Claiborne Schools are failing, and that's simply not the case, Holland said.
Roger Burcham, a special education teacher for kindergarten and first grade at Homer Elementary School, is concerned about those students who won't attend college.
"Not everybody will go to college," he said. "Why not teach them skills they can use to make a living?"
Another huge concern among Central Office staff and others is how the reform plan would affect the fact that Claiborne Parish is still under a desegregation court order. Also, special needs students are a huge issue, and Jefferson, an attorney, said that could present legal challenges.
Other issues brought up include:
• Discipline in the classroom. Teachers have no authority to discipline their students when needed.
• Teachers are afraid of losing their jobs, based on Jindal's proposed evaluation process where tenure is done away with and a large portion of a teacher's evaluation is based on student performance.
• The pay scale that Jindal wants to implement. Scott Alexander, a teacher at Homer High School, asked why the pay scale should be different for teachers.
Another concern, according to Bob Bond, supervisor of pre-K through 8th grade, is the "rush" on value added evaluation. He says there's holes and loops with value added, such as the fact they don't have standards.
"Value added" is where teachers must be evaluated, and these teachers must meet certain criteria, Dr. Williams said. If they don't meet these criteria after three years of not being rated effective, they will be dismissed. They are given a three year probationary period to be deemed effective, and if they are not, they are dismissed.
For example, a teacher is evaluated during the first school year and is rated ineffective. They have three years, and if at the end of year three, they are deemed ineffective, they are terminated.
This does away with tenure, in which after three years, a teacher has a better chance of holding on to their jobs.
However, that does not mean that a teacher can't be terminated for just cause.
Debbie Knapp, UniServ Director for Region 2 of the Louisiana Association of Educators (LAE), said there is an alternative plan put out by LAE that reforms education by providing teacher quality, strengthening students and holding everyone accountable.
In a fact sheet she handed out at the forum, LAE proposes quality teachers and classroom effectiveness by "improving teacher preparation by requiring novice teachers to obtain a one year residency under a 'master teacher' in addition to passing a rigorous, classroom-based assessment."
Another way to improve teacher quality and effectiveness is to evaluate teachers around multiple data sources instead of Jindal's plan to make teacher evaluation based almost solely on student performance.
Other ways are listed in their proposal that counter much of Jindal's plan. However, the goal is much the same, just different ways of doing it. The LAE alternative can be found at www.lae.org.
Knapp will also be in Baton Rouge this week sitting in on the committee meetings and advocating for teachers all across Louisiana.
And while these concerns are well justified, Jefferson said he intends to take these concerns to the Legislature so that the voices of those in his district can be heard.
"Reform is coming, whether it's needed or not," Jefferson said. "The legislature's job is to tweak, add to or subtract on these bills, and at the end of the day, we have to move Louisiana forward."
And for Dr. Williams, that statement goes without saying. At the end of the meeting, she said she would fight hard for the teachers in her parish, while at the same time, dealing with and implementing the changes the best way she can. However, she told attendees, she has a personal stake in this.
"I have a six-year-old son in the public school system," she said, "and he's who I fight for. I am a single mother, and I want the best education for my child."
She said quite emphatically that she would fight hard for what's best for Claiborne Parish Schools.
"If I can fight for one, then I'm fighting for all," she said. "At the end of the day, he's my driving force."
Fender bender leaves a mark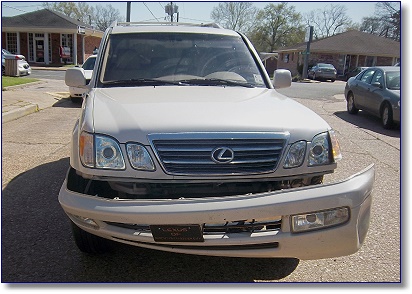 A slight fender bender on West Second Street, between the post office and The Guardian-Journal Newspaper, left a little damage to one vehicle and not much at all to the other. According to reports from the Homer Police Department, Julius Peterson, driving a Lexus SUV, was in the parking lot at the post office when he pulled out. Irma Boyd, driving a Ford Expedition, was coming down West Second when Peterson pulled out of his parking space, and when he did, they struck each other in the middle of the road. There is no posted speed limit, and if there isn't one, then it is automatically 25 miles per hour. No citations were issued.
Traffic stop nets drug charges
The Guardian-Journal
Two Homer men found themselves behind bars after police stopped them for a traffic violation.
Jaroderick James Harper, 20, of Homer, was arrested for no seat belt with bond set at $500, disturbing the peace by loud music with bond set at $500, possession of Schedule I CDS (marijuana) with bond set at $1,000, resisting an officer with bond set at $500, simple escape with bond set at $10,000 and a probation/parole violation with no bond.
Patrick L. Thomas, 28, also of Homer, was arrested for possession of marijuana (fourth offense) with bond set at $20,000 and parole violation with no bond.
According to reports, Homer Police Chief Russell Mills attempted to stop the vehicle in question and when they did not stop, Sgt. Van McDaniel assisted by cutting the vehicle off at the front.
As Mills pulled to the right of the vehicle, reports say he observed Thomas putting out something, and as he approached, Thomas was observed swallowing the object. Thomas was asked to exit the vehicle and at that time, what appeared to be a cigar was seen in the car door in plain view. The item was collected and taken into evidence.
According to police, Thomas admitted the "cigar" was his and that it contained marijuana. Thomas was placed under arrest for the above charges and transported to the Claiborne Parish Detention Center. Both Thomas and Harper were arrested on the drug charges and Harper was cited for loud music and no seat belt.
However, while at the Homer Police Department, Harper attempted to escape from the station while they were doing the paperwork on his arrest. He was detained by Mills, McDaniel and Lt. Roger Smith and then transported to the Claiborne Parish Detention Center.
Both subjects, police say, are known convicted felons.
Marshal's Service aids in arrest
The Guardian-Journal
A complaint filed in January by a citizen of Claiborne Parish led to the arrest of Michael Shane Desadier, 42, of Haynesville.
Chief Detective Charles Buford obtained a grand jury indictment against Desadier on charges of extortion and cyber stalking after Buford completed his investigation. He then contacted the U.S. Marshal's Service and asked for assistance in Desadier's apprehension on these warrants.
On February 27, the U.S. Marshal's Service apprehended Desadier at his residence in Emerson, Ark. Marshals took Desadier into custody and booked him into the Columbia County Jail. He later waived extradition and was transported to Claiborne Parish.
He was booked at the Claiborne Parish Detention Center on March 1 on charges of extortion with bond set at $10,000 and cyber stalking with bond set at $2,000.
In a separate incident, on November 8, 2011, a theft in progress at a residence on Hwy. 2 Alternate (La. 521) was reported to the Claiborne Parish Sheriff's Office.
Lt. Roger Ellerbe was dispatched to the scene as well as Chief Detective Charles Buford and Detective Darren Keel.
It was determined that a residence had not been entered. An investigation ensued, which resulted in the arrest of Robert Timothy Phillips, 39, for attempted theft over $1,500 on November 9, 2011. Warrants were obtained on Bobby G. Stevens, 46, of Shongaloo and Johnny D. Walker, 44, of Bossier City.
Stevens was arrested on November 29, 2011 and charged with attempted theft with bond set at $5,000. Walker was arrested on March 3, and charged with attempted theft with bond set at $10,000 and other failure to appear charges.
Further arrests may be pending in this case.
In another incident, on March 8, CPSO Reserve Deputy Jimmy Monzingo observed two male subjects near the intersection of La. Hwy. 2 and Flatlick Road stealing tin and other metal items.
Deputy Randy Pugh and Detective Darren Keel were dispatched to the scene.
After an investigation was conducted, Keel arrested Tacareious D. Daniels, 27, and Britt Moody, 56, both of Minden. Both men were charged with attempted theft under $500 and criminal trespass. Bonds on all charges were set at $500 each.
Mural to get worse before better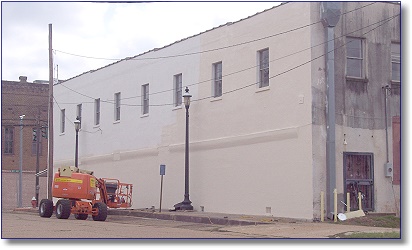 The Tech crew hopes to start working on the mural later this week, and wanted everyone to know it will look worse before it looks better. The early stages will involve shading in large areas and they don't want the community to be discouraged. In general, the painters will plan to work on Mondays and Fridays, with occasional work on the weekends. It will take a couple of months at least to finish the entire mural. If anyone has questions, please call Cynthia Steele, 927-2566.
Music important to student education
MICHELLE BATES, Editor
Music has been proven to enhance critical thinking skills and is directly related to higher test scores and is important to lifelong learning, said Dr. Pat Bates, interim chairperson of the Claiborne Parish Endowment Fund board.
Speaking at the Claiborne Parish School Board meeting last week, she brought before the board a proposal to consider bringing in a group to conduct a demonstration with students and teachers about the importance of music education into Claiborne Schools.
The idea is to bring "music across the curriculum," Dr. Bates said.
She said it's currently difficult for teachers to bring music into education when they are teaching subjects like social studies or science. And teachers are in what she called "survival mode," when it comes to the classroom with all the things that are required of them with the state curriculum.
This demonstration would take place in the 2012-13 school year in the fall and would be paid for by the Claiborne Endowment Fund.
"The value of music education is invaluable," she said. "There is a direct connection between academic achievement...and music."
She gave a personal example, saying her father had Alzheimer's disease, and by the time he hit the last stages, he hadn't spoken a word in years and didn't recognize anyone. However, at the nursing home where he was being cared for, they put him on a piano, and he played a bar of "She'll Be Coming 'Round the Mountain.'
"The value of music education is powerful," she reiterated. "It can make a difference; it can give our young people hope."
Homer High School had a school band until last year, when due to decrease in interest and a decrease in funds, the program was cut. Bates said she'd like to see music reinstated as a part of students' overall education.
While the details of the demonstration aren't yet set in stone, she said she wanted to come before the board because the endowment fund board wanted to make sure the school board would approve such a demonstration before putting money into bringing the project to Claiborne Parish.
And without hesitation, the board voted unanimously to allow the Endowment Fund board to pay for the demonstration.
In other news, Ethel Dansby, coordinator for the homeless program with CPSB, gave a presentation about the National Homeless Conference she attended last month. She gave a description of the program itself, as well as the duties of her job.
Dansby said she learned so much at this year's conference, including new programs available to students, redefining what constitutes a homeless child and things kids deal with on a daily basis. One important thing she talked about during her presentation is that the kids that are considered "homeless" when there is a "lack of fixed, regular or adequate nighttime residence."
These kids are considered homeless when they are "sharing the housing of others due to loss of housing, economic hardship, or similar reason (71% of identified homeless students in 2009-2010) or living in motels, hotels, trailer parks, camping grounds due to lack of adequate alternative accommodations (Motels: 5% of identified homeless students in 2009-10)."
The liaison must provide transportation to these kids to and from their school of origin, in other words, where they would go to school if they had a permanent residence.
This program also offers college access to kids who are considered homeless. Even if they are living in a college dormitory, if they do not have a place to go if they weren't living in the dormitory, then they are still considered homeless.
Also, she discussed a hot topic which seems to be running rampant in schools -- bullying -- even more so with access to the internet and social media sites. According to Dansby, "a student is being bullied or victimized when he or she is being exposed, repeatedly, and over time, to negative actions on the part of one or more students."
Two kinds of bullying include: direct (where there is an open attack on the victim), indirect (which involves social isolation or exclusion from a group). Types of bullying are physical, digital, harassment, psychological and social. And yes, there is a difference between the types of bullying between boys and girls, Dansby said. Boys tend to be more aggressive and take a direct approach, whereas girls tend to spread malicious gossip about their victim or isolate them from their group.
Cyber bullying is a term used when a victim is bullied on the internet or social media sites. This has been seen over and over again in the news where students have actually changed schools, or more horrifically, committed suicide because of these acts.
Schools and school systems have taken action by placing in their policies steps to be taken if a student approaches a teacher or staff member about being bullied. It is also in the Claiborne Parish Student Handbook, where certain steps are taken against students who actively participate in bullying.
In other school board news, Superintendent of Schools Dr. Janice Williams' contract was renewed with the same salary and stipulations. However, the vote wasn't unanimous. With a roll call vote, all voted yes except District 5 School Board Member Dr. Robert Haynes who abstained and District 6 School Board Member who voted nay. Her contract was extended for another two years.
In personnel news, Emma Coleman was hired as a paraprofessional at Haynesville Elementary for the remainder of the 2011-12 school year. Resignations and retirements included: Steve Boyett, a bus driver for Homer Schools (retiring), Maxine Curry, a paraprofessional at Homer Junior High School (retiring), Deborah Barron, a teacher in Junction City (retiring), and Shannon Gooch, a secretary at Homer High School (resignation).
Mike Blackwelder, child welfare and attendance supervisor, presented the 2012-13 school calendar for the school board's approval. With a day or two moved around, the calendar is much the same as it is for the current school year, giving consideration to state testing dates. It was approved unanimously.
Also, a resolution requesting the lifting of unfunded mandates on public school systems was read into record and approved by the school board. While this resolution has absolutely no impact on what is done, the resolution has the school board going on record to say unfunded mandates are increasingly difficult to meet.
During the superintendent's report, there was a dispute about whether the teachers who chose to travel to Baton Rouge this week to lobby against Jindal's education reform plan would be using public dollars for a political issue. Dr. Haynes asked the school board about the issue, saying if the teachers took a paid day off from teaching to go, then they are essentially using taxpayer dollars to allow teachers to lobby on a political issue. However, if the teachers take a personal day, then there is nothing that can be done, Dr. Williams said. Before allowing the teachers to take off, Dr. Williams said she would look into the legalities of this to make sure everyone is following the law.
The next school board meeting will be held at 6 p.m., Thursday, April 5, in the school board meeting room at Central Office. For more information or for questions, please call their office at 318-927-3502.
Mark Your Calendars!
Football Camp at Mayfield Park this Saturday!
A free football camp, hosted by Homer Mayor Alecia Smith, Town of Homer Recreation Department and NFL Player Demetrius Bell, will be held at Mayfield Park from noon until 4:30 p.m. From noon until 2 p.m. will be free elementary school payer football and cheer camps with NFL players (grades 1-6), and from 2 until 4:30 p.m., free high school player football skills camp with NFL players (grades 7-12). For more information and to pick up a registration form, please contact Shaquaila Lewis at the Town of Homer for more information, at 318-927-1312 or 318-927-3555.
Lots of activities for annual Relay for Life
On Friday, March 16, a bake sale will be held from 9 until 11 a.m. at Emerson Oil Co., Inc., located at 352 Sycamore Street in Homer.
Another way money is being raised for the American Cancer Society is through a drawing for several prizes. A six-gallon cajun fryer from R&V Works will be raffled off for $5 per donation per ticket. A four-gallon cajun fryer, also by R&V Works will be raffled off for a $2 donation per ticket. For a $5 donation per ticket, a smokin' cajun grill, by R&V Works will be raffled off.
The drawing will be held at the Relay, but winners do not have to be present to win. Tickets are available at Homer Memorial Hospital. For more information on the raffle, please call 318-927-1400 or email . the Relay for Life will be held from noon until midnight on Saturday, April 14, at the Ronny G. Beard Memorial Stadium at Homer High School. Luminarias are available for $10 each; just see this week's edition of The Guardian-Journal to get a form. Please send your completed form and contribution to your team member or mail to Luminaria Chair, Ann Burton, P.O. Box 240, Homer, LA 71040.
Resolution 'fixes' special permit fees
MICHELLE BATES, Editor
A resolution regarding special permits brought a bit of discussion at last week's Claiborne Parish Police Jury.
Ordinance 703 of the police jury's Code of Ordinances allows for special permits to be issued outside of the violations listed in Section 82-38(b) of Ordinance 703 when the road superintendent or his designee decides it's needed. However, there is no specified permit fee for these exceptions. This resolution (Resolution 2012-006) sets a specific price of $500 for a special permit "for the movement of oversized and overweight equipment to and from any new or already existing oil and gas well locations" in the parish road system.
"This really applies to rig moves," District 2 Police Juror Mark Furlow said. However, it does not apply to work over rigs, he added.
If "any company or individual in blatant noncompliance of Section 82-38(b) of Ordinance No. 703, the cost of said permit increases to $1,000," the resolution states.
Already, any heavy haulers that move through Claiborne Parish must pay a $25 or $50 permit fee per company in order to receive a permit. These permits apply to logging, construction and the oilfield if they are not overweight or oversized.
"When they are oversized or overweight, that's when that special permit kicks in," Secretary Treasurer Dwayne Woodard said.
According to Woodard, this resolution is a temporary fix until such time they can totally amend Ordinance 703, of which they are in the process of doing.
The issue boils down to this: the police jury is paying out more in road repairs than they are receiving in permit fees. Woodard said records show they only $1,700 in permit fees in 2011. He said there is one road in particular that sees a lot of oilfield overweight and oversized traffic and they spent more than $70,000 in 2011 just to keep the road usable.
"The oil and gas industry is the lifeblood of our parish," Woodard said. "However, while our fees are in line with other parishes, we are still cheaper."
They plan to have all the amendments to the ordinance that addresses all the issues ready to adopt by September 1. All the new provisions of the ordinance are planned to go into effect January 1, 2013, Woodard said.
The resolution was adopted 9-1, with the lone vote against by District 10 Police Juror Willie Young.
In other news, Allied Waste requested to change the service days from Mondays to Thursdays in an effort to provide more efficient service, according to a letter from the company to the police jury. The effective date will begin Thursday, March 15. These changes will affect approximately 60 homes on the following roads: Bicycle Road, Bois D. Arc Road, Clearlake Road, Dutchtown Road, Frank Miller Road, Highway 534, Lonnie Road, Maddry Road, Maritzky Road, McClung Owens Road and Union Grove Road.
Those residents along this route should have received door hangers notifying them of the service day change. If there are any questions, please call the police jury office at 318-927-2222.
The police jury also approved bids for interior coating for Pine Hill Water System's storage tank, culvert purchases and a bid on a surplus low-boy truck.
In other news, the Claiborne Parish Library Board of Control requested that the jury submit an application to the state bond commission for the sale and issuance of up to $2 million worth of bonds for the construction of the library expansion. The request was approved, and Resolution 2012-005 was adopted to that effect.
Also in other news, a public hearing has been set for 8:30 a.m. in the conference room of the Claiborne Parish Police Jury Complex for the abandonment and removing of a section of Pitman Road from the parish road system. This public hearing is to request input from the public about the proposed abandonment and removal of this portion of the road from the road system.
According to a letter from Eric Holley, who recently purchased the property at the end of Pitman Road in Haynesville, said he wants to put a gate at the end of that road, because he is the only one who uses that access to the property. Road Superintendent Tommy Durrett said in the February meeting of the police jury that closing this portion of the road would have no effect on any one else living in that area.
The next meeting of the police jury will be at 9 a.m., Wednesday, April 4, in the police jury meeting room. For more information, or for questions, please call their office at 318-927-2222.