Owners of scrap yard speak out
Top Dollar works with law enforcement to deter theft
MICHELLE BATES, Editor
With the recent arrests of eight people involved in an oilfield theft ring, a local scrapyard is taking heat over the fact most of the stolen goods were brought to their place of business.
Top Dollar Scrap and Recovery took in several thousand pounds of oilfield equipment over the last several months that were sold to them for scrap by Andrew Stiles. Stiles was arrested in early January after he was allegedly caught attempting to steal a car to sell for scrap. Seven others were also arrested in the case, including one juvenile.
Chad Watts, co-owner of Top Dollar, sat down with The Guardian-Journal and explained their side of the case as well as their procedures for accepting and buying scrap materials -- and it's a lot of paperwork.
When a seller comes in with scrap metal, they are assigned a number by the scrap yard and a ticket with their assigned number, name, address, driver's license number and license plate number. Once it is determined what type of material it is, then the next step is to fill out the corresponding form. On that form, the seller's information is filled out along with the "material composition," such as copper, copper wire, alloy or other types of metal. If the material is railroad material, then the type of material is checked off.
If it is a vehicle, they must fill out an affidavit which is signed by the seller. However, in order for Top Dollar to even take a vehicle, the seller must have a title, a driver's license and the vehicle identification number (VIN) on the vehicle has to match the one on the title. The seller's name on the title must also match the driver's license of the seller.
The scrap company also has cameras strategically placed throughout the property so that if need be, law enforcement can come in and see the videos if they have a report of stolen property being sold at the scrap yard.
"We're not doing anything that is illegal and we're doing exactly what the authorities are asking us to do," Watts said.
In fact, they are looking into setting up a system in which they upload reports of everything they take in, much like a law enforcement tool that is free to the scrap yard companies called Leads Online. On this website, paid for by law enforcement, scrap yards, pawn shops and other second hand dealers can upload their daily reports and law enforcement can look at this website to see if any of the reports match any cases of theft they are working on.
But, even with this type of deterrent and their procedures at the scrap yard, Watts said Stiles was a smooth talker. He even told Watts he was unemployed and was asking him for a job as a truck driver.
"I guess you could say we were duped," he said. "Now that I look back, I was being set up."
There was no reason to believe he wasn't being straight with him, Watts said, and the stuff he was bringing in was buried under other scrap metals. When a seller brings in a trailer load of metals, many times, it is hard to tell what they are bringing in -- whether it be from a farm, oilfield company, energy company or someone's backyard -- because it's all brought in one big heap.
"Since this happened, I've learned that I have to become a farmer, an oilfield person, a mechanic, you name it," Watts said.
Since the arrests of these individuals, he said he's become more aware of different components of equipment and law enforcement has also helped him in making him more aware.
"If it looks suspicious, we set it aside," Watts said.
He says he feels he's learned his lesson with this, but it doesn't mean that stolen goods will stop coming through his gate or that of another scrap yard.
"If we closed our doors tomorrow, it's not going to stop," he said. "This goes on in every scrap yard. If a criminal steals something, they aren't going to take it to a local yard. They are going to take it somewhere where nobody knows them."
Watts said another way they try to deter crime is to make copies of all the paperwork they've moved through the scrap yard and turn it over to the Claiborne Parish Sheriff's Office. Sheriff Ken Bailey confirmed this, saying several cases throughout the years have been solved just by having this paperwork.
"We haven't solved everything, but we've solved several cases because of that," the sheriff said. "We work with them and they work with us. We get the tickets and we go through them, which has helped us make some arrests over the years."
In fact, Louisiana law says the scrap yard has to keep those records daily and make them readily available to law enforcement (RS: 37:1864(B)).
Top Dollar is also required to pay its customers with a check or money order and not cash, according to Act 389. However, Watts and Bailey both say local law enforcement agencies decide whether the scrap yard needs to write checks. Top Dollar does give its customers checks instead of cash after a set amount. Up until that certain amount is reached, Top Dollar pays its customers in cash.
However, the scrap yard does not allow its customers to cash the check there, Watts said. If a customer brings in scrap metal worth more than their set amount, then a check is issued to the seller who then must take the check to a bank or other financial institution to cash it.
"As long as he's doing everything correctly," Bailey said of Top Dollar, "that's fine with me."
Act 389 was signed into law in 2011 which, according to legislators, was meant to bring consistency to laws governing secondhand dealers. However, because of unforeseen issues, legislators will go back this legislative session and look at the law again to refine and make changes to better fit other types of secondhand dealers, such as the Bonnie and Clyde Trade Days and even scrap yards.
Another issue that came up after the law went into effect is the fact that cash is good for any kind of purchase, and some feel as if the law says that cash is no good. But, in fact, paper currency says, "This note is legal tender for all debts, public and private."
The whole idea behind adding the clause that secondhand dealers must pay sellers by check or money order is to deter criminal theft and the sale of stolen goods.
Even though this law still has a few kinks to be worked out, scrap yards like Top Dollar and pawn shops as well continue to work closely with law enforcement to help deter theft and sale of stolen goods as well as catch criminals who do get away with selling stolen goods.
Top Dollar Scrap and Recovery also has a yard in Oil City in Caddo Parish. The Caddo Parish Sheriff's Office has stricter regulations on it than the company here in Homer in that the company in Oil City must report daily to the sheriff's office as provided by the Caddo Parish Code of Ordinances, Section 12:139.
And even with the trials and tribulations Top Dollar has seen over the past several years, it's still one of the most competitive scrap yards in the area. Their materials are hauled all over the country, and has even been transported internationally. According to Watts, it's one of the highest paying scrap yards to sellers in the area, but it's also one of the most rigorous in its procedures to make sure sellers aren't bringing in stolen goods.
To look at Act 389 and its accompanying revised statutes, please go to the Louisiana Legislature's website at www.legis.state.la.us. 
Ford Museum to host Scannography workshop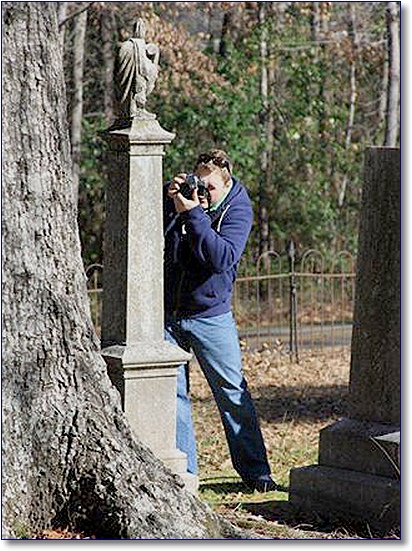 Submitted photos
David Fox is photographing an interesting old monument at the Old Homer Cemetery. For more information, please call the Ford Museum at 927-9190.
The Ford Museum has hosted a series of workshops as part of a Louisiana Decentralized Arts Funding grant sponsored by the Shreveport Regional Arts Council. 
Journey Story: How We Got Here has focused on collecting the stories that tell what brought their families to Claiborne Parish.  Dr. Susan Roach, an experienced folklorist of Louisiana history and culture, conducted two workshops which taught the skills of conducting oral interviews to collect these family stories. 
Jeff Scott, owner of Jeff Scott Photography, taught participants basic techniques in portrait and architectural photographing.  Workshop participants were also shown basic skills of monument rubbing by Linda Volentine, project director of the Ford Museum. 
The final workshop will be Scannography, a new and upcoming art form.  Chris Broussard will be the instructor for this class. 
Boyfriend arrested following hospital disturbance
A Homer man caused quite a stir after causing a disturbance at Homer Memorial Hospital.
Kendrick J. Dudley, 24, of Homer, was arrested on several charges after causing a disturbance at the hospital and reportedly beating up a patient.
He was charged with domestic abuse battery with bond set at $2,000, disturbing the peace, failure to appear, amplified device in public places, tampering with electronic monetary instrument and interfering with medical treatment. Bond on each subsequent charge was set at $500, for a total of $4,500.
According to reports, on Saturday, January 28, Sgt. Van McDaniel, of the Homer Police Department, was dispatched to Homer Memorial Hospital in reference to a disturbance. When he arrived, he was taken to a room in the hospital where the victim, Ginger Champ, and her son were. He was advised by nursing staff that an altercation had taken place where a black male ran through the emergency room doors setting off the alarm. They also told McDaniel that the male was in the room with Champ causing bodily injury.
Upon entering the room, reports say McDaniel observed blood in the room on the floor and the wall. He spoke with Champ, who reportedly advised him that the black male, identified as Dudley, was hitting her and she screamed for help. Allegedly, the two were against the hospital room door, where Dudley was trying to keep nursing staff out of the room.
Reports say during questioning Dudley told police the opposite, that she was trying to hold him in the room and that she attacked him.
After interviewing the victim and hospital staff, McDaniel went outside to search the hospital grounds and a BOLO (be on the lookout) was issued for Dudley. During the grounds search, Claiborne Parish Sheriff's Deputy David Morgan radioed that he'd found and detained Dudley.
McDaniel took Dudley into custody and transported him to the Homer Police Department where he was placed under arrest and booked. He was later transported to the Claiborne Parish Detention Center for further booking.
Art mural project to begin soon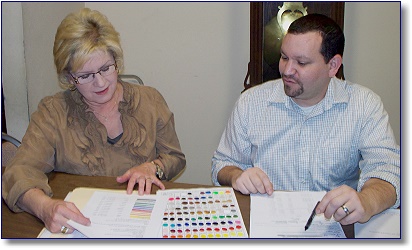 Submitted photo
Judy Peterson Buckner, artist designing the mural, and Mick Bustamonte, an arts professor at Louisiana Tech University, are meeting to discuss plans for the mural. The mural will go on the Kinnebrew building on the southwest corner of the Square on West Main Street.
A mural depicting some of the agricultural history of Claiborne Parish will be started soon on the north side of the Kinnebrew Building on the southwest corner of the Square.
On behalf of the artists, the Claiborne Jubilee is seeking donations of various supplies which could be lent to the project for the month of March. Ed Watson has already agreed to let the artists use his scaffolding for the project, but items such as tarps to cover the sidewalk, rags, five gallon buckets, rope to lower the buckets from the scaffolding, paint trays, paint rollers, roller handles and extension handles are also needed. In addition, brushes with angled tips in the following sizes would be appreciated: one and one half inches, two inches, four inches and six inches.  Even plastic containers such as Cool Whip or margarine tubs are helpful for mixing small quantities of paint.
Claiborne Parish artist Judy Buckner is creating the design which will be transferred to the building by professor Nick Bustamonte and a group of his senior art students from Louisiana Tech University. They are working with Jubilee coordinator Cynthia Steele on the design and implementation of the mural.
Building owner Jim Ross of Shreveport is arranging to have the entire building washed and painted prior to the start of the mural.
Among the features of the mural will be scenes from the Kinnebrew Cotton Gin which is presently located in the Louisiana Cotton Museum in Lake Providence. If anyone has photographs of the Kinnebrew Gin from the days it was in operation, the Jubilee would like to borrow them to copy. To arrange for pick up of any of the above items please contact Cynthia Steele, 927-2566 or .
The mural is being made possible by a grant to the Claiborne Jubilee through the Town of Homer from the Louisiana Division of the Arts, Office of Cultural Development, Department of Culture, Recreation and Tourism cooperating with the Louisiana State Arts Council and administered through the Shreveport Regional Arts Council. The Homer Industrial Foundation is funding the special paint needed for the project.
Man arrested for attempted sexual battery
The Guardian-Journal
A Gibsland man was arrested on a warrant for attempted sexual battery.
Vontonio Quitez Cooper, 21, of Gibsland, was arrested on Thursday, February 2, on the warrant and bond was set at $5,000.
According to reports, on the date of the incident, August 2011, Homer Police Officer Franklin Evans responded to a call on Adams Street in reference to a break in. When the officer arrived at the scene, he was told by an 18-year-old who lived at the residence that Cooper had entered the house through his bedroom window. He told the officer he was awakened by noises in the house.
Cooper reportedly entered the bedroom of the homeowner and grabbed her daughter, who was with her mother in the bedroom, by the ankle to drag her off the bed and carried her out of the room. Police say the daughter told them Cooper attempted to undress her but couldn't.
On February 2, the manager at Claiborne Place Apartments contacted police in reference to Cooper who was at the apartment complex. Police say the manager advised them that Cooper was not allowed onto the property. It was at that time, Sgt. Van McDaniel served the active warrant for attempted sexual battery to Cooper and took him into custody.
He was transported to the Claiborne Parish Detention Center for booking.
Progress made with recreation, grants in Homer
MICHELLE BATES, Editor
Progress is being made every day in recreation and when it comes to seeking grant funding.
In Monday's Homer Town Council meeting, Gene Coleman, grants committee chair, gave a report on the status of several grants they are working on for the town. He gave a pretty detailed list of what's going on and what the town has received and may receive.
Currently, construction should begin within the next month on phase II of improvements for the wastewater treatment plant, he said. The cost of the project totals $165,000, with $100,000 coming from the Delta Regional Authority (DRA) and $65,000 coming from town funding. Some of the work includes replacement of a mechanical screen and rehabilitation of the disinfection system.
Also, the town is requesting additional funding from DRA for phases III and IV for more improvements to the wastewater treatment plant, approximately $320,000 worth. However, it was not funded in 2011, and the town will likely reapply at some time this year.
"The funds can only be used if it proves to bring in new industry and it didn't do that," Coleman said.
He also gave an update on the new water metering system. The engineering design is nearly complete and financing is being finalized. The project budget is about $900,000 for fixed electronic water meter reading and was financed with a 15-year municipal lease at about 4.5 to 5 percent interest from the Government Capital Corporation.
The new metering system, according to earlier reports, is expected to be more accurate in its reading and billing processes. It will also free up more time for town maintenance workers to work on other important projects as well.
Also, the town recently received confirmation that the Louisiana Department of Environmental Quality (LDEQ) was considering the town's request for about $2.6 million in revolving loan funds for wastewater collection system improvements. The town is being considered for $1 million in Environmental Protection Agency (EPA) green project reserve funds with an additional $1.6 million in low interest loan funds from LDEQ.
Along those lines, the smoke test that was cancelled last month will begin on Monday, February 13. Smoke testing and video inspections should start on that date, weather pending.
"These investigations will help define the extent of rehabilitation work and will ensure that the town spends funds where they are most needed and will have the most beneficial impact," Coleman said in a handout to the council members.
The town is also currently soliciting bids for a Community Water Enrichment Fund (CWEF) grant for cleaning and rehabilitating ground storage tanks at the town's Mayfield Park water treatment plant and replacing existing water mains on Lyons Hill Road. The grant amount is $35,000, and construction should begin within 30 to 45 days.
And more importantly, the town is seeking a grant from the USDA for the purchase of new police cars, however, the process has been slowed somewhat because of Americans with Disabilities Act (ADA) requirements compliance issues inside town hall and at the Homer Police Station. However, an assessment and preparation for a formal transition plan (scope of the work and cost estimate of required improvements) will follow in the next 30 to 60 days, Coleman said.
In recreation, Director Fred Young gave a positive report, beginning with the Mayfield Pool project. After so much trouble from the company that was supposed to repair Mayfield Pool, repairs are now to the point where town maintenance employees can finish the job.
"The town can fix the pool with a certified plumber," Young said.
The remaining repairs include the installation of a drain cover, painting the inside of the pool (of which the paint has been ordered and is expected in at any day), and remove and repaint the depth markings. Currently, the pool has ceramic tiles around the edge to mark depth, but those will be removed and the depth markings will be painted. Also, lifeguard stands will be replaced. Young expects the pool to be finished by mid- to late-April.
Also, he gave a report on the projects that have been completed or are near completion for the 2011 stated goals.
Three major projects have been repairs and upgrades to the three major parks in Homer, including the Jaycees Park, Armory Park and Mayfield.
At the Jaycees Park, playground equipment has been replaced and the plan is to install two more "hoppy horses," Young said. What still needs to be done is fencing to contain basketball at the two goals and some ground cover is still needed.
At Mayfield, the picnic areas were upgraded with grills and tables repaired and painted, lighting installed at the big field and the restrooms have been updated. However, the recreation committee is in the process of reviewing bleachers and seating at the park.
At Armory Park, upgrades have been completed on two small fields which consisted of the annual "readiness" for Dixie Baseball. The main field was cut and ready for high school baseball, and dirt for field repair has been requested.
Jim Colvin, very active in Dixie League baseball and softball, stood like a proud father when he announced that the Homer teams won the Dixie League tournament on their own turf last season. He thanked the committee and the town for all its hard work and the help with expenses on preparing the fields for the tournament.
Although much of the recreation fund was spent, it was put to good use in repairing and upgrading the town's parks for recreation. And while a lot of money was spent, Young said he doesn't see spending that much in 2012 and wants to focus on getting recreational programs for the kids (young and old alike) get underway.
"We did everything needed to get recreational activities ready to get started," Young said.
Herbert Taylor, a pee-wee football league coach in Minden, came to the town council meeting in an effort to get the football league started in Homer. This last season, any kids who wanted to play city league football were bussed to Minden by Taylor, and he said he wanted to see the kids play here. He wants to get pee-wee football up and running by the time school starts in August of this year. The league will be for children ages 8-12 (third through sixth grade). He also said he wants to get the kids in the circuit with Minden and Haynesville.
Also, two golf clinics will be held in March. Colvin said the golf board met and they want to hold the clinics before the start of baseball season. Signups will be around mid-March, but he said to watch the newspapers for the actual dates and how to sign up.
Also, baseball signups will begin pretty soon as well for ages 4-14, or older, if they want to play, he said.
In other council news, Mayor Alecia Smith will begin looking into what it will take to rename the Jaycees Park in memory of Joe Joe Michael, who recently passed away. He was an icon in Homer, served as mayor for the better part of 20 years and absolutely loved his community. If all goes as planned, it will be renamed the "Joe Joe Michael Memorial Park."
Josh Graham of Compliance EnviroSystems LLC in Baton Rouge, spoke to the council and the public about his company and the services they provide in wastewater problem solving. The company provides sewer system evaluations and cleanups with state-of-the-art equipment.
"Systems are deteriorating at an alarming rate," Graham said, and his company detects where flow and infiltration come in.
But right now, Smith said they are looking at ways to obtain funding to begin replacing sewer lines.
Also, in other news, the fuel policy for town employees (including the Homer Police Department) was discussed. Each department head will now be responsible for getting receipts from their workers and keep up with their fuel logs. They will turn in both receipts and fuel logs once per month to go along with the fuel report, Lisa Foster, town clerk, said.
In police news, Homer Police Chief Russell Mills presented a new hire to the council. Once the hiring committee met, they agreed with Mills' recommendation to hire Johnny Hough, 61. Hough comes to Homer with 25 years of experience in law enforcement, is POST certified and is a certified instructor. He spent some of his law enforcement career as military police and is also a Vietnam vet.
Police Officer J.D. Faulkner retired and one officer, Steve Risner, is currently in Iraq. Mills said with two officers down, he needed to replace at least one position.
The next meeting of the Homer Town Council will be at 6 p.m., Monday, March 5, in council chambers, located inside City Hall. For more information or for questions, please call their office at 927-3555.
Jubilee Players continue storytelling projects
The Jubilee Players followed up their recent performance at the Chamber of Commerce banquet with an evening of brainstorming on new ways to gather and share stories. They agreed to meet every Monday night at 7 pm at the Presbyterian Church in Homer and welcome newcomers to the group. The highpoint of the meeting was a report from Darlene Norcross and Renee James who had just returned from Colquitt, GA where they attended a conference to learn more about the process used there.
Among the projects discussed were the mural planned for March on the Kinnebrew Building, various equipment options for recording stories, the annual spring art show on the courthouse lawn and a repeat of the "We're Saving a Seat for You!" fundraiser begun in 2011. Among the ideas for future murals discussed was one of a large quilt with squares for sale to be purchased in memory of or in honor of loved ones.
Besides volunteers, the Players are looking for equipment to record oral histories, audio, video or both. Anyone with something to lend or donate should contact Cynthia Steele at 927-2566 or .