Protest raises awareness of Mary Nguyen's plight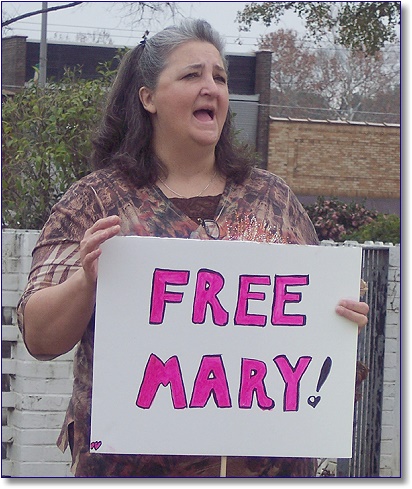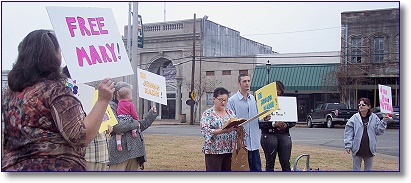 The Guardian-Journal photos /Michelle Bates
Family members of Mary Nguyen protested on her behalf on the Claiborne Parish Courthouse lawn Friday. Nguyen has been incarcerated since at least 2008 on several charges and her case has not gone to trial. Her trial date has been set for February 22.
Mary Foster, Mary Nguyen's mother, reads a passage from the Bible as they protest against the justice system who they say has held Nguyen in jail without trial for nearly five years. The protest was held Friday, January 20, on the lawn of the Claiborne Parish Courthouse. Patsy "Patti" Helms sings a hymn while holding a "Free Mary" sign. Helms is Mary Nguyen's aunt, who says her niece has been incarcerated without trial for nearly five years.
MICHELLE BATES, Editor
A prayer protest was held at the Claiborne Parish Courthouse lawn on Friday in protest for a woman who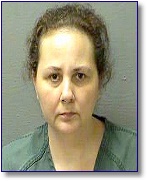 they say has been incarcerated for five years without a trial.
Mary Nguyen, who has been charged with criminal mischief and theft over $500 in 2007 and assault on a police officer with a firearm in 2008, has been behind bars since the 2008 incident.
"This should have been worked out a long time ago," said Patsy "Patty" Helms, Nguyen's aunt, during the protest. "It's been too long and somebody just needs to stand up for her. This needs to be resolved."
According to a psychological assessment rendered in April 2010, the doctor refers to a police report by the Claiborne Parish Sheriff's Office, which states that on January 10, 2008, Nguyen barricaded herself in her home after a bail bonds agent came to her home to explain that if she got into trouble her bond would be revoked. The apparent reason for the agent's visit was because her bond had been revoked.
When she was told her bond would be revoked, she reportedly got the shotgun and some shells and went to a building behind the residence and would not come out. Claiborne Parish Sheriff's Deputies went to the home and Detective Randy Smith spoke to Nguyen before she barricaded herself in the building. And when he introduced himself, she reportedly went back into the building where reports say Smith observed her in the building grabbing the shotgun by the barrel and raising it.
An entry team from Lincoln Parish arrived on scene to assist and took Nguyen into custody and the shotgun was collected and logged into evidence.
In 2007, she was arrested by Homer Police on the criminal mischief and theft charges when they learned she'd allegedly sprayed inflammatory graffiti on "David Newell District Attorney" t-shirts that were stolen and distributed on several streets in Homer, around the Claiborne Parish Courthouse and at least one other known location in the parish. There was a dispute as to whether Newell had paid for the t-shirts, officials said.
However, it doesn't stop there. Later in 2008, Second Judicial District Judge Jenifer Clason ordered Nguyen to undergo a psychiatric evaluation to determine whether she was mentally competent for trial on the assault charge. According to a letter from George Seiden, M.D., Nguyen refused to participate in the interview for the sanity hearing, saying she believed the proceedings "had something to do with an inheritance that was supposed to be passed down through her family and various people who wanted to label her in order to be able to take control of the inheritance.
"She also made a statement to the effect that this has something to do with the KKK.," the letter continued.
It was also the opinion of Medical Neuropsychologist S. Webb Sentell that Nguyen was not fit to stand trial on the assault charges and recommended inpatient psychiatric treatment.
On September 15, 2008, Clason ordered her committed to the Eastern Louisiana Mental Health System (ELMHS) -- Forensic Division in East Feliciana Parish, for "custody, care and treatment as the law describes and to await further orders from this court."
On April 14, 2009, she was admitted to ELMHS in East Feliciana Parish, and after 18 months of psychiatric treatment with medication, she was deemed competent to stand trial.
At the time of her admission to the mental hospital, she had been diagnosed with chronic paranoid schizophrenia and was "delusional," according to court records.
Nguyen's daughters say before their mother's "breakdown" Nguyen was a wonderful person. They describe her as a wonderful mother, who was there for her children. She drove a school bus for the Claiborne Parish School System for seven years. Her daughters are both honor students.
"I couldn't ask for a better mother," Katherine Nguyen, Mary's daughter said. "I wouldn't be the person I am today without my mom. She's missed a lot of our lives and we needed her."
Her youngest daughter, Kallie, said almost the same thing.
"A lot of people don't know what she really had to go through," she said tearfully at the protest. "She's a good person. I couldn't ask for better."
And while family members understand Nguyen was sent to a mental health facility for treatment, they say it's time to put some closure on the case and don't understand what's taking so long.
"They've done nothing for her on her case knowing she's very sick," Mary Foster, Nguyen's mother said. "I'm very upset with the justice system."
Kathy Mills, Nguyen's aunt, reiterated Foster's statement saying, "We all knew she was sick and she was so mentally ill she didn't know what she was doing and her mother couldn't control her."
Assistant District Attorney Jim Hatch, who is handling the case, explained that when a defendant is found incompetent to stand trial, the case comes to a standstill.
"If she is incompetent to stand trial, the case is suspended until such time as she could be declared competent," he said.
In this case, she was deemed competent following psychiatric treatment. She was discharged from ELMHS on September 22, 2010, when she was returned to the custody of Claiborne authorities. Within the next few months, the hearings on the Sanity Commission were concluded, when she was officially deemed competent to stand trial.
However, there are other circumstances, Hatch said, that could also be cause for holding up on Nguyen going to trial. He said when a person is arrested and appears in court for their first hearing, the judge assigned to the case is the one that will follow the case all the way through. And in Claiborne Parish, there are trial "sessions" where each judge has a set period of time to hear cases that are set for trial. There are six trial "sessions" this year, and Clason has four of those.
Also, Hatch said, it took a while to get Dr. Michael Blue, psychiatrist, to come to Claiborne Parish to testify in the Sanity Hearing, saying he had to be subpoenaed.
In 2011, Nguyen's case came up for trial several times, but the matter was passed on several occasions. Today, Nguyen still sits in a jail cell at the Claiborne Parish Women's Jail awaiting trial. Paul Garner is the attorney appointed to her from the Indigent Defender Board.
Currently, her trial date has been set for February 22.
Boy struck by car
The Guardian-Journal
A little boy was airlifted to Shreveport after he was hit by a car last weekend.
According to Homer Police, they responded to a call on Pearl Street on Friday, January 20, around 6 p.m., in reference to the boy.
Police Chief Russell Mills said the six-year-old was playing basketball a couple of houses down from his home when the ball rebounded going into the street.
He went to retrieve the ball from the street and was struck by a vehicle.
"The motorist said she was unable to avoid hitting him," Mills said. "It was a terrible accident."
Because the boy had visible head injuries, he was airlifted from the scene by Pafford Life Air and transported to Louisiana State University Health Sciences Center (LSUHSC) where he was kept for observation.
As of press time, there was no word of his condition.
Proposed alcohol ordinance introduced
Ordinance would reinstate alcoholic beverages code
The Guardian-Journal
An ordinance reinstating a portion of the Homer Code of Ordinances regarding alcoholic beverages has been introduced.
In a special called meeting on Thursday, January 19, the council met to discuss the policies and procedures regarding high content alcohol within the corporate limits of Homer. And questions didn't arise so much about the reinstatement as much as the procedures businesses needed to go through to make sure they applied and received their permits correctly.
Newly appointed Town Attorney Marcus Patillo explained that all they had to do was make sure they filed with the town and the state within 24 hours of each other, and if the state approved the business for a permit, then the town would do so as well.
Other questions came up concerning the legal definition of an open container. A restaurant owner, who intends to sell wine, asked about whether it would be considered an open container if a bottle of wine was opened and re-corked by the restaurant. Patillo said he would check into it to be sure, but the definition states that if the seal on an alcoholic beverage container has been broken or tampered with, it is considered an open container.
Also, questions arose about mixed drinks. Restaurants within the corporate limits of Homer will now be able to mix drinks and sell them with meals.
A public hearing for Proposed Ordinance 11-912 will be held at 5:30 p.m. in council chambers on Monday, February 6 before the start of the regular monthly meeting at 6 p.m. If adopted, the ordinance will go into effect on Tuesday, February 7.
In other news, the council also discussed rental fees for Homer City Hall's auditorium. A representative with the USDA came to Homer recently and advised town officials that they would no longer be able to rent the auditorium or any room of city hall for free. The town's policy allowed nonprofits and schools to rent city hall for free or for a reduced cost. The fee for renting city hall is $250, and if they cleaned up after their event, they got a $100 deposit back.
District 4 Councilwoman Carlette Sanford made a motion to keep the rental fee at $250, but that fee would be across the board with the entity or entities getting back only a $50 deposit back if they cleaned up. It was seconded by District 3 Councilman Don McCalman and it was passed 2-1 with District 1 Councilwoman Linda Mozeke the lone vote against. District 2 Councilman Michael Wade was absent, and District 5 Councilwoman Patricia Jenkins arrived after the vote.
Mozeke raised concerns about charging $250 for churches, schools and nonprofits, saying she felt they should be able to rent city hall at a reduced price, at least by half.
Also, the agenda was amended at McCalman's request to rename Homer's Jaycees Park in memory of Joe Joe Michael, who recently passed away. Michael was the mayor of Homer for 20 years and was very active in the Homer community. If changed, the name of the park would become the Joe Michael Memorial Park.
Homer Mayor Alecia Smith said she would find out what needs to be done and come back with that information at the February 6 meeting.
Again, a public hearing on the proposed alcohol ordinance will be held at 5:30 p.m. Monday, February 6, in council chambers. The regular monthly meeting will follow at 6 p.m. For more information, or for questions, please call Homer City Hall at 318-927-3555.
Tip leads to drug arrest
The Guardian-Journal
Claiborne Parish Sheriff's Deputy Randy Pugh was dispatched to Dixie Mart Store in Athens in reference to a tip the sheriff's office received regarding possible drug activity in the parking lot.
Pugh made contact with the vehicle in question and discovered a passenger in the vehicle to be Demetrius N. Winzer, 20, of Athens. A subsequent search of Winzer revealed a clear plastic bag containing a green vegetable material in the front right pocket of Winzer's pants.
Winzer stated that there were no more drugs on his person. Winzer was placed under arrest for possession of marijuana.
After being transported to the Claiborne Parish Detention Center, officers found six clear plastic bags with a green vegetable material appearing to be marijuana in Winzer's right sock and a clear plastic bag containing a pink tablet identified as Hydrocodone, and an off-white rock that appeared to be crack cocaine.
Bond was set on the possession of marijuana charge (second offense) at $5,000, introduction of contraband into a penal institution at $10,000, possession of Schedule II CDS (cocaine) at $5,000, possession of Schedule III (Hydrocodone) at $5,000 and possession with intent to distribute Schedule I CDS (marijuana) at $30,000.
Chamber banquet this Monday
Jubilee Players to present 'An Afternoon on the Square'
Tickets are still available for the 47th Annual Claiborne Chamber of Commerce Banquet.
To be held at Homer City Hall, the event will take place at 6:30 p.m., with Upper Crust Catering providing the meal.
Reservations are $35 per person and all reservations must be paid in advance.
Sponsorship opportunities are also still available as well. All sponsors will be recognized at the banquet and will be listed in the event program. They are as follows:
• Diamond Sponsor ($1,000) receives special recognition, 12 tickets, and reserved tables.
• Platinum Sponsor ($700) receives 8 tickets and a reserved table.
• Gold Sponsor ($400) receives 4 tickets and a reserved table.
• Silver Sponsor ($200) receives 4 tickets and reserved seating.
• Bronze Sponsor ($100) receives 2 tickets and reserved seating.   
Please return your reservation cards as soon as possible as seating is limited to 200. Business dress will be appropriate for the evening.
Entertainment this year will be provided by the Claiborne Jubilee Players. Based on performances given at the Swamp Gravy conference in October, local individuals will present stories from Claiborne Parish.
Cynthia Steele, who has advocated story-telling theater in Claiborne Parish, said the event is sure to be special this year because attendees will get a look at some Claiborne Parish stories through a unique art form.
"All of the players are excited and have begun rehearsals," she said. "They are looking forward to presenting these three stories."
The Jubilee Players will present "An Afternoon on the Square" inspired by the old photograph on the cover of the museum's pictorial history book, harkening back to the days when folks gathered to play dominos on the courthouse lawn. Many tales were swapped and the affairs of the world settled under the shade of those old trees.
The stories selected for the chamber banquet performance were first developed during the Building Thriving, Creative Communities Conference held here under the leadership of Swamp Gravy, an organization from Colquitt, Georgia, which has transformed the economy of their region through the arts.
Realizing that one of our greatest resources which no other community possesses are our stories, the Claiborne Jubilee is sponsoring this theater group as well as developing a mural on the north side of the Kinnebrew Building on the Square in Homer. It is hoped that this will be only the first of a series of murals throughout the parish which will become part of a mural trail joining with Magnolia, Arkansas, Haynesville, Springhill and Minden.
The Players welcome all who would like to participate in future productions. No previous acting experience is necessary.
Also needed are stories to use in developing new scripts and to inspire future murals. Please contact Sadie Flucas at 927-6411 or Cynthia Steele at 927-2566. The chamber's theme of "Get on Board for Claiborne" is continued throughout the show with the Players musical selections including "Just Tell Your Story and Get On Board!"
For more information on the banquet or for reservations, please contact the chamber office at 318-927-3271.
Bond set high for drug suspect
Bond nearly $300,000
The Guardian-Journal
Bond for a Homer man arrested last week has been set at nearly $300,000.
Ramundro Knowles, of Homer, was arrested on Tuesday, January 17, on various drug charges after police were given consent to search his home.
He was charged with possession with intent to distribute Schedule I CDS (marijuana) with bond set at $60,000, possession with intent to distribute Schedule II CDS (cocaine) with bond set at $150,000, possession with intent to distribute Schedule III CDS (Lortab) with bond set at $60,000 and possession of drug paraphernalia with bond set at $1,000.
According to Homer Police Chief Russell Mills, bond was set based on the charges against Knowles.
"The high bond amount is indicative of the amount of drugs he had," Mills said.
According to police, Knowles was found to be in possession of more than 28 grams of what appeared to be cocaine, several baggies of alleged marijuana, weight scales and at least 12 pills they believed to be Lortab.
Richard Rockholt was also arrested at that time and charged with possession of marijuana.
According to Mills, he has since bonded out. Knowles is still incarcerated at the Claiborne Parish Detention Center.
On the date Knowles was arrested, Mills was in the area of the 200 block of Lisbon Street when he observed Knowles and another man, Richard Rockholt, on the street.
The chief stopped the two and struck up a conversation with them, and asked them if they had anything on them or if there was anything going on.
Police say Knowles told them no and gave the chief consent to search his home, which is where they appeared to be coming from.
Sgt. Van McDaniel was called to assist and upon arrival, both McDaniel and Mills entered the home with the two men and began their search. Ultimately, the search yielded the items referenced above, and the two were placed under arrest. The items were collected and taken into evidence.
Photography workshop set for Saturday at Ford Museum
As part of a Louisiana Decentralized Arts Funding grant sponsored by the Shreveport Regional Arts Council, the Ford Museum is eager to host a photography workshop with Jeff Scott as the instructor.  Jeff is an experienced photographer who has spent over 25 years mastering his skill in his art.  He began his career in Dallas where he had the opportunity to photographed many well-known celebrities from the sports world to the political arena. As an award winning photographer, he uses his creative talents to photograph destination weddings and capture the magnificence of African wildlife.   Today he and his family live on Lake Claiborne where he owns his own photography business.
On Saturday, January 28 he will present  a hands on photography workshop with emphasis on portrait and architectural photography.  Workshop participants will gather at the Ford Museum at 9 a.m. for instruction before continuing to the Old Homer Cemetery to practice skills taught and receive one-on-one assistance.   At the cemetery we will also experience monument rubbing.
Registration for the workshop is $20.00. Each person who plans to take the workshop needs to provide his own camera and will be responsible for printing his photographs.
For more information call Linda Volentine at 318-927-9190 or email .
Closed primary election set for March 24
The Guardian-Journal
The closed primary for the presidential election will be held in Louisiana on March 24.
Presidential hopefuls for both the Democratic and Republican parties will be on the ballot for the March 24 election with books closing on February 22.
Any address changes, party changes and names need to be done by February 22. And more importantly, only registered voters that are Democratic can vote on the Democratic Party, and only registered voters that are Republican can vote on the Republican Party. All other parties will NOT be eligible for this election.
Early voting will take place the week of March 10-17.
On the ballot for the Democratic Party includes Incumbent President Barack Obama, "Bob" Ely, Darcy G. Richardson and John Wolfe.
On the ballot for the Republican Party includes Michele Bachmann, Randy Crow, Newt Gingrich, John Huntsman, Ron Paul, Rick Perry, Charles "Buddy" Roemer, Mitt Romney and Rick Santorum.
Even though some candidates have announced their withdrawal from the presidential race, if they have not formally withdrawn by letter with their Registrar of Voters Office, then their name must remain on the ballot, Claiborne Parish Registrar Patricia Sanders said.
Also on the ballot for March 24 will be a 1 percent sales tax renewal for the Village of Athens. Only those registered voters in the Village of Athens will be able to vote on this proposition.
It reads as follows:
Village of Athens Proposition
(Sales Tax)
Summary: 1% sales and use tax to be levied in perpetuity of the Village of Athens with the proceeds to be used to support the general fund.
Shall the Village of Athens, State of Louisiana (the "Village"), under the provisions of Article VI, Section 29 of the Louisiana Constitution of 1974, and other constitutional and statutory authority, be authorized to levy and collect a tax of one percent (1%) (the "Tax") in perpetuity from and after July 1, 2012, upon the sale at retail, the use, the lease or rental, the consumption, and the storage for use or consumption, of tangible personal property and on sales of services in the Village, all as defined by law (an estimated $36,000 reasonably expected at this time to be collected from the levy of the tax for an entire year), with the proceeds of the Tax (after paying the reasonable and necessary expenses of collecting and administering the Tax), to be used to support the general fund of the Village?
The open primary election for U.S. President, U.S. Representative, Lisbon Mayor and Lisbon aldermen will be held on November 6. Qualifying period for this election will be August 15-17, with early voting set for October 23-30.
A general election will be held December 1 for the runoff for U.S. Representative and Lisbon mayor and aldermen, if any. Early voting will be held from November 17-24.
Early voting hours for March 10-17, October 23-30 and November 17-24 will be from 8:30 a.m. until 6 p.m.
Voter Education Week will also be held May 14-18.
For more information, or for questions, please call the Claiborne Registrar of Voters Office at 318-927-3332 or go to the Louisiana Secretary of State's website at www.sos.louisiana.gov.
Haynesville Rummage Sale set for February 4
Town also gets good audit report...AGAIN!
The Guardian-Journal
A community-wide rummage sale is set for Saturday, February 4, from 7 a.m. until noon.
Sponsored by the Citizens Advisory Committee in Haynesville, Bob McDaniel, CAC member, said anyone interested in donating items for the sale may do so by dropping them off at the Claiborne Parish Fair Complex on Friday, February 3, from 9 a.m. until 2 p.m. Also, Carla Smith, owner of Carla's Cut N' Curl, said smaller items could be dropped off there. For those who have larger items to donate, Haynesville Mayor Sherman Brown said to call City Hall.
Vendor booths are also still available to anyone for $15, payable to the Town of Haynesville. Please make payments at Haynesville City Hall and please note "booth space" in the memo section if paying with a check.
In conjunction with the rummage sale, a bake sale will be going on as well. For questions or to donate to the bake sale, please contact Linda Knox at 318-624-1606. For questions or more information about the rummage sale, please call Brown at City Hall at 318-624-0911 or Martha Trinko at 318-624-0074.
Proceeds this year will be used for this year's Christmas Fireworks Display and other special town projects.
In other news, McDaniel also discussed the upstairs windows at the Haynesville Police Department building, saying the weather has taken its toll on them. During discussions at the last CAC meeting, McDaniel said he and Brown would be looking at least closing them up to keep them from further deterioration.
Newly elected District 11 Representative Patrick Jefferson also spoke during the Haynesville Town Council meeting, saying he fully understands that he has some big shoes to fill, following representation by the late Pinkie Newer and former representative Rick Gallot. And following in their footsteps, he wants to make sure that the constituency of District 11 is not only well represented, but he wants to make sure it's a collective effort, working together.
"It's not about me," he said. "I am truly a public servant. Whatever I do as a state representative, it will not be about the next election. It will be about now."
And as a public servant and a newcomer to the Louisiana Legislature, he said he feels he has a front row seat for a hot topic right now -- education. He was appointed as vice chairman of the Education Committee, and he said, through this avenue, he wants to make sure that the district he represents is heard in Baton Rouge when it comes to educating its children.
He also praised Roderick Hampton for his hard work and dedication, saying he would not be where he is without him.
In other news, Kenneth Folden, Kenneth D. Folden and Company, CPA, had nothing but praise for the town and its employees. And while the audit itself was very good, Folden spent a good bit of his time praising Town Clerk Penny Fields as well as the town's employees for their efforts in making sure the town's financial records are in order.
"Most of our work with governmental entities is internal control," Folden said. "Haynesville sets the town for how it should be done."
He continued to sing their praises, saying they are an honor to work with. In a handout distributed to council members, Folden went over some highlights from their audit.
The town's net assets decreased by $759,766 for the fiscal year, which is year beginning July 1 and ending June 30. The net assets of the governmental activities decreased by $127,520 from operations and $495,610 in an equity transfer to Claiborne Parish Fire District No. 3.
The town's net assets in total are approximately $6 million, representing both governmental and water and sewer assets.
Total revenue for all funds for the fiscal year are approximately $1.9 million, down $328,818 from the prior year because of a decrease in ad valorem taxes and a decrease in charges for business services.
Total expenses for all funds for the fiscal year are roughly $2.3 million, down approximately $92,000 from the prior year because of a decrease in general government expenses and public safety expenses.
There were several other good points to the audit, and Folden said the town received an unqualified opinion, which is a good thing.
In police personnel business, two police officers with the Haynesville Police Department resigned, but it's not a bad thing, according to Haynesville Police Chief Anthony Smith.
"They aren't leaving on bad terms," he said. "They want to better themselves."
And for one, it's a "win-win" situation, as Brown put it. Adrian Malone will be going to work for the Claiborne Parish Sheriff's Office, but will still be in the Haynesville area doing nearly the same thing he was doing for the Haynesville Police Department.
Jeremy Nehls is going to work for the Webster Parish Sheriff's Office, and Chief Smith wants to move Officer Brandon Callicutt into a full-time position. With this move, that still leaves one full-time position open and one part time.
In FYI, Brown went over a few things for council members, including the Louisiana Municipal Association's Mid-Winter Conference to be held from January 31 until February 2 in Baton Rouge. He also talked about their annual financial disclosure statement as well as planning for the summer conference in Lake Charles.
To the public, he said the Louisiana Department of Transportation donated nearly 5,000 daffodil bulbs to the town and Keith Killgore with the Haynesville Beautification Committee will coordinate planting them around town. Crew 10 will also plant some around the fairgrounds fence.
The Haynesville Beautification Committee has also purchased Welcome flags and Crew 10 has put them up in front of the school.
The next meeting of the Haynesville Town Council will be at 6 p.m., Thursday, February 16, in council chambers, located behind City Hall. For questions or more information, please call their office at 318-624-0911.
The next Citizens Advisory Committee meeting will be held at 6 p.m., Monday, February 6, in council chambers.