Bid accepted for Pineview property
Details for building use still sketchy
MICHELLE BATES, Editor
The Claiborne Parish School Board (CPSB) has accepted a bid on the Pineview High School property from a Pineview graduate who may want to turn the school building into a juvenile detention center.
According to Superintendent of Schools Dr. Janice Williams, details at this time are still sketchy as to the use of the building; however, it will not be used as a school. That was part of the deal in the bid package when it went out for advertisement in December 2011.
According to Central Office Business Manager Fred Evans, they had one bid for $110,000. The minimum bid was $106,250. He said a security deposit of $5,500 was made by Lizzie Hatcher of Las Vegas, Nevada.
"Officially, we've not heard [what the building will be used for]," Dr. Williams said. "Unofficially, we've been told that she would like to turn it into a juvenile detention center. However, the correspondence that's going on between our attorney (Hammonds and Sills) and her is for her to reveal to us what the purpose of the building is. That's going to be required for the Justice Department."
Dr. Williams added that the acceptance of the bid is all contingent on approval from the U.S. Justice Department.
A resolution was adopted accepting the bid upon approval of the Justice Department, with a unanimous vote in favor. The resolution also authorizes Dr. Williams, on behalf of the school board, to sign all documents necessary to complete the sale. Maddox and District 6 School Board Member Tommy Davidson were not present at the meeting.
Hatcher is an attorney in Las Vegas who still has family in the Claiborne Parish area.
In other news, the school board continues to revise its policy manual, in which two more revisions were approved.
The first policy revision deals with the testing program -- standardized testing, including iLEAP, LEAP and end of course, in which some terminology was changed.
"It also included the fact that students in grades 9-12, with the exception of students requiring accommodations, can be tested by a different teacher," Dr. Williams said. "That's the testing policy where we are to observe, respect and monitor those testing procedures throughout the entire testing process."
The next policy revised deals with educational students with exceptionality.
"That's a new law that was Act 328 (restraint and seclusion law), which was passed during the 2011 legislative session that included restraint and seclusion of students that are 504 (Disabilities Policy) with IEPs (Individual Educational Plan)," she said. "We can physically restrain them but not to the point it causes injury. We are not supposed to seclude them, meaning we cannot remove them completely from the educational process or put them in a separate room. Restraining seclusion is only acceptable enough to reduce the unacceptable behavior."
If a student is restrained, then they have to notify the parents or guardians within 24 hours explaining what happened, the school officials involved and a very detailed report.
This new law will be discussed during the teacher professional development day on January 17, at 1 p.m. at Homer High School. Students will be out of school on Monday, January 16, in observance of Martin Luther King Jr. Day and Tuesday, the 17th for professional development. The day will begin at 8 a.m., with ethics training at 1 p.m. She reminded board members that if they attend the entire day, they will meet their continuing education training hours for the year.
The school board also elected to keep officers on the board the same as 2011, which are District 2 School Board Member Will Maddox (president) and District 7 School Board Member Vera Meadors (vice president).
The time and date of each meeting will remain the same this year as well. The school board meets at 6 p.m. on the first Thursday after the first Sunday of each month.
In personnel actions, Brenda Holdman, a teacher at Homer Junior High School, resigned effective Wednesday, January 4, because of medical reasons. Also, Angela Bradley, a paraprofessional at Summerfield High School resigned for other employment. This position will not be filled.
"The teacher at Homer Junior High, at this point, is a substitute which is being monitored very closely," Dr. Williams said. "It may turn into something permanent for this individual. He's from Magnolia, Ark., and recently graduated. Before we sign him on full time, we wanted him to sub for a couple of days and he's agreed to do so."
Jared Mancil is substituting a seventh grade class for English Language Arts.
"I observed him recently and the students are responding to him," she said. "He's establishing his presence, and I could see the students raising their hands, and when you can get a middle school child to respond like that, that's a major milestone. We will continue to monitor him."
Kristin Sutton is also teaching high school biology at Homer High School, replacing Betty Hogan.
These positions will only be through the end of this school year, because of the unknowns regarding the budget.
"We don't know what the budget is going to be and we may have mid-year budget cuts, which caught us by surprise last year," she said. "We're only filling vacancies for the remainder of the year. After that, we're going to restructure it accordingly."
She said the budget is reviewed almost daily, and they really won't know anything until February as to where things will stand. And even then, it will be April or May before they know how it will "play out."
During the superintendent's report, she also discussed the lawsuit, in which the school system is under a desegregation order. She said she finally heard from Iris Goldschmidt, of the U.S. Justice Department, and she said everything was questioned -- from student ratios to transportation issues.
"We're in the process now of collecting data to support what we did, why we did, and that will be forwarded to our attorney who will then draft a response," she said.
Some issues lay with Summerfield High School, she said, because their student population racial ratios still look unbalanced. At the Homer schools, discipline questions were raised as well. Other issues were parish wide, in school and out of school suspension as well as transportation issues. Concerns to be considered pertained to all of Claiborne Parish and others were specific to Summerfield and Homer.
All of these concerns dealt with data that was reported for the 2010-11 school year.
However, Bob Hammonds, the school board's attorney handling the desegregation order, is outraged by some of the questions Ms. Goldschmidt is asking, Dr. Williams said, because they have to answer some of the same questions submitted months ago.
Once the response has been drafted and sent, then after June 30, it will be up to the judge to decide whether the court order has been satisfied.
The Claiborne Parish School system is now in its third year of implementing the changes designated by the Justice Department in order to have the school system declared as a "unitary school system." After the current school year, which will technically end on June 30, they will then wait for a court date in order to go before the judge to determine "unitary" status.
Caught in the buff
Nude couple found, arrested on drug charges
The Guardian-Journal
A Homer couple was caught in the buff when they were arrested on drug charges.
On Friday, January 6, Tangela Denise Jones, 37, was arrested by Louisiana Department of Wildlife and Fisheries enforcement agents on charges of possession of Schedule II CDS (white powder substance) with bond set at $5,000, possession with intent to distribute Schedule I CDS (marijuana) with bond set at $30,000 and open container with bond set at $500.
Demond Maddox, also 37, was arrested on charges of possession of Schedule II CDS (white powder substance) with bond set at $5,000, possession of Schedule I CDS (marijuana) with bond set at $500, and open container with bond set at $500.
According to LDWF Enforcement Agent Sgt. Ryan Brasher, on the date of their arrest, he'd been patrolling the area of Green Road during the day and decided to check things out later that night.
"Earlier in the day, I'd seen a lot of traffic coming in and out of that area, and I figured there might be some activity going on at night," Brasher said. "So I decided to go down in there and check it out, and there they were."
At approximately 1 a.m., he went to Green Hill Road, which is a dead end road, and observed a vehicle parked at the end.
He approached, made contact with the couple, and he found them nude inside the vehicle, reportedly watching pornographic videos. He asked the driver, identified as Maddox, to exit the vehicle and then asked the passenger, identified as Jones, to exit as well.
Upon initial questioning of the two, it was discovered they had alleged marijuana and a white powder substance believed to be cocaine inside the vehicle. At that time, he called for assistance from the Claiborne Parish Sheriff's Office. Deputies Heath Tingle and Everette Lewis arrived on scene to assist.
At that time, the two deputies transported Maddox to the Claiborne Parish Detention Center for booking and Jones was transported to the Claiborne Parish Women's Jail.
Progress continues on Homer Hospital's new ICU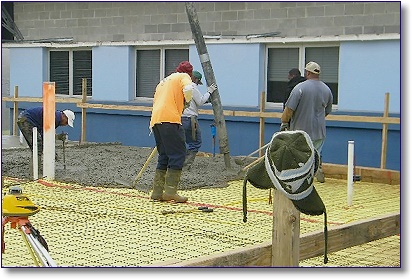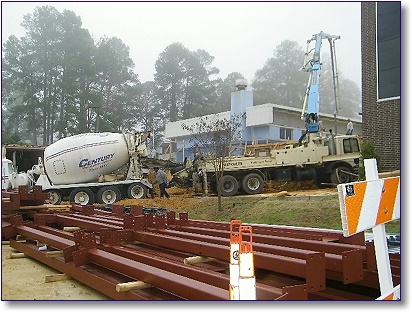 Submitted photos
Construction workers continue to progress building Homer Memorial Hospital's new Intensive Care Unit and nurses' station. Pictured above, workers pour concrete for the foundation. Below, the concrete truck continues to turn as concrete is poured for the foundation of the ICU. This project has been long awaited as the efforts of the Claiborne Healthcare Foundation, the hospital board, staff and generous donors have made it all possible. With the help of a bond issue, the $1 million goal was reached to begin construction.
Deputy involved in crash
The Guardian-Journal
On Thursday night, a Claiborne Parish Sheriff's Deputy and his canine partner suffered minor injuries after he crashed his patrol unit.
That night, around 8:30 p.m., Louisiana State Police reported that Claiborne Parish Sheriff's Deputy Aaron Christian and his canine partner were on their way to a call traveling on Hwy. 540, when he tried to negotiate a curve and overcorrected. When he overcorrected, he allegedly hit a tree.
Published reports say the two only suffered minor injuries. However, Christian was transported for medical attention with what are said to be minor to moderate injuries. His canine partner, Rico, was also taken to a vet to be checked out.
Both are expected to make full recoveries.
The wreck is still under investigation.
Alcohol sales controversy continues
MICHELLE BATES, Editor
Even though the citizens of Homer voted overwhelmingly in November to allow high content alcohol sales within its corporate limits, it seems the controversy continues.
At the Town of Homer's regularly scheduled monthly meeting, at times, some intense verbal sparring took place between the mayor and a business owner in Homer. Tommy Sanders, who has staunchly advocated high content alcohol sales within the corporate limits, accused the mayor of delaying the matter.
Mayor Alecia Smith says she's not. The town council is meeting for a work session on Thursday, January 19, at 4 p.m. to discuss the issue and the introduction of an ordinance that would reinstate the town's alcoholic beverages code.
The heart of the issue is the town charter's laws on alcohol sales, which is extremely outdated. For the better part of 30 years, businesses within the corporate limits of the town have only been able to sell beer with an alcohol content of six percent or less. With the new propositions that were passed in November, businesses will again be able to sell high content alcohol, or hard liquor.
Before the 1970s, Homer's Code of Ordinances allowed more alcohol than just beer, but when an election was held and the people of Homer voted out all but beer within the corporate limits, those results overrode Homer's Code.
Smith says if the original alcoholic beverages section of the town's charter is reinstated, it will make it illegal for some businesses to move forward with hard liquor sales due to the proximity to churches.
There are many questions regarding this issue. For instance, if the council adopted the ordinance, wouldn't it just override Section 3 in the charter? And if the council wants to change the language to reflect more modern times, does that mean it would have to go before the Louisiana Legislature to officially be changed?
The town's charter is a special legislative charter, which means it was created by the Louisiana Legislature. This also means that the same rules of a home rule charter or one under the Lawrason Act do not apply unless the special legislative charter is silent on an issue. Then it would fall back on the Lawrason Act.
The proposed ordinance was tabled in December 2011 until the election results had gone through all the proper channels and were deemed official. Now that the results are declared official by the Louisiana Secretary of State's Office, the proposed ordinance was tabled again. Mayor Smith said, by advice of the town attorney (then Jim Colvin), it had to be tabled because the number of required days had not been met according to election laws.
The idea of the proposed ordinance was to reinstate Section 3 of the charter, but it's incorrect and it would not be enforceable under law.
Smith said everything would be explained in the work session. She wants to gather business owners, ministers and others together at the work session to discuss the issue. In the end, the introduction of the ordinance was tabled until the February meeting. Mayor Smith said it was tabled because the proposed ordinance is incorrect.
In other news, the council approved Ordinance No. 11-911, which deals with horses on roadways within the corporate limits of Homer. The idea of the ordinance is to keep people from riding their horses in town on the sidewalks or roadways, unless it is during a parade or traveling to or from said parade.
It was approved unanimously.
Proposed Ordinance No. 11-915, rezoning the property at 910 Pearl Street from residential to business, was also adopted. During the public hearing, just before the meeting, District 4 Councilwoman Carlette Sanford questioned rezoning this particular piece of property, saying she was concerned that another business would come in if the current one requesting the rezoning fails.
Tangie Wallace said the business is a home community-based service, where employees will be out working. It will not be a place that will see a steady stream of customers coming to the physical address. According to Wallace, it is an elderly care business where the sitters will go to their homes and sit with them.
Also, the reappointment of Town Treasurer Shenovia Harris and Town Clerk Lisa Foster were both unanimously approved.
In other news, city hall's rental fee came up for discussion stemming from a visit by a USDA representative. The town is currently seeking a USDA grant, and the representative who visited said one area that needs to be changed is the rental fee policy of the Town of Homer for its properties. Currently, nonprofits such as schools, churches and others do not have to pay a rental fee. The USDA representative said everyone needs to pay, even if it's on a sliding scale. For example, the current rental fee is $250, and if a new policy is instated, that means the town would have the flexibility to charge churches or schools less than the normal rental fee.
Another issue that came up is the fact the town doesn't have a cancellation fee policy. In other words, if a group or organization rents city hall and no longer needs it, there is no cancellation fee policy to charge the groups if they cancel.
Mayor's Assistant Shaquaila Lewis, who explained it in the meeting, said it would all be discussed and explanations would be given during the work session slated for January 19. So, the item on the agenda was tabled until then.
Also, at the recommendations of the town's auditors, the council voted unanimously to separate the bank accounts for the Jubilee and the Christmas Decoration funds. This is not just an accounting separation, Smith said, but actual bank accounts would be opened to separate this money from other funds.
Magistrate court dates were also approved, which will be the first Tuesday of each month, with the exception of Tuesday, January 10.
The last item on the agenda was approving a contract with Ice Cold Advertising, which will erect signs in the corporate limits of Homer for a "Don't Text and Drive" campaign. The signs will be 24 inches by 18 inches, and will be displayed only on roadways the town has jurisdiction over.
According to the agreement, "the purpose of this exercise is to heighten the awareness of motorists to the danger of mobile device use while driving."
The cost of erecting these signs will lay with Ice Cold Advertising. The town will not be responsible for any costs related to this campaign.
Please remember, a work session, which is open to the public, will be at 4 p.m., Thursday, January 19 to discuss the alcohol ordinance and issues raised by the USDA. The town council's next regularly scheduled monthly meeting will be on Monday, February 6, at 6 p.m. in council chambers. For more information or for questions, please call City Hall at 318-927-3555.
Piney Hills Harmony, 'Elvis' in show together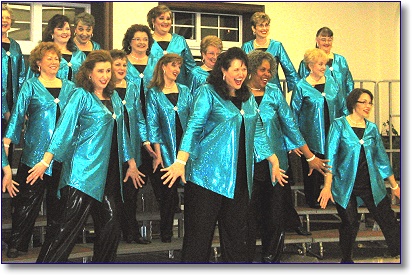 Two local residents will be part of "Rock Around the Clock" when Piney Hills Harmony Chorus of Sweet Adelines and award-winning Elvis tribute artist Todd C. Martin present songs from the '50s, '60s and '70s in a fun production Jan. 21.
"Rock Around the Clock" will begin at 7 p.m. in Ruston's Dixie Center for the Arts. The event will also feature comedy skits that spotlight Lucy and Ethel from "I Love Lucy," the "Laugh In" joke wall and more.
Claiborne Parish residents performing that night are Chris Brady, of Homer, and Lisa Holmes, of Sharon. In addition to singing with the chorus, Holmes will perform with the quartet Take Four.
In all, Piney Hills Harmony boasts 28 members from six parishes.
Martin, an attorney from Monroe, is regarded as one of the top Elvis tribute artists in the world. He ranked third in the worldwide "Images of the King" competition in Memphis, Tenn., in both 2008 and 2010. Other honors include first place at the 2011 Immokalee Seminole Casino "King of the World Elvisfest" contest in South Florida and first place at the Branson, Mo., Elvis Explosion. Martin has toured across the United States and in Europe with appearances at casinos, on cruise ships, in numerous theatres, as well as at festivals and conventions.
The Ruston-based Piney Hills Harmony boasts 28 members from six parishes and has won first-place honors in the small-chorus division of its regional Sweet Adelines competition in Dallas.
Concerning the show, chorus President Carol Ogle said in the words of the title song, "Put your glad rags on and join us, hon. We'll have some fun when the clock strikes one .... And 'Elvis' will be in the building!
"It's going to be a real production with stage sets and a variety of songs from three decades by both Elvis and Piney Hills Harmony. Audience members of all ages are sure to have a rockin' good time as we take a fun trip down memory lane."
Ticket prices are $15 for adults, $10 for students 6-18 and seniors 60-plus, and $25 for special Silver Seating (reserved seats in the front two rows). Tickets will be available at the door, the Dixie Center box office, the Avenue Books and Gifts in Ruston, White's Ferry Road Church of Christ in West Monroe and Zeagler's Music in Monroe.
A portion of the proceeds will benefit St. Jude Children's Research Hospital.
For more information call Ogle at (318) 348-2291 or the Dixie Center at (318) 255-1450, or visit www.pineyhillsharmony.org or www.toddcmartin.com.
Watershed District passes 2012 budget, discusses Lisbon Landing desilting project
The Guardian-Journal
Before the end of 2011, the Claiborne Parish Watershed District held one last meeting to discuss and adopt 2012's budget as well as amend 2011's budget.
They amended the 2011 budget, in which the total of the proposed 2011 budget's projected fund balance was $562,000, ending with the amended fund balance of $489,000.
In their expenses, total adjustments for their financial administration was $10,050, which brought the final total to $10,800. Several other funds and accounts were adjusted as well. According to law, each governmental entity has to amend its budget if the amount in certain funds are greater than five percent.
"We overestimated our revenues, and we actually ended up with $8,000 less," said Phillip "Butch" Fincher, finance committee chair. "On our debt service, we ended up paying off bonds that we had not planned to pay off."
The debt service he speaks of was estimated at $65,300 and paid it off early at $105,600. The bonds are dealing with the permanent channel markers project.
The district members voted unanimously to accept 2011's amended budget.
They also adopted 2012's proposed budget after being on public display for review. A public hearing was held, and the budget was unanimously approved.
"We tried to adjust our revenues and our expenses based upon what we think we will be encountering [this year]," Fincher said.
Fincher went over the proposed budget in a little more detail, saying that some CDs have been reinvested, which will add to their income. However, grant amounts and others are down, which means their income will be lower. These amounts are expected to be down by about $205,000.
Revenues for 2012 are estimated to be $196,600. Expenses, according to the public notice are expected to generally remain the same as 2011. Public Works expenses are expected to be about $20,000, finance and administration is expected to be about $12,700, operations and maintenance, $17,000, economic development, $26,000, debt service, $61,100, with total expenses projected to be $136,800.
Budgeted expenses over revenues is expected to be about $59,800, with the estimated total fund balance as of January 1 to be $489,021 and estimated ending balance on December 31 at $548,821.
In other news, members discussed the Lisbon Landing Project, of which they are waiting on the Corps of Engineers and Graft to get a packet together. The issue is, Chic Hines said, is that they are running out of time with lake levels rising again after the drawdown.
"More people seemed to be concerned with the fact that it keeps raining," Hines said, which will make it difficult to dredge the bottom of the channel at Lisbon Landing. Another concern is being able to use the repaired pier, which will still be usable, but it will be very shallow.
"We're stalled right now until something happens," Hines said. "Until we get our permit and Brad [Graff] comes up with a bid package, we're just kind of waiting."
As of the date of this meeting it's reported that Lake Claiborne is up five to seven inches. However, with the recent rains, it's higher than that.
In November, the watershed district held a special meeting in which they agreed to advertise for bids. However, Hines said the advertisements published in The Guardian-Journal are now no good because they are still waiting on a bid packet from the engineers. Members agreed to meet as soon as they received the permit and the bid packet.
In other news, the Watershed District voted to use the same auditors as the Claiborne Parish Police Jury. Bosch and Statham LLC will be the district's auditors for the fiscal year 2012. Their fee will be $1,900 per year, which is about the same as last year's fee.
The watershed district will meet at 3:30 p.m., Friday, January 13, for a special called meeting at the Claiborne Parish Police Jury complex in the conference room.
The Claiborne Parish Watershed District meets once per quarter on the last Thursday. Usually, the meetings start at 5:30 p.m. For more information or for questions, please call the Claiborne Parish Watershed District Office at 318-927-5161.
Man charged in altercation
The Guardian-Journal
A Homer man racked up a hefty bond amount after he was arrested on a warrant for aggravated second degree battery.
De Undre Desean Dunn, 23, was arrested on Friday, January 6, on the warrant issued on that date. Bond was set at $25,000.
According to Homer Police, the warrant stems from an incident on New Year's Eve, when Officers Frank Evans and Scott Glenn were dispatched to the 900 block of Hudd Drive in reference to a fight.
Upon arrival, the officers were met by witnesses and the victim. Reports say officers could see the victim bleeding from several places on his face. One of the witnesses named three suspects involved in the altercation, including Dunn.
During further investigation, officers learned that two others were involved in the altercation, where they allegedly repeatedly hit the victim, Scott Richardson. It is reported that Dunn pulled a handgun and repeatedly struck Richardson in the face area.
Richardson was transported to Homer Memorial Hospital by Pafford Ambulance Services for medical treatment of his injuries. Warrants were issued for all three suspects, in which Dunn was arrested.
Other arrests are pending in this case.
Dunn was transported to the Claiborne Parish Detention Center where he was booked on the above charge. He has since bonded out.
Chamber banquet tickets still available
The Claiborne Chamber of Commerce will be presenting its 47th Annual Banquet on Monday, January 30, 2012 at 6:30 p.m. at Homer City Hall.   The meal will be provided by Upper Crust Catering.
The entertainment this year will be provided by the Claiborne Jubilee Players.  Based on performances given at the Swamp Gravy conference in October, local individuals will present stories from Claiborne Parish.
Cynthia Steele, who has advocated story-telling theater in Claiborne Parish, said the event is sure to be special this year because attendees will get a look at some Claiborne Parish stories through a unique art form.
"All of the players are excited and have begun rehearsals," she said. "They are looking forward to presenting these three stories."
Banquet reservations are available for $35 per person.   All reservations must be paid in advance to confirm seating.  Reservations will NOT be available at the door the night of the event.  Please return your reservation card as soon as possible as seating is limited to 200.  Business dress shall be appropriate for the evening.
As in prior years, sponsorship opportunities are available.  All sponsors will be recognized at the banquet and will be listed in the event program. The various sponsorship levels and benefits are as follows:
• Diamond Sponsor ($1,000) receives special recognition, 12 tickets, and reserved tables.
• Platinum Sponsor ($700) receives 8 tickets and a reserved table.
• Gold Sponsor ($400) receives 4 tickets and a reserved table.
• Silver Sponsor ($200) receives 4 tickets and reserved seating.
• Bronze Sponsor ($100) receives 2 tickets and reserved seating.   
If you have not received a reservation card, please call the chamber office. When you receive it, please check the appropriate box on the reservation card if you are interested in being a banquet sponsor and list the individuals who will be attending.  For more information, please contact the chamber office at (318) 927-3271.  
We are planning an exceptional banquet this year and hope you will join us.