Tax renewal vital to fire departments
MICHELLE BATES, Editor
An important tax renewal is coming up on the May 2 ballot, and it's vital to the fire departments of Claiborne Parish.
On the ballot concerns a good portion of Claiborne Parish – Fire Districts 3 and 5.
To make this clear, this is not a new tax. It is a tax that is already in place to fund Fire Districts 3 and 5; it has just come up for renewal.
"This is the revenue that supports the fire department," said Dennis Butcher, fire chief of Claiborne Parish Fire District 5. "Without this, the fire department can't run."
This is the tax that pays for equipment, operating expenses, fuel and other needs. In District 5, it keeps six fire stations with a total of 12 trucks up and running throughout the year. According to a legal notice of the special election, this tax brings in an annual revenue of approximately $176,000. It is a 10 year, 10.37 mills property tax renewal "for acquiring, constructing, improving, maintaining and/or operating fire protection facilities and equipment in and for the Claiborne Parish Fire Protection District No. 5, including paying the cost of obtaining water for fire protection purposes."
The renewal for District 5 will be good from 2010 to 2019.
In Haynesville's town council meeting last Thursday, Haynesville Fire Chief Mark Furlow emphasized the importance of this renewal.
"We're trying to encourage everyone we can to get out to vote," he said, "because the money that we use, we use for the purchase of fire trucks, equipment, radios, pagers, everything we need on a daily basis to make our jobs easier to fight fires."
Currently, Fire District 5 has a fire insurance rating of 5 on a scale from 1-10, with one being the best and 10 being the worst.
Haynesville and District 3 both have a fire protection rating of 4. Like District 5, District 3 is an all voluntary fire department, and this tax renewal is what keeps the fire stations and its trucks up and running. District 3's tax is a 10-year, 10-mill tax. From 2004 until 2008, the district has not collected the full 10 mills each year. By law, they don't have to collect the full tax, and the department has been able to upgrade and keep its firefighters equipped with some of the latest technology in firefighting.
Furlow gave the numbers of what has been used since 2004, with 2008 having the lowest collection at 6.79 mills.
"The reason we're doing that is that we're doing everything possible to help the taxpayers," Furlow said. "We're trying to help the taxpayers, because in the long run, if we get the class 3, this will help everybody. It's important for the citizens to know that we're (District 3) not collecting the full 10 mills."
To give an idea of what they spend their money on, Furlow said much of it is spent on obtaining equipment to satisfy Property Insurance Association of Louisiana (PIAL), which requires departments to have certain trucks and equipment. Departments also have to satisfy the requirements of the National Fire Protection Association (NFPA).
"If we can get a Class 3 rating, on the fire portion of your dwelling insurance only, that's going to save about 20 percent," Furlow said.
When District 3 went from a class 6 rating to a class 4 rating, it saved 38 percent on their insurance.
Early voting will continue through Saturday, April 25. Election Day will be May 2, with polling hours from 6 a.m. until 8 p.m. Precincts in District 5 include parts of 5, 7, 41, 42, 51, 92, 93 and 96. Polling places are: Precinct 5, New Village Hall, 15329, Hwy. 9 in Athens; Precinct 7, Crossroads Community Center, 3494, Hwy. 519 in Athens; Precinct 41, Harris Community Center, 2800 Harris Road in Minden; Precinct 42, Harris Community Center, 2800 Harris Road in Minden; Precinct 51, New Village Hall, 15329 Hwy. 9 in Athens; Precincts 92, 93, 96 are all Homer City Hall at 400 E. Main Street in Homer.
One note: the polling place for Precinct 7 has been changed from the Crossroads Community Center to Mt. Olive Baptist Church. The community center sustained severe roof and water damage from recent storms. The Claiborne Parish Police Jury met in a special meeting Thursday, April 16 to pass a resolution changing the polling place for this particular election.
Precincts involved for District 3 outside the city limits include 22, 31, 34, 35, 36 and 37. The polling place for all those precincts will be at the Claiborne Parish Fair Complex. Note: This election is for District 3 – outside the city limits. Residents inside the Haynesville corporate limits will not vote on this tax renewal.
For more information, please call the Registrar of Voters Office at 927-3332 or the Claiborne Parish Police Jury office at 927-2222.
Water Shuttle to be held April 23
Fire District 3 and the Haynesville Fire Department have been practicing for a water shuttle evaluation, which will take place on Thursday, April 23, beginning at 8 a.m. This will be an all-day event, where fire departments in several districts around the parish will be evaluated on their timing of transporting water from a hydrant – or fire plug – to the scene of a fire.
When Haynesville and District 3 received its class 4 rating, the department was able to pump 1,000 gallons of water per minute for two hours without losing prime or pressure.
"What we're going to try to do is try pump 1,250 gallons of water per minute and that's going to be a lot more water for two hours," he said. "That proves that we're capable of doing that for two hours without any other trucks coming in."
During the shuttle, Furlow said they don't mind people watching the event, but is asking citizens to help keep traffic clear on Hwy. 79 while departments shuttle water. Water will be dumped at The Breeze. Firefighters will have to gain access to water from a fireplug and dump it exactly one mile from the fireplug site, which will be at The Breeze.
WWII veteran come home
To be laid to rest May 16 at Salem Cemetery
Photo courtesy of www.aubatkinsjr.com
Aubie Atkins will find his final resting place Saturday, May 16, at Salem Cemetery in Athens. His remains, along with his crew, were recovered from a crash site in Lae.
JENNI WILLIAMS, The Guardian-Journal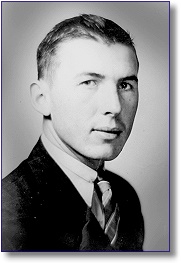 An Athens youth killed in action in 1942 is finally being put to rest where he belongs.
Sergeant Aubie Lee Atkins Jr., 22, died defending his country as a radioman in the military on December 5, 1942, in the Southwest Pacific area.
A memorial service will be held on Saturday, May 16 in Athens at 10:30 a.m. at Salem Cemetery.
The military will be escorting Atkins' remains from Dallas to Rose-Neath Funeral Home in Arcadia and then on to Salem Cemetery.
The Rev. Gil Arthur, Lt. Col. United States Army National Guard, will deliver the memorial service, which will include a full 21 gun salute to "Uncle Aub" by the Army. Full military honors and a "fly-over" to honor Atkins will be at this time.
The ladies of the Athens Presbyterian Church will have a short reception with refreshments following. A reunion will by held at the home of Judy and Malcolm Ward in Ruston following the reception.
Atkins was born and raised in the Athens area where he graduated from Athens High School and later attended Louisiana Tech University before joining the military.
On that fateful day in 1942, Atkins, along with a pilot and other members of his crew, were on a mission to attack Lae when the crew went down. Australians found the crash site in the Owen Stanley Mountains in February 1943.
The aircraft was thought to be shot down, as the bombs were still on board. A large crater indicated that the plane must have exploded in the trees and come to rest in a large, water-filled crater.
At this time, the remains of the co-pilot were found, along with Atkins' identification tags. The crew was still listed as Missing in Action (MIA), as Japanese ground forces were in the immediate area and the search was terminated.
In July 1961, a search mission was launched, but due to the amount of water still in the crater, this search was also abandoned.
 The site was then partially excavated in 1995 by the United States Army, which resulted in another identification tag for Atkins being found.
During a 2002 mission in which an attempt to complete the earlier excavation was launched also failed. After pumping out most of the water in the crater, a 500-pound bomb lodged in the side of the crater was discovered.
Unfortunately, all attempts to reinforce the bomb were unsuccessful, and it was determined to be a safety risk to continue the excavation and detonating the bomb would have destroyed whatever remained of the site. The site was administratively closed on March 15, 2002.
Yet another search team visited the crash site in the beginning of 2005. They were able to locate more possible remains and personal effects including a personal identification bracelet.
The crew was officially declared dead on December 5, 1942, and all have been memorialized on the Tablets of the Missing at Manila American Cemetery in Manila, Phillipines.
Atkins was a member of the 405th Bomber Squadron, 38th Bomber Group, Medium and was awarded a Purple Heart and Air Medals.
Atkins was survived by his parents, Aubie Lee Atkins and Mary McCleish Atkins, who are now deceased. Atkins was one of seven children, with one brother, Reginald "Buster" Atkins and six sisters, Jean Atkins Ward, Catherine "Tot" Atkins Lockwood, Mary Lynn Atkins Henry, Annie Laurie Atkins Muller, Nell Rose Atkins Bruce and Carolyn Atkins Smith, all deceased.
He was the grandson of William John and Willie Walker McCleish and William Masters and Harriett Bell Atkins, all deceased.
Athens woman gets 12 years for theft
The Guardian-Journal
An Athens woman was sentenced in Lincoln Parish after she was convicted of theft over $500, stealing nearly $500,000 from a company in Dubach.
Cynthia Watkins was sentenced to 12 years at hard labor with the Department of Corrections, with five years suspended, giving her credit for time served; that is on each count and they are to run concurrent with each other.
Upon release, Watkins will be placed on five years active supervised probation and ordered to pay restitution in the amount of $450,000 as indicated in the judgment, with credit given for any restitution that has already been paid. She will then be given notice of post conviction relief.
According to clerk of court records in Lincoln Parish, the court made the following statement on the theft charge: "On the theft charge, there are 5 counts. Court orders 10 years on each of those counts. On one of the counts, two years of that 10 will run consecutive to the other 10 and the rest of them will run concurrent with each other. That is, on four of the counts, they run concurrent. On one count, two of them runs consecutive and the other runs concurrent. Everything else is the same."
She was charged in 2005 of embezzling approximately $486,000 over a nine year period from her former employer, Rebel Transport of Dubach, where she worked as secretary/bookkeeper. In that role, she was reportedly responsible for issuing payments to ComData Company. The suit, and criminal action, alleges that Watkins took advantage of that position to misappropriate funds for her personal use.
When the theft was discovered in July 2005, Watkins was terminated. Rebel Transport filed a civil suit against Watkins and her husband, Warren Keith Watkins, who was reportedly aware of the theft. According to the suit, the couple agreed to make restitution but have only repaid $50,000. Property owned by Watkins in Claiborne Parish has since been seized through a writ of attachment.
Watkins was arrested May 10 by the Lincoln Parish Sheriff's Office on a warrant charging theft over $500.
Arrest made in apparent arson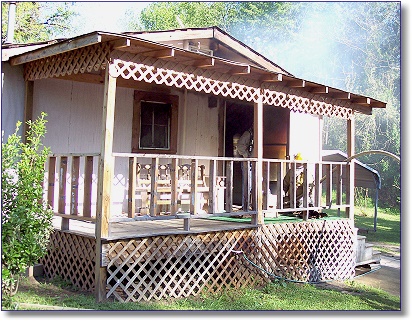 The Guardian-Journal photo/Michelle Bates
Homer firefighters battled the blaze that charred the back of this house. Jarvis Willis was arrested and charged with simple arson and simple burglar of an inhabited dwelling when he allegedly started the fire to cover up the burglary of a flat screen television. Ida Calome, the owner of this house, was not home at the time of the fire.
The Guardian-Journal
A Homer man was arrested within hours of an alleged arson that's left an elderly woman with nothing but her memories.
Although the structure is still standing, the back part of Ida Calome's house is nothing but charred wood. The Homer Fire Department was called to 1302 Memphis Street at approximately 5 p.m. the evening of Tuesday, April 14. Within three to four minutes, firefighters arrived on scene and worked tirelessly to extinguish the blaze. According to Homer Fire Chief Dennis Butcher, the blaze was under control within 15 minutes of arrival.
While firefighters worked to put out the fire, an investigation into its origin began, and what they found led them to believe it was arson, Butcher said.
"Evidence at the scene indicated that a crime had been committed," Butcher said.
According to police reports, neighbors, firefighters and Homer police officers canvassed the area and found physical evidence inside and outside the residence that was consistent with a break in. Trace evidence was also found at the scene.
Items from inside the house were found nearby in a wooded area, including a flat screen television.
Because trace evidence was found at the scene, Officer John Bailey contacted Homer Memorial Hospital asking if anyone had come in with any cuts. Hospital officials told Bailey that someone was just leaving after being treated for that type of injury.
Captain Donald Malray went to the hospital and made contact with Jarvis Willis, 24, of Homer. Willis was advised of his rights and transported to the Homer Police Station, where he was questioned in reference to the fire.
Reports say Willis confessed to stealing the television and starting the fire to cover up any evidence left at the scene. Willis was charged with simple arson, with a bond of $50,000; and simple burglary of an inhabited dwelling, with a bond of $25,000. As of press time, Willis was still incarcerated. According to officials at the Claiborne Parish Detention Center, he was transferred to Lincoln Parish.
"This investigation was the culmination of a joint effort between the fire department and the Homer Police Department," Butcher said. "This woman was a victim of a tragic crime; it's a heartbreaking situation. The person who did this has been caught, but she's lost a lifetime of memories."
Homer Police Chief Russell Mills said that in conjunction with other agencies, this crime was solved.
"We were fortunate to solve such a heinous crime on an elderly person. We have made attempts to help her, and we hope the community can come together to help her get back on her feet. I've known her personally for several years and she's a very sweet person. Nobody deserves to have this done to them from the hands of another."
Billy Adams, an area resident, submitted a letter to the editor asking the community to come together to help Calome. Please see the letter to the editor on page 2 of this week's edition of The Guardian-Journal.
"She had no insurance," he said in the letter. "She lost everything that was precious to her."
In an unrelated case, another Homer man found himself on the wrong side of the law after he was stopped for driving erratically.
Officer Van McDaniel initiated the stop after his department was notified by the Claiborne Parish Sheriff's Office that a blue Chevy Suburban was driving in an erratic manner. According to reports, the driver, identified as Joshua Miller, 31, was suspected to be intoxicated, but the officer did not detect alcohol odor.
When questioned by McDaniel, Miller admitted to taking something. Pursuant to arrest, Miller's vehicle was searched, and three Xanax pills were found. A background check also revealed Miller's driver's license was suspended.
He was placed under arrest and charged with driving under suspension, with a bond of $500; possession of a Schedule IV controlled dangerous substance, with a bond of $5,000; and a probation violation, with no bond.
Drug arrest made at scene of accident
The Guardian-Journal
A Springhill man was arrested in Homer at the scene of an accident last Wednesday.
On April 15, Homer Police Chief Russell Mills was directing traffic at a vehicle crash on Hwy. 79 and reported coming into contact with Marshall Bradley Haynes, 20. Mills detected the odor of what appeared to be burning marijuana emitting from Haynes' car.
Agent James Spillers, of the Claiborne Parish Sheriff's Office, was advised and arrived on scene to assist. Spillers advised Haynes that he was under arrest and a search of the vehicle pursuant to arrest revealed drug paraphernalia in addition to the marijuana. Also discovered was one Ruger model 10/22 .22 caliber semi-auto rifle.
Haynes was transported to the Claiborne Parish Detention Center (CPDC) and charged with possession of marijuana, with bond set at $500; and possession of drug paraphernalia with bond set at $500.
In an unrelated case, on Monday, April 13, Deputy Darren Keel was working routine traffic control on Hwy. 9 and observed a vehicle traveling at a high rate of speed.
Keel came into contact with the driver of the vehicle and cited him for speeding. The owner of the vehicle, Charles William Taylor, 21, of McRae, Ark., was a passenger in the vehicle at this time.
A search of the vehicle revealed a white Nike shoe box, located in the rear passenger side seat where Taylor was seated. The shoe box contained two one-gallon Ziploc bags of suspected marijuana. Taylor stated to Keel, as well as Deputy Roger Ellerbe, who assisted in the stop, that the marijuana belonged to him.
Taylor was then booked into CPDC for possession of schedule I marijuana with intent to distribute. His bond is to be set.
2010 census awareness campaign underway
MICHELLE BATES, Editor
The 2010 Census is just around the corner and the U.S. Census Bureau wants to make sure everyone is ready to be counted.
At Haynesville's regular monthly meeting last Thursday, Lillian Priest, of the Dallas Region Census Bureau, spoke to Haynesville citizens about the importance of making sure they're counted.
The census is very important, because the number of people counted in a municipality or region determines how much federal money that region would receive. It also affects healthcare and other areas, she said, including how many seats each state will have in the U.S. House of Representatives. The census data also guides local decision-makers on where to build new roads, hospitals, child-care and senior-citizen centers, schools and more, according to information from the Census Bureau.
The census takes place every 10 years, and the awareness campaign begins early. Already hiring canvassers and putting together complete count committees (CCC), taking count of millions of people takes time and much preparation.
"We're here to work in partnership with our communities," Priest said, "to make sure everyone is counted."
The Citizen Advisory Committee, formed by the Haynesville Town Council, has already formed a CCC and partnered with the Census Bureau to begin the awareness campaign. (The next CAC meeting will be held at 6 p.m., Monday, May 4.)
Right now, census employees are going door to door to update addresses nationwide. In the fall, recruitment for census workers begins to handle the "peak" workload, a census brochure said. In February through March 2010, questionnaires are mailed.
Beginning in March 2010, a letter will be mailed in advance of the census as a reminder that the questionnaire is coming, and the next week, the questionnaire will be sent. The actual census will take place on April 1, 2010. The form is a short 10-question document that will not require much time. No personal information on the form will be released – in fact, Priest said, it's less invasive than a credit card application.
In May through July 2010, census takers will visit households that did not mail in their questionnaires. In December 2010, the Census Bureau will deliver population counts to the president for apportionment. By 2011, the bureau completes the delivery of redistricting data to the states.
She also explained that people who work for the Census will be very visible and readily identifiable.
Statistics from the Census Bureau in 2000 show that out of Claiborne Parish, Haynesville had the highest return rate on census forms. Their mail-back rate was at 63 percent, compared to Homer at 58 percent. In the state, 60 percent returned the forms.
In other news, an identity theft policy was passed. This policy is one many municipalities are passing, which protects private information of citizens. This was done in regards to utility billing, which includes names, addresses and phone numbers of citizens.
Three trucks were also declared surplus property. The three vehicles in question have problems, and in order to deal with them, two will be sold as is and the other will be kept as a spare vehicle.
As a reminder, the elementary school walk and program for the "Safe Routes to School" obesity initiative will take place Tuesday, May 5, at Haynesville Elementary School. The walk will begin at 8 a.m., with a short program following at 8:30 a.m. in the school gym.
Also as a reminder, the Haynesville Music Festival will be held May 29, at the Claiborne Parish Fair Complex. Bobby Rush, a native of Haynesville, will be in concert at 7 p.m. The festival begins at 5 p.m. For more information, please call town hall at 318-624-0911.
Proceeds from the music festival will go towards Haynesville's Christmas decoration fund, which is going to improve and update the town's Christmas decorations.
The next town council meeting will be held at 6 p.m., Thursday, May 21, in council chambers, located at city hall. For more information, please call town hall at 318-624-0911.
Claiborne Jubilee seeks artists, quilters, writers
Event to be held May 8, 9
The Claiborne Jubilee will once again be held on the square in Homer on May 8-9, and welcomes talented residents to share their work with the public at that time.
Prizes will be awarded in various media, and visitors to the festival on May 9 can enjoy the wares of vendors from Claiborne Parish and beyond.
Quilters should bring their quilts on Wednesday, May  6, to the LSU AgCenter office in the Police Jury Complex at 507 West Main Street in Homer. Quilts must be prepared for display by sewing a four inch wide band across the backing 90 inches from the bottom. Judging will be held on Thursday and the display will be open to the public on Friday and Saturday from 9 a.m. – 3 p.m. Each quilt must have the owner's name and address on the back of the quilt.
Poetry must be submitted by email attachment to . The Claiborne Parish Library has computers for use by those who need access to one. The deadline for all poetry to be considered is May 3.
Art should be brought to the square by 8 a.m. on Saturday, May 9 to be displayed for judging at 10 a.m. Winners will be announced at 2 p.m.
There is no entry fee for quilts or poetry entries and none for art entries of those age 18 and under. Adult fees for art are $6 each or 4 for $20 for those paid by May 6. After that date entries are $10 each or $25 for three. Checks may be made out to and mailed to Claiborne Jubilee,  c/o Town of Homer, 400 East Main Street, Homer, LA 71040. For more information go to www.claiborneone.org/jubilee, email or call 318-927-2566.
Lions Chicken Charbroil May 8
The Homer Lions Club 22nd annual chicken charbroil will be held Friday, May 8 from 11 a.m. until 1 p.m. Tickets are $7. Meal includes 1/4 chicken, beans, salad and bread. Pick up your tickets from any Lions Club member. Plates will be distributed at Regions Bank in Homer.
Relay for Life May 9
Relay for Life will be held at Claiborne Academy's football stadium. A reception for survivors, along with registration will be held from 11 a.m. until noon. Opening ceremonies will begin at noon. There will be entertainment, games, activities of various kinds, food, and most of all, fellowship. The Luminary Ceremony will be held at 10 a.m. Please make plans to attend. For more information, call Cindy Bolling at 927-2024, or 245-1901. In case of bad weather, the relay will be held in Claiborne Academy's gymnasium.
CPSB to begin interviewing for superintendent
3 applicants up for scrutiny
The Guardian-Journal
The Claiborne Parish School Board is holding a special meeting Thursday, April 23, to begin the interview process for a new superintendent.
Superintendent of Schools Wayne King announced in January that he would be retiring at the end of his contract, which ends June 1.
So far, three candidates have applied for the position, and all three will be interviewed at this meeting. The board is expected to meet in executive session to conduct the interviews.
Before they do go into executive session, they are expected to discuss the voting procedure on how they will select the next superintendent.
According to what was said in the last school board meeting, a decision is expected to be made by Tuesday, April 28. No decision will be made at April 23rd's meeting.
District 10 School Board Member Terry Willis is also asking the citizens of Claiborne Parish to submit their suggestions on what they would like to see in their new superintendent. To submit comments, please email Willis at Terry_2001_2000@yahoo.com or call him at 318-225-0406. For more information about Thursday's meeting, please contact the Claiborne Parish Schools Central Office at 318-927-3502.
LSP teaches Homer elementary kids about law enforcement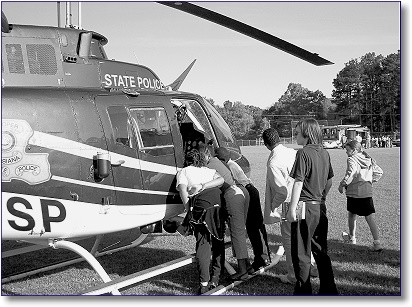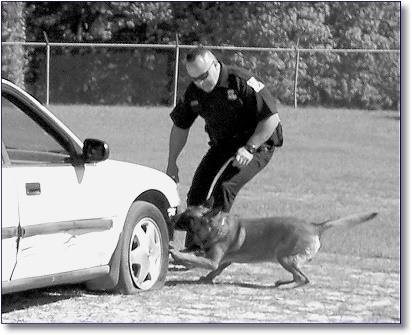 The Guardian-Journal photos/Michelle Bates
On Tuesday morning, April 21, Homer Elementary students got to see police in action. The Louisiana State Police, the Claiborne Parish Sheriff's Office as well as Homer Fire and Rescue converged on the school's playground to show what they're made of. Top, the kids get a look inside a state police helicopter. It is used for transport of state officials or it could be used for surveillance in an investigation. Bottom, this trooper demonstrates what K-9 partners do to search a vehicle for drugs. This K-9, "Arrak," alerted on drugs in the front passenger side of this vehicle.